Calisthenics is any movement that utilises your bodyweight and gravity to perform exercises. It comes from the ancient Greek words kálos, which means "beauty," and sthénos, meaning "strength."You might have probably experienced calisthenics workout in school during your physical education classes in the form of sit-ups, push ups, jumping jacks and other body weight exercises.
Barbell Curl
A proper calisthenics workout regime can actually help you to gain muscles and it also serves as an aerobic form of exercise. You can do calisthenics anywhere be it at your home, a park or even when you are on a vacation.
It also helps to improve overall coordination and helps in toning the muscles of the body. When you are lifting your own bodyweight it targets most of the body parts so calisthenics is an amazing way not only to start your fitness journey but it will also help you torrach your end goal.
7 Day Calisthenics Workout Plan For Beginners To Hit Every Muscle - The Ultimate Beginners Guide
Here is the 7 day calisthenics program for beginners to start with.
Day #1
Initially we start off with calisthenics workout with no equipment. These movements will help you to build the required strength and endurance to perform the advanced movements in the future.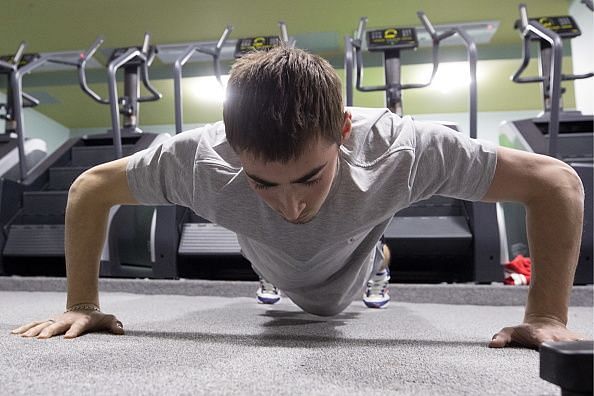 Push ups
Instructions:
15 Push ups
12 Squats
10 Lunges for each leg
12 Leg Raises (laying down)
Mountain Climbers non-stop for a minute
5 Burpees
Important Tip: Perform this cycle 3 times with a 90 seconds rest after every cycle. Focus on proper form and execution while performing these calisthenics workout. Do not be in a rush to complete the entire cycle. A concentrated effort will eventually be helpful in the long run.
Day #2
The day 2 beginner calisthenics workout involves a pull up bar and a chair which is available for quite cheap via online and offline stores. You will notice that the reps have been increased and 30 seconds has been struck off the rest period.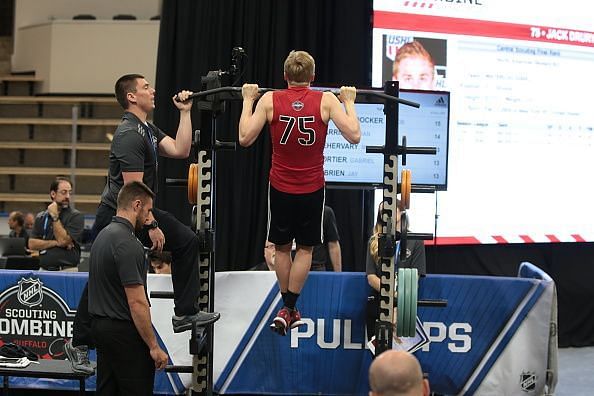 Pull ups
Instructions:
10 Close Hands Chin Ups
10 Pull Ups
15 Dips (you can use a chair at home or a a bench in the park)
15 Push Ups
10 Hanging Leg Raises
15 Jump Squats
Important Tip: Perform 4 cycles with a 60 seconds rest period after every cycle. Avoid resting during each exercises. A brief sip of water is fine
Day #3
The calisthenics routine for day 3 is designed in such a way that it reaps maximum benefits out of the number of reps and the compound movements further help in building muscles and get you toned.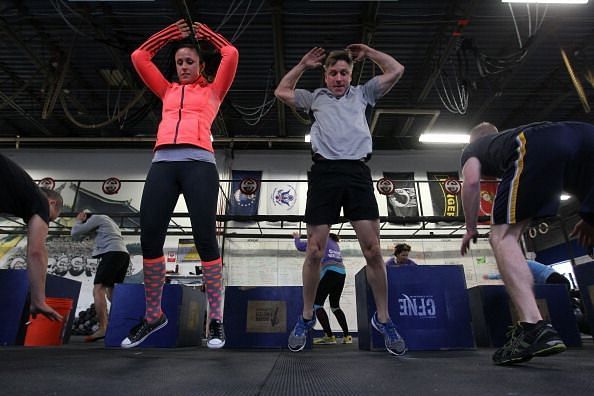 Burpees
Instructions:
15 Wide Grip Push Ups
60 Second Mountain Climbers
60 Second Squat Hold
10 Burpees
30 Squats (without stopping)
60 Second Plank
Important Tip: Perform 4 cycles of these exercises with a rest period of 90 seconds after every cycle. Remember not to arch your back while performing the planks and push ups.
Day #4
You do not need to work out on the fourth day as you deserve a rest day. By rest day I mean 'Complete Rest.' This day is like a gift for all the hard work that you put in the previous three days.
Day #5
You will be doing fat burning exercises on day 5 as you will be fresh and rejuvenated after a day's rest.
Plank
Instructions:
2 x 100 Meter Run
15 Dips
60 Second Jumping Jacks
10 Push Ups
60 Second Alternating High Knees
10 x 2Hanging Knee Raise
60 Second Plank
Important Tip: Do 3 cycles with a 90 second rest after every cycle. Make sure you stay hydrated in before beginning the exercises and you can have a little quantity (50-60 ml) of water after each cycle. Failing to do so can lead you to run the risk of muscle cramps and muscle fatigue.
Day #6
On day 6 you will focusing more on high intensity training as it will help you to boost your stamina and endurance.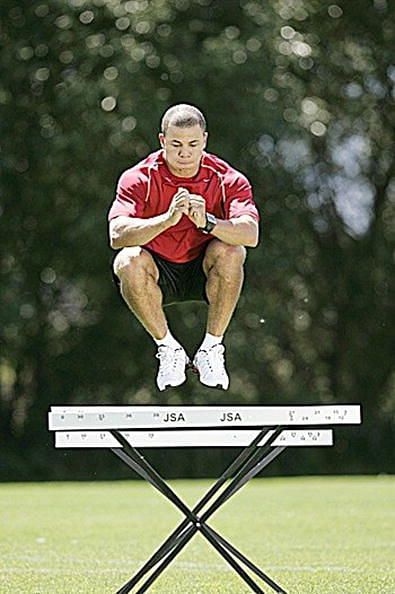 Tuck Jump
Instructions:
2 x 30 Second Sprint – Between Two Stations (Recovery time of 15 seconds after each sprint)

20 Push Ups
30 Second Tuck Jump
30 Second Plank Push Ups
2 x 30 Second Sprint - Between Two Stations (Recovery time of 15 seconds after each sprint)
15 Burpees
2 x 15 Second Sprint – Between Two Stations
Important Tip: Perform this cycle 3 times with a 90 seconds rest after every cycle. Make sure that you wear proper footwear while performing these exercises as well as the sprints. At times you will feel like stopping but do not stop.
Day #7
You deserve a day off after a hard day at work. So, there's complete rest on day 7. Make fitness your priority in life and results will follow. Eat healthy and include lots of vegetables and fruits in your diet. What's great about Calisthenics is that you can take it with you wherever you go, even when traveling. You can even get the children to join you.