Skull crushers are great for strengthening your triceps. The good news is, despite what the name suggests, you don't actually have to crush your skull in the process! Owing to the risk of dropping weight on your head, in case you employ a bad technique, the skull crusher acquires its name.
Skull crushers, however, are fantastic arm exercises that truly target the triceps when performed correctly. It's a triceps exercise for everyone, from seasoned powerlifters aiming to increase their bench press to bodybuilders seeking more bulk as well as regular gym visitors aiming for a noticeable pump!
---
How to Perform Skull Crushers Properly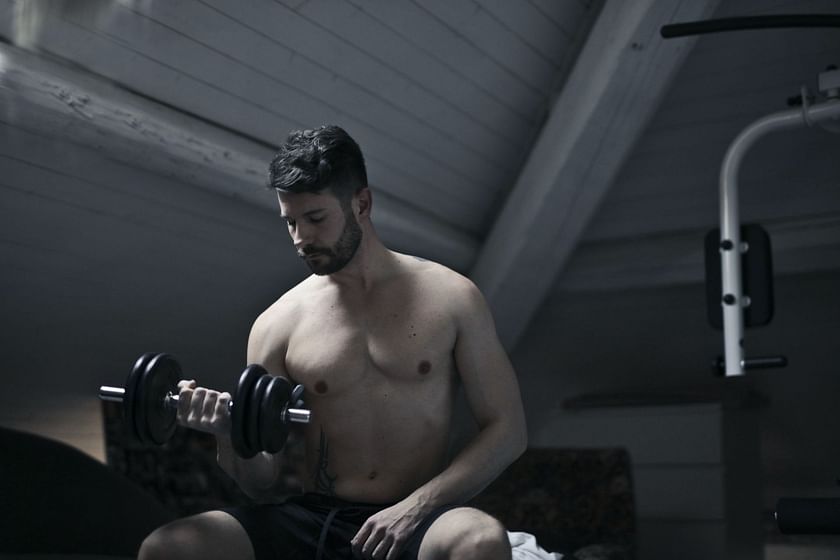 Skull crusher exercises, also known as lying triceps extensions, are a traditional workout done while laying on a bench and using one or two dumbbells. With your elbows pointed, you hold the weight above your face and pull it upwards using your triceps to straighten your elbow.
Here's how to perform the skull crusher workout:
Lay face-up on a bench with your feet flat on the floor on either side. Hold a dumbbell in each hand.
Arms should be outstretched over the chest with the palms facing inward.
To stop the low back from arching, contract your glutes, engage your core, and draw your rib cage down.
Slowly bend your elbows to lower the dumbbells until they are an inch over your head or on either side of your head while tucking your elbows in and squeezing your shoulders down.
To work the lats and isolate the triceps as the weights decrease, avoid moving the upper arms and anchor your shoulders downward.
Straighten your elbows and bring your arms back over your chest with control.
When you lower the weight, maintain neutral spinal alignment. If the weight is too heavy or your triceps are not stretching out completely between reps, your back may begin to arch. See if lowering the weight enables you to maintain a straight back.
---
What Does Skull Crusher Exercise Do for the Body?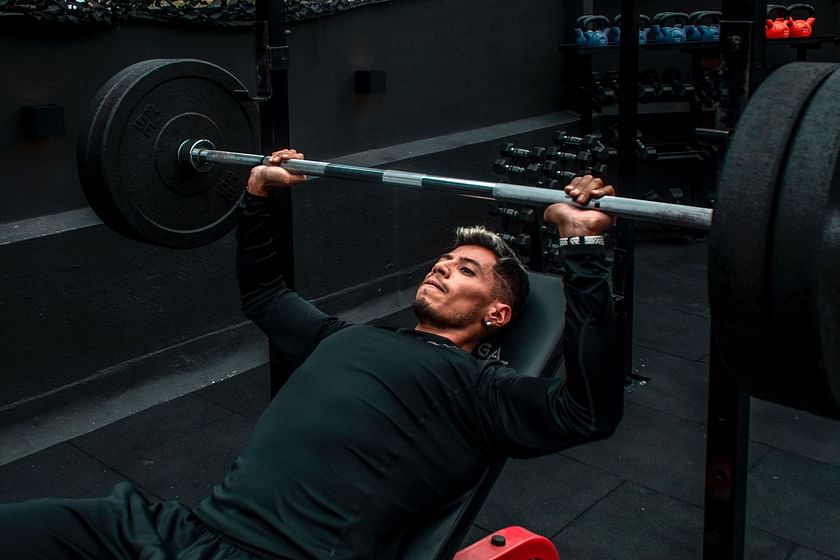 A great approach to give the back of the arms additional heft and definition is by practicing the skull crusher. As it targets the triceps and tones the arms, it's a terrific technique to incorporate into upper-body workout programs. It can also increase shoulder stability.
Your triceps' strength and capacity will therefore be enhanced by any workout that calls for a full elbow extension.
The shoulder and elbow joints, as well as all the tendons and ligaments that support them, are strengthened and improved with skull crushers.
If you're unable to perform this exercise, you can try alternatives to skull crushers.
---
Common Mistakes to Avoid While Performing Skull Crushers
If you've never tried the technique before, skull crushers can feel awkward to get used to. It all comes down to form to make sure you actually target the triceps. To prevent making common blunders, keep the following tips in mind:
1) Overdoing Weights
Be sure to experiment with various weights until you find one that feels comfortable. To help you become accustomed to the movement, it is advised to begin with lesser weights—even as little as two pounds—and do more repetitions.
2) Shaky Grip
If the weight escapes your grasp, hold on tightly to prevent injury to your face or head. If you find this bothersome, you should first strengthen your grasp.
3) Letting Your Elbows Flare
Lifters with less experience are more likely to let their elbows flare out. You can reduce the participation of the triceps if this happens too frequently. Keep them firmly in place and near your body.
---
The skull crushers might put stress on your wrists and elbows, but there is no exercise that is 100 percent risk-free. Additionally, depending on where you fail, the movement configuration can prevent you from finishing the set if things don't go according to plan.
There is no getting past the fact that the skull crusher is a multifunctional, all-purpose exercise that every responsible gym-goer should know how to perform. However, some people do unquestionably benefit more from the movement than others.