Dwayne Johnson also known as "The Rock" is a charismatic wrestler-turned-Hollywood superstar. He's not only known for his towering presence and captivating performances on the big screen but also for his remarkable dedication to fitness.
Renowned for his Herculean physique, Dwayne Johnson consistently pushes himself to new limits, inspiring millions around the world to adopt healthier lifestyles.
In this article, we delve into one of his formidable workout routines, specifically focusing on the shoulder dumbbell raise finisher drop set that has contributed to The Rock's enviable shoulder development.
---
The Dwayne Johnson fitness philosophy
Dwayne Johnson's fitness journey is an embodiment of determination, hard work and perseverance.
His commitment to maintaining peak physical condition reflects a deep understanding of the importance of fitness, not just for his profession but for overall well-being.
Dwayne Johnson's training philosophy revolves around challenging oneself, embracing intensity and constantly seeking improvement. His relentless drive and unwavering discipline have enabled him to achieve the awe-inspiring physique that has become his trademark.
---
The shoulder dumbbell raise finisher dropset - The Rock shoulder workout
One of Dwayne Johnson's favorite shoulder exercises is the shoulder dumbbell raise finisher drop set.
That's a key component of his training routine that has played a significant role in sculpting his impressive deltoids. This exercise not only enhances shoulder strength and stability but also contributes to Dwayne Johnson's overall aesthetic appeal.
Exercise technique
The shoulder dumbbell raises finisher dropset involves a sequence of three exercises: front raises, lateral raises and bent-over rear deltoid raises.
By combining these movements, The Rock engages multiple muscle fibers within the shoulder complex, ensuring a comprehensive workout.
Front raise: The Rock performs front raises by grasping a pair of dumbbells with palms facing his body. With controlled motion, he raises the dumbbells to shoulder height, ensuring a slight bend in his elbows and then lowers them back down, maintaining proper form throughout.
Lateral raise: Perform lateral raises by holding the dumbbells by his sides with palms facing inward, The Rock lifts the weights out to the sides, keeping his elbows slightly bent. He continues the movement till his arms are parallel to the floor before slowly lowering the dumbbells.
Bent-over rear deltoid raise: He adopts a bent-over position, ensuring a straight back, and allows the dumbbells to hang in front of him.
With a slight bend in his elbows, he raises the dumbbells out to the sides, focusing on squeezing his shoulder blades together. He then lowers the weights back down under control, maintaining proper technique.
---
What are dropsets?
The Rock incorporates the dropset technique in his shoulder dumbbell raise finisher, a strategy that amplifies the intensity of the workout and stimulates muscle growth and endurance.
a. Starting with a heavier weight for the initial set, The Rock aims for 8-10 repetitions per exercise, challenging his muscles to their limits.
b. After completing the first set of each exercise, he quickly reduces the weight by 10-20% and seamlessly transitions to the next set, without compromising on form or execution.
c. The Rock continues this pattern for three to four sets, pushing through fatigue and maintaining strict form, as his muscles are subjected to a demanding workout.
---
Benefits and takeaways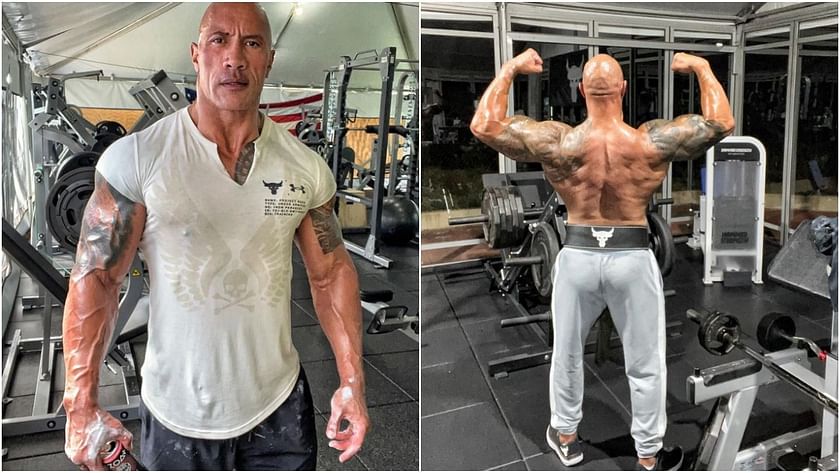 The Rock's shoulder dumbbell raise finisher dropset offers numerous benefits, which have contributed to his awe-inspiring physique:
Targeted shoulder development: This routine effectively isolates the deltoid muscles, enabling Dwayne Johnson to achieve incredible strength, definition and overall shoulder aesthetics, a signature aspect of his imposing physique.
Enhanced muscular endurance: The dropset technique challenges The Rock's muscles to perform a higher number of repetitions with reduced weights, building endurance and stamina, which are vital for his physically demanding roles and overall fitness.
Versatility and acessibility: The shoulder dumbbell raise finisher dropset can be tailored to suit various fitness levels. By adjusting the weight and repetitions, individuals can customize the routine to their abilities, gradually progressing over time.
Time-efficient workout: Incorporating this finisher in a shoulder workout ensures a challenging and effective conclusion to the training session, maximizing results while saving valuable time.
---
Dwayne "The Rock" Johnson's unwavering dedication to fitness and his shoulder dumbbell raise finisher dropset exemplify his commitment to pushing physical boundaries.
By adopting this intense routine in your training regime, you can strive for exceptional shoulder development, increased muscular endurance and transformation of your physique.
Embrace Dwayne Johnson's relentless work ethic, stay consistent, prioritize proper form, and gradually progress your weights and repetitions. By embodying the spirit of his extraordinary journey, you too can unleash your own power, and embark on a transformative fitness endeavor.