Odisha FC have certainly seen it all in their quest to reach the playoffs. After a mid-season slump, and with teams around them picking up form, things were looking bleak for the Juggernauts just last month.
However, they bounced back from poor results and a victory in their final league game against Jamshedpur FC would have all but confirmed their place in the top six.
But the Juggernauts never appear to do it the easy way. They lost their game against the Red Miners and, as a result, relying on Bengaluru FC to defeat FC Goa to secure their playoff berth. Luckily, circumstances favored them, as the Gaurs faltered on the road.
The ride has not been a smooth one for Odisha FC and Josep Gombau. Nonetheless, they are in the limelight and have a fighting chance to feature in the semi-finals of the Indian Super League for the first time in their short history.
A trip to Kolkata to face ATK Mohun Bagan awaits them on Saturday, March 4th. The Mariners are marginally the favorites to progress, but the Kalinga Warriors are more than capable of mounting a victory.
Looking back at the season, Gombau has tweaked his system and personnel on several occasions. So, let's take a look at Odisha FC's style of play, strengths, and weaknesses in what could prove to be a defining campaign for the Juggernauts.
Style of play
The Spanish tactician began the season in a 4-3-3 formation and stuck by it as his team won six out of their opening eight games. OFC regularly look to build from the back, with an impetus on progressing through the flanks before delivering crosses into the box.
But after a 2-1 victory over NorthEast United in early December, Odisha FC hit a brick wall and were winless in their next four games. Combined with defender Osama Malik's injury, Gombau sought to change his formation with the introduction of Pedro Martin.
The striker, who is known for his hold-up play and presence in the box, certainly added another dimension to the side. With him in the starting lineup, the Juggernauts were content to resort to a direct approach as he seemed to have formed a good understanding with fellow center-forward Diego Mauricio.
Moreover, there are certain variations in movements when Odihsa FC have possession. Saul Crespo, who starts in the defensive midfield position, constantly shifts to the defense to make it a back three. This creates overloads in the first line when teams are set up with a front two and allows OFC's full-backs to venture forward to create wide overloads.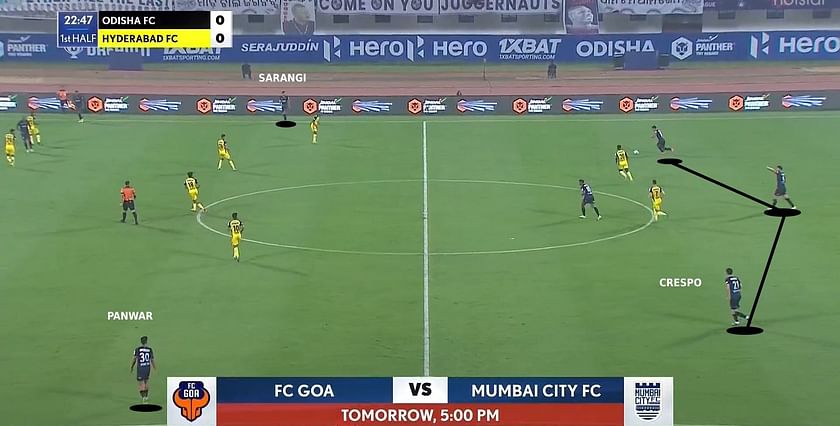 In recent weeks, the centre-backs have also been tasked with delivering diagonal passes to wingers who are stationed higher up the pitch and maintain their width. Mauricio and Martin are joined by the far-sided winger (Isak Vanlalruatfela in the picture) when the winger or full-back in possession eventually aim to deliver crosses into the box.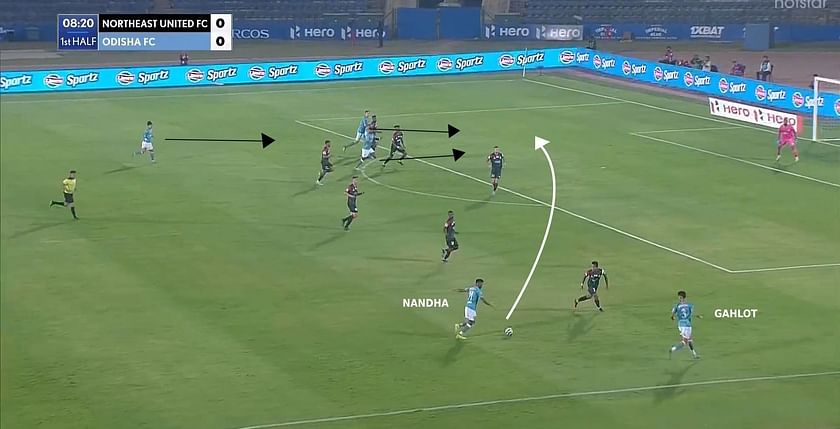 Additionally, Mauricio often drifts wider, which can in turn drag the centre-back and create space for the midfielder to make a run into the vacated area. The midfielder is usually Raynier Fernandes, who has been at the end of some defense-splitting passes by Saul Crespo.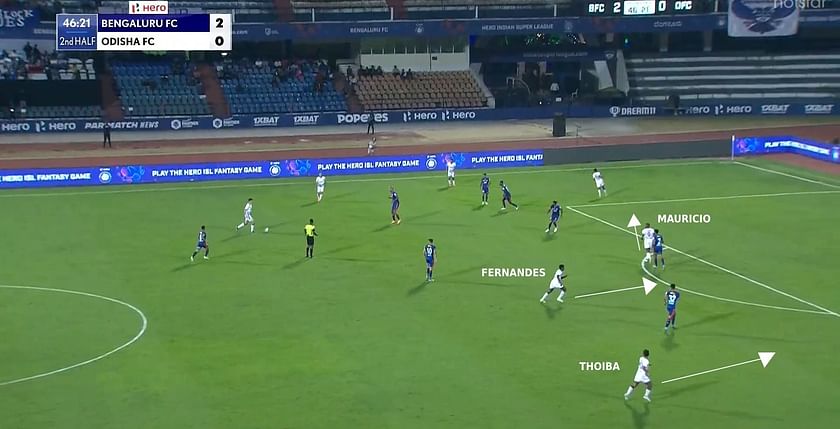 Meanwhile, the Juggernauts choose their moments to press out of possession. They tend to form a 4-5-1 shape and remain compact in a medium block. The wingers are deeper, while one of the two central midfielders looks to press the player into possession.
Strengths
Diego Mauricio has unquestionably been Odisha FC's talisman this season. The Brazilian tops the chart for goals scored in the ISL this season and his clinical nature has rescued his team on several occasions.
Other than his goals, what makes Mauricio special is his ability to drift wide and drag his markers with him, which in turn creates space for his teammates. Furthermore, his presence, ball control and his tenacity to ride past challenges certainly make him a handful for any defender. With 12 goals to his name, he will look to add to his tally in the knockout rounds.
Nandhakumar Sekar is another player who has come in leaps and bounds. He has six goals and one assist this season, and despite the poor assist numbers, his crosses into the box have consistently caused problems. The 27-year-old is also tricky with the ball and has the potential to wriggle past his marker in tight spaces.
Apart from the game-changers, Odisha FC are also potent in set-pieces and particularly long throws. The likes of Martin, Mauricio, and Carlos Delgado provide a physical presence, while Fernandes, Thoiba, and Crespo are quick to the second ball.
Odisha FC can score goals under any circumstance and their unpredictability makes them a huge thorn in their opponents' stride. They have a talented and versatile squad and Gombau's flexible approach might pay dividends in the knockout stages.
Weakness
One glaring weakness in Odisha FC's season is their susceptibility to counter-attacks. The sequence below in their defeat to Bengaluru FC serves as a perfect example. As mentioned above, the two full-backs (highlighted in white) occupy an advanced position.
But once they lose possession in midfield, the Blues win the ball back and spring a counter-attack, targeting the spaces left by OFC's full-back. Osama Malik gets dragged to Roy Krishna, who plays a clever ball to Sivasakthi.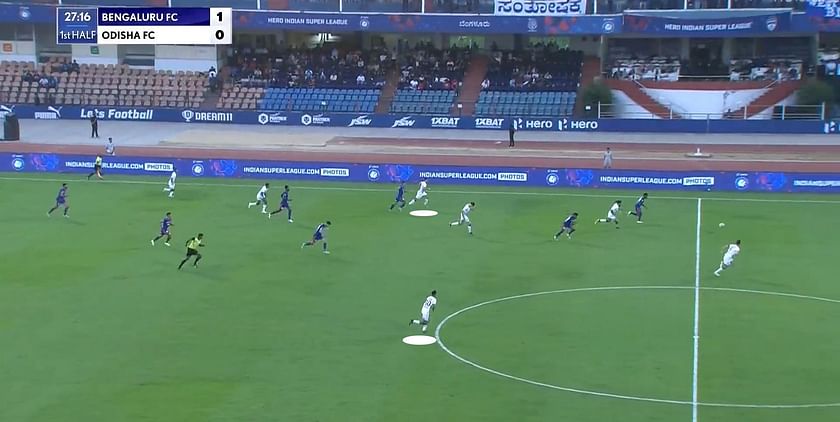 From there, the Juggernauts were caught out of position, and eventually, Sivashakthi teed Roy Krishna, who slotted the ball into the net. As you can witness, the full-backs are nowhere near their opponents. Their lack of pace in their backline has been exploited time and again.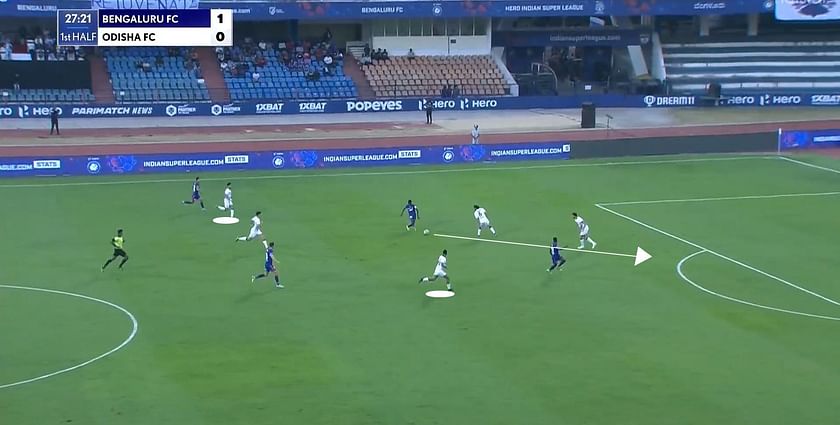 Additionally, they have only kept two cleansheets (only NorthEast United have kept fewer), which does not bode well for Gombau. The Kalinga Warriors have been on the back end of the league in terms of chance creation and goal-scoring metrics as well.
Their expected goal (xG) lies at 22.5 this season and to provide context, only the bottom two sides have fewer than OFC. They are also placed ninth in terms of big chances created (17), with only East Bengal and NorthEast United creating fewer.
While Mauricio's clinical nature has bailed them out, Gombau will hope that his side can create more chances and stay resilient defensively. They lost to ATK Mohun Bagan on both occasions this season, but as their head coach Juan Ferrando mentioned - all it takes is one mistake to cement a place in the semi-finals.