She has said it before and she is ready to say it again - Afshan Ashiq is not a stone pelter.
Wait, what? Who?
Okay, remember the photo of a girl protesting aggressively against the Kashmir Police in April 2017? While everyone assumed it's a photo of the usual unrest from the troubled state of Jammu and Kashmir, it's actually about something else.
Afshan Ashiq, one of the first women footballers from Kashmir, was escorting a couple of her trainees to the ground when one of the policemen allegedly harassed her ward.
Afshan took matters into her own hands and showed the world that unjust action won't be tolerated by her.
And today, Afshan has moved on from that incident and is a goalkeeper for the Premier India Football Academy (PIFA) team in Mumbai.
But some people still question the past.
Sure, you might have seen the picture but don't judge a book by its cover.
There's more to it than meets the eye.
Afshan, who was in Bengaluru to inaugurate a photo-exhibition by Prashant Godbole titled '#TheRealKashmir' hosted by Real Kashmir and Adidas, explains.
"They provoked us and it was our anger that burst out. They slapped one of my students and I didn't know why," Afshan said.
"There's a rule that women police should deal with women. Being men, they were harassing her. They were talking shit.
"I didn't want that to happen with my girls. I am a coach, I don't care about my career and I want to stand with you. Being a coach and mentor, I want to do that.
"I will do that even now - take a stand. Every girl should take a stand for herself.
"We have made this perception that we have to protect girls. Why can't girls protect themselves? First, learn to protect yourself and if you are that, you don't need anyone."
Life changed overnight for Afshan after that incident. Many of her friends asked her to disappear to avoid getting arrested. Her father, who was against her playing football, grounded her for about 2 months. But through all that disharmony, Afshan soldiered on and never gave up on her dream.
Her father soon learnt the truth and Afshan was allowed back.
But vengeance was never in her mind. She did have a point to prove but she did that through football. Now, she's the captain of the J&K football team and an inspiring figure for many girls from the valley.
"When I started playing football, it was not easy for me to start a game which is rough," Afshan said. "Nobody used to play as a girl and I was the first girl to take that initiative to be a footballer.
"When I started achieving something, my father came for my first nationals and the most emotional thing for me is that he came to Mumbai. It was the first time that he was watching me play and he cried.
"He told me that he never knew that I could be such a good player and I told him you should have come out and seen me play in Kashmir itself."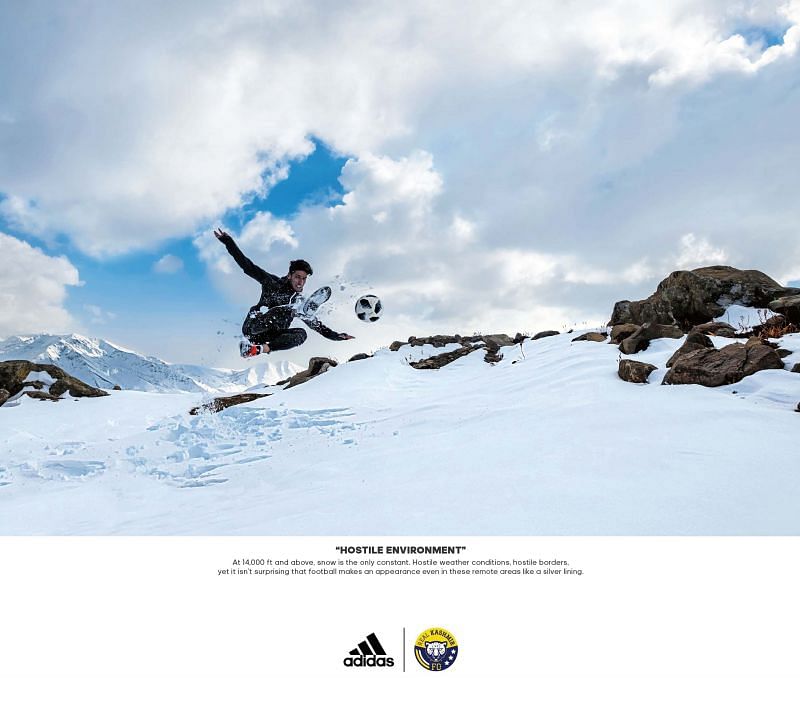 The story of Afshan was all over Mumbai. Football clubs which had a women's squad asked her to come down again and try out.
It was a time to venture out of the Valley. But it wasn't an easy decision as her father was dead against the move.
"My dad was against me leaving Srinagar when a coach from Mumbai, Sabir Shaikh, asked me to come down for a trial.
"I told my dad that I am ready to leave home for this. Then after, I don't want to regret about a move I did not make.
"I had to go on my own but when I landed in Mumbai, everything went well. The trial was for 3 days but I got selected after the first day itself. I signed a contract for 2 years with PIFA (Premier India Football Academy) and then after, things changed."
Indeed. Afshan's story is now the subject of a Bollywood movie. The story of a girl who quit cricket for football and then stood up against police will be seen in reel soon.
But in real life, Afshan wants to be more than that. She wants to be the messiah of hope for all girls in Kashmir.
"Everyone wants peace in Kashmir. Everyone needs to understand what's good for them and what's not. Now, many people are mature to know what's good and what's not.
"It's great that after Real Kashmir FC qualified for the I-League because after that more people want to be in sports. And that's great.
"Finally, our boys are doing well and I hope the girls do well too. It's great that they are getting the opportunity to show their talent in a great platform and thanks to Adidas for supporting them."
(The photo exhibition is open for public viewing from January 24th to 27th at Rangoli Metro Art Centre, Bengaluru).