Mumbai City's luck ran out against rivals FC Pune City, as the visitors grabbed all three points thanks to an 89th minute winner from Eugeneson Lyngdoh, who featured for the first time this season for the Stallions.
Pune arrived with the aim to avoid defeat against Mumbai but a last 10-minute attacking surge resulted in a blunder from Mumbai's keeper Gomes who should have done better in handling the ball.
The game was played at a slow pace as both sides crowded the midfield with the first half producing nothing worth mentioning. A second victory on the trot propels Habas' men to the fourth spot in the table as Mumbai City will still be in the second spot behind toppers, Delhi Dynamos.
Let us look at the player ratings from the Maharashtra Derby:
---
Mumbai City FC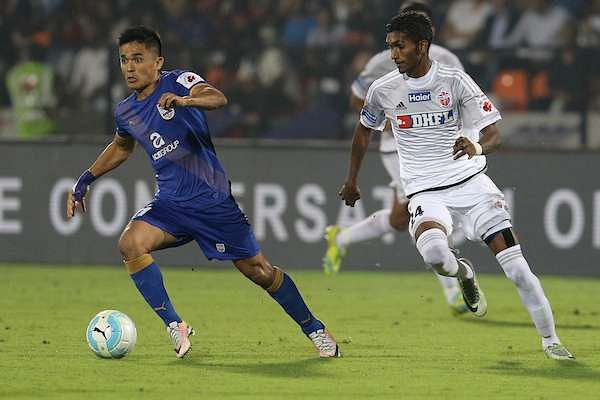 Albino Gomes: 5/10
Gomes was a mere spectator for almost 80 minutes of the match as Pune City hardly got forward to create a chance that would trouble the custodian. He could not step up when he was most needed as Gomes made a complete mess of a routine cross from Narayan Das.
Sena Ralte: 5/10
The full-back was not at his marauding best, lost possession on a number of occasions and faltered defensively too as he gave a lot of space to his opposite number in Das.
Gerson Viera: 6/10
Viera had a decent night as he handled the physical strength of Pune's duo of Zurdo and Traore. He made some important clearances and was crucial in negating any Pune's strength until the goal.
Lucian Goian: 6/10
The Romanian was Mumbai's best defender as he played to his strengths and was solid throughout. He also had a good chance on the other side of the field as he is a crucial player in Mumbai's set pieces.
Aiborlang Khongjee: 5/10
Khongjee played in a back four and showed his usefulness as a utility player for the Blues. He was given a tough time by Rahul Bheke on the wing and he should have closed him down a number of times in the match.
Sehnaj Singh: 5/10
Singh could not get hold of the game as the Indian was sloppy in possession. He took some wild shots which were totally unnecessary and his performance might be a worry going ahead for manager, Alexander Guimaraes.
Kristian Vadocz: 5/10
A surprisingly off day for the midfield general of Mumbai as he too could not dictate the tempo and was stopped going forward by his counterparts. Vadocz has been an important part in Mumbai's good run this campaign as the Blues suffered from him being off the pace tonight.
Leo Costa: 4/10
The derby ended prematurely for Costa as he suffered an injury which resulted in his departure with just seven minutes on the clock.
Matias Defederico: 6/10
Defederico asked many questions to Pune's defence but failed to impress in the final third. He was crowded by the opposition on a number of occasions and had to drop deep to receive the ball.
Sunil Chhetri: 6/10
Playing his first game of this season, Chhetri showed immense work rate and was impressive with his passing. A bright partnership between him and Forlan showed it's few glimpses as it will be immense for Mumbai going forward in the season.
Diego Forlan: 6/10
Another decent game for Mumbai's captain as he was present everywhere for the hosts. He did everything well except finishing a great chance as a better shot was expected from the Uruguayan to beat Edel.
Substitutions
Thiago Cunha: 6/10
He was brought on to replace the injured Costa and did justice to his substitution. Mumbai's forwards were given a free role as Cunha was smart in his runs but was not presented with a clear-cut chance.
Cafu: 7/10
He replaced Cunha in the final 10 minutes and created the most clear cut chance in the game but was squandered by Forlan. Cafu showed glimpses of his talent but should not have brought on earlier.
F. Cardozo: N/A
The defender was brought in stoppage time to increase the numbers in Pune's box from crosses as his height and strength could have helped the hosts.
FC Pune City
Edel Bete: 7/10
ISL's most decorated goalkeeper showed his class yet again as he was crucial in Pune gaining all three points against their rivals. He was good to come out of his position, thwarted crosses and made a crucial save against Forlan.
Narayan Das: 6/10
The left wing-back was effective offensively but struggled defensively for the Stallions. His work rate is unquestionable, though, but Das will have to be consistent if Pune are to reach the semi-finals.
Eduardo Ferreira: 7/10
It was heartening to see Ferreira return from a nasty injury that he suffered in the last game. He was physical when needed and it was a typical no-nonsense performance from the centre-back.
Gouramangi Singh: 6/10
India's veteran defender, Singh was resolute at the back and was calm in possession as he looked untroubled by the likes of Defederico and Cunha.
Augustin Fernandes: 6/10
The defender played the last two games thanks to the suspension of Ravanan and the defender proved his worth to his team against Mumbai. He was nervous at times in the first half but did his job decently with some fine clearances.
Rahul Bheke: 7/10
Bheke is improving with each passing game for the Stallions and the right full-back was brilliant on the night with his deliveries from the right flank and also with his tracking back to negate the threat of Chhetri.
Jonaton Lucca: 5/10
Lucca was silent against Mumbai as he could not impose his authority on the game. He complained incessantly to the referee which later became a bit over the top. He was substituted with an injury and received a booking for time wasting.
Mohammed Sissoko: 6/10
The Malian was at his usual best as Pune's marquee signing played consistently well in his favoured position. He hounded Mumbai's forwards throughout the game which made life difficult for the hosts.
Lenny Rodrigues: 5/10
Another dull game for Rodrigues as he wasted many opportunities with his wayward shooting and was also poor in possession. Habas might drop him if the midfielder does not improve his performances.
Anibal Zurdo: 6/10
Zurdo ran the channels well but he and Traore were isolated throughout, as Pune came with a definite plan to keep Mumbai City at bay rather than them attacking the hosts.
Dramane Traore: 5/10
A disappointing night for the towering striker as he wasn't provided with proper service and was at times the only player in Pune's box for the incoming crosses in the first half.
Substitutions
Eugeneson Lyngdoh: 8/10
India's midfield genius showed his class in his first appearance this season as he scored the much-needed winner for the visitors. He was quick with his feet and was present at the right place at the right time.
Jesus Tato: 710
The Spaniard has established himself as Pune's creative force this season and his arrival brought an attacking impetus to the side.
Dharmaraj Ravanan: 6/10
Ravanan served his suspension and played the final few minutes well as he replaced the injured Gouramangi Singh.