Easy come easy go.
The story of David James' second stint with Kerala Blasters has been just that.
James grabbed a job that was not his - Kerala Blasters had sacked Rene Meulensteen at the start of 2018 - and got away with it for a season-and-a-half before the fans realised that it was all a sham.
It's not like Kerala Blasters did any better under James anyway. Meulensteen, who joined with an impressive CV after having served under Sir Alex Ferguson at Manchester United, could help Kerala produce only one win in seven games.
Picture this - the team collected seven points at the halfway stage under Meulensteen last season. Now, with only six games to go for Blasters in the league phase, KBFC have accumulated only nine points and are not in the contention for a spot in the ISL playoffs.
The truth is that James' sacking has come a bit too late for the Blasters. The club let the show go on as long as it could and only decided to act when the league took a break for the 2019 Asian Cup in January.
One must feel sorry for the fans who had to bear with some atrocious football for over eight weeks now. Day in, day out, James promised them that there's a process and that it was all working.
It wasn't. The results are out for everyone to see.
Dimitar Berbatov had warned you.
ALSO READ: David James didn't respect me as a player, says Berbatov
---
#1 Poor recruitment and retention
In the 12 games that they have played, Kerala have scored only 12 goals. Only ATK are worse with 10.
A lot was expected from CK Vineeth, who is one of the top-paid athletes in the Blasters squad. He missed chances that a forward is expected to tuck in and is not enjoying the best of form.
Slavisa Stojanovic was brought on as a replacement for Iain Hume but has flattered to deceive. Matej Poplatnik was expected to share the scoring duties with Stojanovic but both have together contributed only five goals.
This, from two recruits expected to fill in the void for the two-time finalists.
The disparity in the salaries is also huge. Since a couple of the Indians and the foreigners are paid a lot more than others, James had to go with a young bunch of Indians to stay within the salary cap. And among them, only Sahal Samad and Seiminlen Doungel have turned in acceptable shifts.
Steve Coppell, the current ATK coach who led Blasters to ISL final in 2015, feels recruitment is the most important process that helps in defining a club's success.
And bad recruitment has clearly let Blasters down.
#2 Losing focus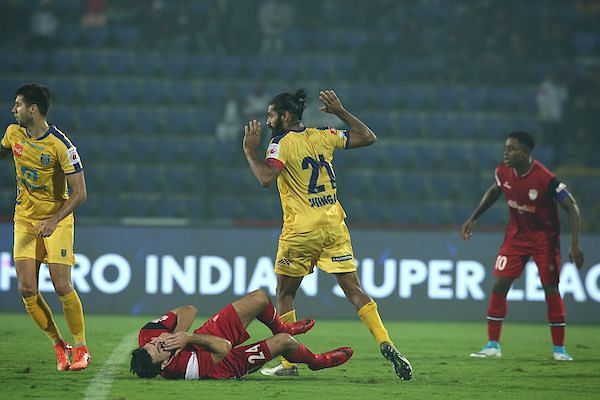 Out of the 12 games they have played, Blasters have managed one win and six draws.
A big reason why they were forced to split the points on six occasions - only Jamshedpur have seven draws - is because they are vulnerable in the last few minutes of the game.
CK Vineeth rescued Blasters twice - in the games against Delhi Dynamos and Jamshedpur FC - but there have been times that Blasters did not have enough firepower to push for the win.
They led against Bengaluru FC but ended up losing 1-2.
In a match that they can never forget, Blasters conceded two goals in injury time to lose 1-2 against NorthEast United. Sandesh Jhingan gave away an unnecessary penalty and then Juan Mascia of NEUFC produced a stunner to steal three points off Blasters last month.
But that really has been the story of Blasters - conceding late and being unable to pull the trigger when they have the chance.
After all, players get tired by the end of the game and aren't at their physical best. It's up to the manager - James in this case - to keep them going and inspire them further.
James, however, enjoys his place at the dugout with his assistant Hermann Hreidarsson performing the duties at the touchline.
Of course, every manager has his own way of operating but his players probably needed James at the touchline telling them what to do.
#3 Uncoordinated Individuals and No Attacking Plan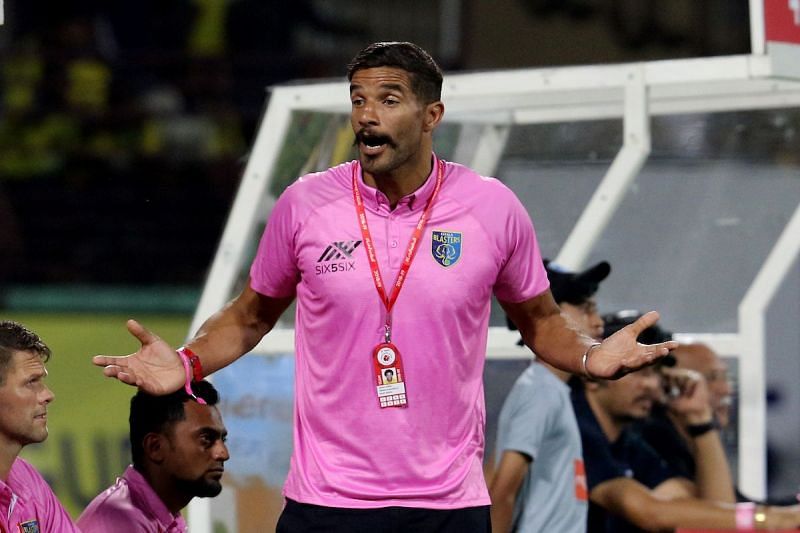 In 12 games, Sandesh Jhingan has led the charts for Kerala Blasters with a consistent show. He has 33 tackles - only Lalruatthara has 34 in nine games - and has made the most number of interceptions - 13 - for his side.
Doungel, from the wings, has provided 3 assists in 12 games and plenty of crosses for the attackers to make something of.
Quite interestingly, Jhingan is the one who provided the most crosses for the team - 23 - while playing as a right-back. Halicharan Narzary and Doungel have 22 and 12 respectively but the latter hasn't got as many minutes as Narzary.
Why we're saying all this is because Kerala Blasters are a bunch of individuals running around trying to score. This goes back to Berbatov's Instagram story while quitting Blasters at the end of last season.
"Chip the ball to the striker's chest, and we take it from there/WTF/Who Plays like this?"
When someone like Berbatov, whose knowledge of football appears to be more than James's, says that about his manager, then you should have believed him.
We saw that on display in the last two months.
No Plan B, experimenting with the foreigners and making a lot of changes to the match squad for every game. These were signs of someone who had no clear idea what he was doing.
The worst part is that he was given so much time.
#4 Fan protests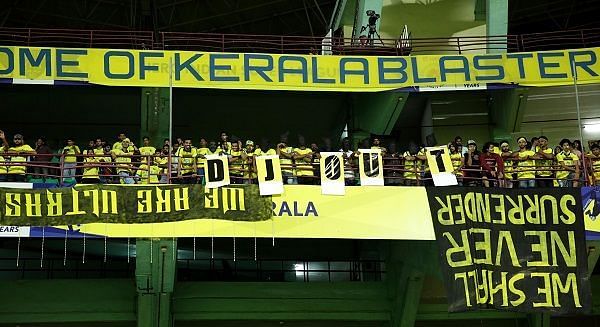 "We are supporters, not customers."
The poor outings of the team have led to unrest among the fans and a sharp dip in attendance for the home games of the Kerala Blasters.
For the home game against Jamshedpur FC, a game watched by German World Cup winner Lothar Matthaus, only about 8,000 fans bothered to turn up.
The next game against Pune City too didn't see a rise in the stadium attendance and the team shockingly lost 1-0.
Why would you turn up anyway?
Think from a fan's perspective. One has to adjust his schedule, buy tickets, travel from various towns to Kochi, and make time for a side that has a clueless manager and doesn't look like it can win any games.
Some of these fans come all the way from other districts of the state - Calicut, Kasargod, Thrissur etc - only to see his side drop points.
The fans realised the game was up and called for the sacking of James. They didn't even spare the CEO Varun Tripuraneni and constantly called both of them out since that loss to Bengaluru FC.
But what's the point now?
Meulensteen was sacked after the Bengaluru FC game on New Year's Eve. Kerala Blasters could have still saved their season had the club management decided to let James go after this season's BFC game.
It was the Blasters' sixth game of the season this time and they had collected seven points then. After that, Blasters have managed to fetch only two points in the other six games.
Push probably came to shove when Blasters lost 1-6 to Mumbai City - the heaviest defeat in the ISL.
But it's all for nothing.
Assistant coach Thangboi Singto, who was incidentally the interim coach last time around too, is the stand-in manager now. It looks unlikely the club will appoint another as there is nothing they can achieve in the ISL this season.
They could, however, make something out of the Super Cup in April. But will the club management heed the warning this time at least?