It was the year 1962, the year of the Asian Games in Indonesia. The gold-winning football team of India was perhaps the best ever in its history. India's chef-de-mission to the 1962 Asian Games had criticised the hosts for excluding Israel and Taiwan from the Games for political reasons. Thus, right from the beginning, the crowds were hostile to India. Amidst such circumstances in Indonesia in front of the anti-India crowd, India came out on top beating a formidable Korea team 2-1 in the final, a team that India had lost 2-0 to in the opening match of the group stage. These Indian footballers belonged to a tough breed of athletes. It was a matter of life and death for them. If one had to choose that one member who stood out in this team, it was none other than the midfield maestro Mohammed Yousuf Khan.
Born in Andhra Pradesh on 5th August, 1937, Yousuf Khan is considered one of the best all-round players in Indian football history. When he used to play, he used to gallop on the pitch like a horse, controlling the play in midfield, for which he was famously known as "the bearded horse." He played a huge part in India's triumph in the 1962 Asian Games, and was deservedly awarded the Arjuna Award in 1966.
Khan, who passed away in 2006, was a key member of the famous Hyderabad City police team in the late '50s and the early '60s. He was one of the only two Indians to be selected in the 1965 Asian All Stars XI. Such was his authority on the games that even the association acknowledged it.
However, life wasn't all rosy – as it seldom is even now – for Indian athletes back then. Lack of proper infrastructure has been an obstacle since time immemorable. The determination and the will to do well for the country, to see the national flag fly high was what drove them to put their lives at stakes and achieve what they set on to.
Yousuf Khan was one of those athletes whose life faced an unfathombale and drastic turn of events so much so that one won't get an answer to that even if one keeps wondering what and how something could go wrong.
Continuing to play in spite of the three head injuries during his playing days is a testimonial to the fact that football was much more than a game to him. When he was on the pitch, he had no second thoughts than to give it all for the team.
The 1960 Rome Olympian may have brought the best of defences to its knees on his day but, as he aged, he was waging a grim battle for survival, almost on his own with little support coming by. This ageing footballer was clearly wondering whether players of his generation were right in sacrificing so much on the personal front, not even concerned about health, to earn name and fame for the country. But, why did such a thought even occur to him?
The head injuries were cited as the reason for the Parkinson's Syndrome he would go on to suffer from 1994.The legs that created magic on the field by then, were swollen and unable to even support him. His struggle to walk even a few paces at home and feeling pain while getting up indicated that the champion player was going through a real torture. It was a sight that any sportsperson would not dare dream about in the worst of scenarios.
It is a tragedy that Yousuf Khan was being forced to live on the Rs. 3500 monthly pension which he got by virtue of retiring from the Police Department and the Central Government monthly grant of Rs. 2000. But, most of that was spent towards his medical expenses with little to cater to the needs of his family members — one son and five daughters. Worse, even the Rs. 50,000, presented by Mr. H. J. Dora, former DGP and president of AP Olympic Association, was blocked in a private finance firm. The time when he needed the utmost support from the country, the Indian Government took a backseat.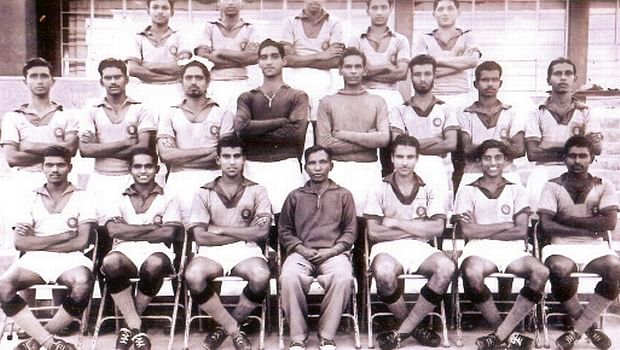 One day, Mohammed Yousuf Khan sat in the sun and trembled. A schoolboy who was passing by stopped to enquire about his trembling hands. With the directness of the young, he asked, "Didn't you do some physical exercise when you were young?" The boy hadn't noticed the words "Arjuna Award" on the nameplate. The boy didn't know that in 1962 India beat South Korea to win its Asian Games football gold medal. The boy hadn't read that only two men from that team made it to the Asian All Star XI.
In his tiny three-room house in Hyderabad, where the ceiling was an asbestos sheet and dust powdered every surface, in one corner stood two cupboards, repositories of his worth as a man: chipped medals, rusting cups, frayed clippings. He did not have much else left. He remembered days when he couldn't repair his shoes because he could not afford a cobbler. The pension was used to placate his morbidity and to support his family.
Cricketers in Hyderabad had been allotted government land in upmarket areas like Banjara Hills. Mohammed Yousuf Khan, the footballer, his slipper affixed together with a safety pin, unable to afford a cinema ticket, had been allotted humiliation. Said the old man with a saddening charm, "I am ashamed to talk about how I meet my expenses."
That day when the boy asked him whether he'd ever done physical exercise, Khan replied, "Yes, I played football." Said the boy, "You should have played cricket."
One wonders whether he truly should have, as he undeniably embraced death's bed on 1st July, 2006.
Nowadays, everyone who follows football in India has a vague idea about how India were not allowed to play the 1950 FIFA World Cup in Brazil as they were going to play barefoot. But a lot of theories have arisen over the years like the AIFF (All India Football Federation) didn't let India participate in the event because they couldn't afford sending the players to Brazil, though the organisers offered to pay most of the expenses to get India to Brazil. One can only imagine, had India played in that World Cup, what an impetus it could have been for Indian football for many more years to come.
However, hardly any Indian born in the 21st century has any clue about the fact that glorious years of Indian football spanned for a decade-and-a-half starting from the London Olympics of 1948 to the 1962 Asian Games in Indonesia. Had India made that trip to Brazil in 1950, things would have been a lot different. As Sailen Manna, who would have been the captain of that team, once sadly said, "Indian football would have been on a different level had we made that journey," and aptly so.
Had the Government or the sport authorities taken the right steps in the recognition of the successes, the unfair treatment of our esteemed athletes would never have been witnessed, and an unfortunate story of a fighter like Yousuf Khan's could have been avoided.