There is little doubt that Punekars are football mad. Be it kids, teenagers or corporate employees they just love playing and watching football. Come 22nd of Oct 2016, the corporate football teams in Pune will be busy battling it out to become champions of the 1st edition of GW Football League.
Groundwala, the sports booking app which is simplifying recreational sports in India is organising their first edition of 5-a-side football league on 22nd and 23rd Oct, exclusively for corporate employees in Pune. The event is organised in association with Reboot Arena, Hinjewadi and Effingut (Pune's best microbrewery).
Of course, there will be loads of football as well as activities like coaching sessions, physio session and fabulous cash prizes, gift vouchers from the sponsors.
Speaking about football in the corporate segment, Ankur, the founder of Groundwala said, "Based on our experience these players take their game very passionately, we have even noticed teams playing as many as 7-8 matches in a single day and hence they are prone to injuries."
"Some of them actually get injured and miss the fun for 3-4 weeks and some even lose the man-days in office. At GW we believe sports is the best form of recreation and to have maximum fun you should be completely prepared for it."
"Especially football as a game requires a lot of fitness and skills. However, with their hectic work schedule, office goers seldom get a chance to have training sessions and physio session to prepare for the game. To address this challenge, GW team will make this event a monthly football gathering where they will have training, physio and coaching sessions with some good quality competition of football".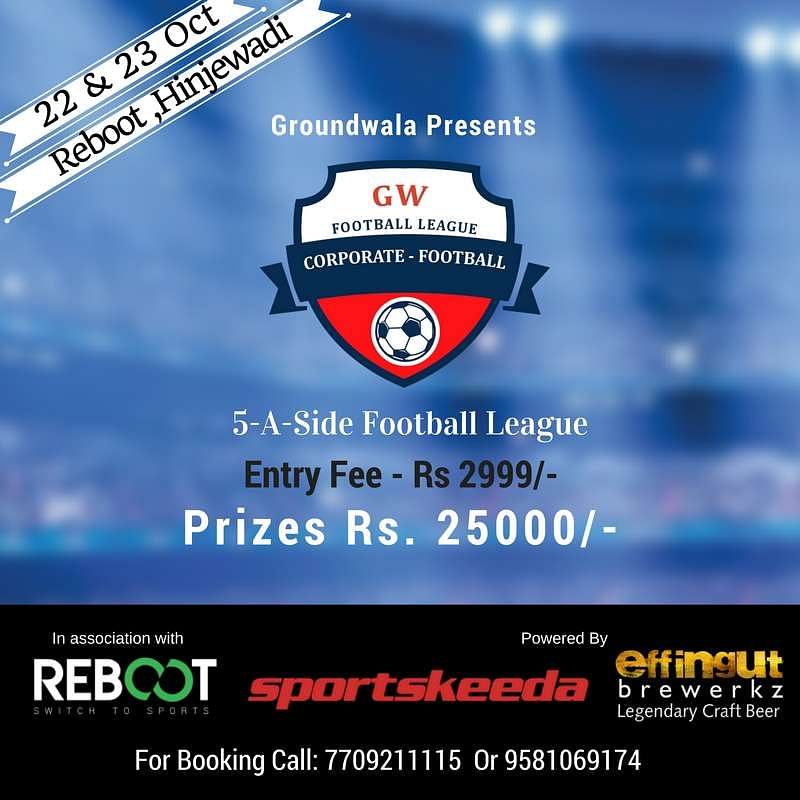 The larger goal of the GW team is to make playing as simple as ordering food and as entertaining as watching a good movie. The Hyderabad-based company has its presence in Hyderabad, Pune and Delhi and will soon expand to other cities like Mumbai, Chennai and Bangalore.
Don't miss the chance to be part of unique football gathering in the city. Experience football at one of the best football turfs, Reboot Arena, the only turf in Pune's IT hub Hinjewadi. Also get exciting gifts from Effingut, undoubtedly the best microbrewery and hangout place in Pune for football fans.
For more info on event registration click here.