A nation which was once upon a time regarded only as a 'Cricketing Nation' is slowly but steadily witnessing the 'football fever' take over the country. Consistent efforts have been made not only to improve the quality of football but also to promote the sport all throughout the nation. Owing to all these efforts we have seen Indian undergo a significant revolution in terms of football.
Team India is now being represented at some major competitions and has been recognized globally as an upcoming footballing nation. The AIFF ( All India Football Federation) has shifted its focus to developing players right from the grassroots levels and the results of these efforts have been seen when our youth teams have been performing so well at the world stage. These young players are the future of Indian Football.
Coached by Ex Indian player Alex Ambrose, the U-18 Women's team has been performing extremely well at the SAFF Cup being held in Bhutan. They have convincingly beat both their opponents in the group stage and have advanced to the semi-final stage of the competition. The Indian women started their SAFF Championship journey with a comfortable 4-0 win over the host country Bhutan. In the post-match interview, Head Coach Alex Ambrose pointed out that the team still had to work on certain aspects as they could get better results in the next game. The girls managed to live up to their coach's expectations and thrashed Maldives 8-0 in the second match of the group stage. It is interesting to note that team India has had 8 different goal scorers in both these matches which shows how strong they are together as a unit.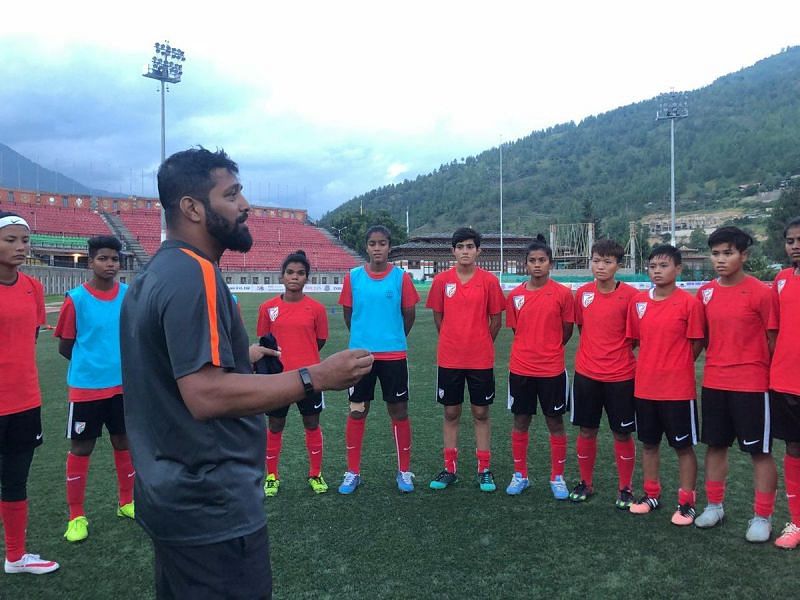 The U-18 girls are all psyched up as they prepare to take on Nepal in the semi-final clash to be held on 5th October 2018. India is going into this clash with a formidable track record under their belt. The Indian girls have scored 12 goals in 2 matches and haven't conceded a single goal in the tournament. On the other hand, Nepal managed to qualify with one win against Pakistan and a loss to Bangladesh in their build-up to this clash. The Indian team will be fancying their chances and will look to cement their spot in the finals where they will take on Bangladesh or Bhutan. If this young team manages to lift the trophy, it will be yet another feather in the cap for Indian Football. Till then, all we could do is give them the support they need.
---
Send us news tips at [email protected]