Though the heat had just started to pick up after a few days of pleasant weather, with rains gracing the Anantapur Sports Academy (ASA) campus, the excitement and the competitive spirit at the ASA.
Judo hall was overwhelming with children between 10 and 15 years of age showing up to participate in the District Judo Championship 2015.
The Sub-Junior District level Judo Championship held at the ASA on 28th June 2015 was graced by the Rural Development Trust (RDT) Sports Director, E F Xavier, the District Sports Officer, Jagannath Reddy and Vice President of the Anantapur District Judo Association, Y Venugopal, along with KN Babu, the Secretary of the Anantapur District Judo Association.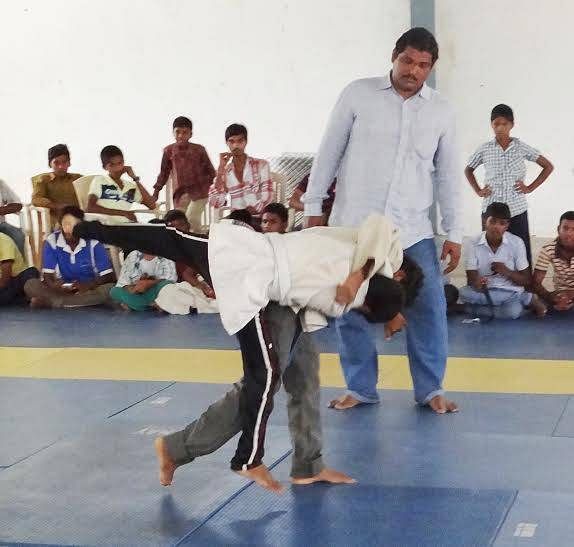 This tournament was a platform to select talented athletes to represent Anantapur district during the upcoming Sub-Junior State Level Judo Championship to be held here at the ASA between 10th & 12th of July, 2015.
The selected athletes will be housed at the ASA and will undergo a 9-day training camp in preparation for the upcoming sub-junior state level judo championship. The athletes will train at the recently inaugurated JFI training centre and will grow towards having a brighter and exciting future in the sport of Judo.
The ASA featured 10 athletes, 5 boys and 5 girls, to represent itself at this District level Championship. The overall Championship for boys went to Keshav Reddy English Medium School, Anantapur with 4 gold and 4 silver medals fielding about 20 athletes, with the host ASA team
having to settle for the runners-up spot on account of their 4 golds but only one silver medal to their tally. The ASA judo academy girls however, did not disappoint as they won 4 gold and 1 silver with second place going to Kasturba Gandhi Balika Vidyalay, Urvakonda.
The deputy collector and President of the Anantapur Judo Association, K S Ramarao, did the honors to award all the winners and runners-up at the end of the competition. The secretary of the Anantapur Judo Association, K N Babu was delighted to host Anantapur's first Judo tournament after the opening of the Judo Federation training centre.
He was impressed with the performance of the ASA athletes and said "he is looking forward to see them perform even better during the upcoming state level Judo Championship to be held at the ASA early next month"