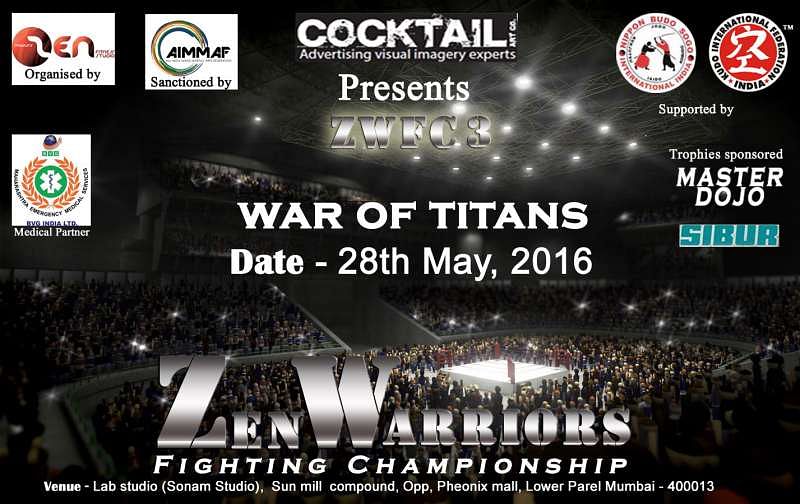 Get ready for an action-packed Fight Night at ZenWarriors Fighting Championship! ZenWarriors Fighting Championship is the first promotion of its kind which showcases kickboxing action. This is a combat sports promotion showcasing the best kickboxing fighters in India.
After two successful events in Mumbai now we are ready for ZWFC 3 – War of Titans. We always include the best fighters from across India in the fight card, and this time the winners of ZWFC 1 and ZWFC 2 are fighting in ZWFC 3 – War of Titans.
The main event: Arshiyan Memon vs Kushal Vyas
Arshiyan won at ZWFC 2 over Imran Sayyed and also recently won the bronze medal at Asian Pankration Championship in Kazakhstan, bringing great joy to India. Kushal is a national boxer who won at ZWFC 2 against Rajesh Chavan.
Co main event: Manish Kumar vs Sonu Sharsar
Manish Kumar and Sonu Sharsar both are professional kickboxers. Manish has won a lot of prestigious championships like ZWFC 2 and SFL 34. Sonu is a Taekwondo blackbelt and winner at ZWFC 2.
Balakrishna Patange vs Abdul Rehman Shaikh
Balakrishna is a Bodypower Open National MMA champion in 2015 and winner at ZWFC 2. Abdul Rehman is a Taekwondo blackbelt and is a silver medalist at Bodypower Open National MMA Championship 2016.
Rohit Nair vs Ankush Gosavi
Rohit is a national boxer and winner at ZWFC 1 and ZWFC 2 and also represented India in KHK MMA, Bahrain. Ankush is a professional MMA fighter with a record of 5-2.
There are four more exciting fights on the fight card so be ready for a power packed fight night at ZWFC 3 War of Titans!