MotoGP Le Mans 2015 Race Day: Quick Facts
1.48K //
17 May 2015, 12:06 IST
Today is race day at the 2015 Le Mans MotoGP. With the Warm up Practice on Race Day currently underway, here is some quick info you need to know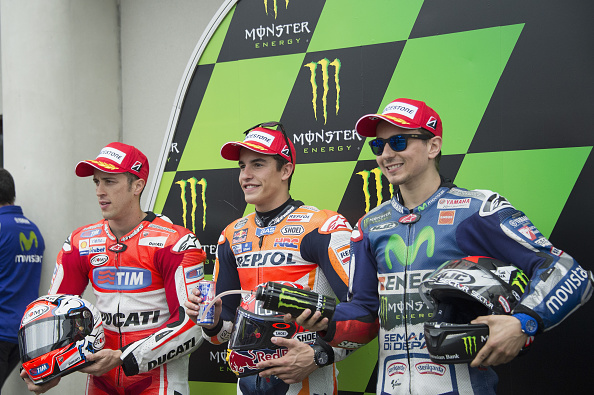 Marc Marquez is on pole
At the end of final qualifying, Marc Marquez of Repsol Honda took pole position at Le Mans. The currently defending World Champion, he has been quoted of 'not being too fond' of the track, in spite of having scored multiple victories (including his first Moto3) there. However, that does not seem to have hampered his prowess – he will begin this evening in first. It will be his third time this season starting on pole. The battle for pole was a fluid one and the position kept changing hands until the end of final qualifying, finally clinched by Marquez.
Andrea Dovizioso on second
Italian Andrea Dovizioso, who rides for Ducati and has been in fine form this season, with a podium in all of the first 3 races, will begin right behind Spaniard Marquez, who was about half a second quicker than him.
Jorge Lorenzo is #3
Marquez' compatriot Lorenzo, a teammate of Valentino Rossi, rides for MoviStar Yamaha, and is perceived by the World Champion as a threat. He was quoted as saying about Lorenzo "I am happy with pole position and tomorrow a tough race awaits us, because Jorge especially has a very good pace. We will try to be as close to him as we can!"
Lorenzo himself was not entirely happy with his performance, describing his #3 position as significantly by luck: "...was a pity that I didn't ride any good laps and was slower than I was in FP3. I made a mistake in sector three and lost probably half a second, but I was lucky not to go outside of the track and ride a very good sector four, which put me on the first row."
Dovizioso meanwhile was happy with his performance, saying he "set a good lap time."
The second row will be headed by Cal Crutchlow of Great Britain and CWM-LCR Honda, who had been leading practice sessions. He is followed by Dovizioso's Ducati teammate Andrea Iannone, who is recovering from a dislocated shoulder, an injury he sustained during practice sessions at Mugello.
The leading title champion contender this year, Italian Valentino Rossi, will start far behind his primary competitors Marquez, Dovizioso and Lorenzo. His team will then need to make tactical decisions for his tyres for him to be able to win or gain a podium this race.