Motorcycle racing was a highly unorganized sport in the first half of the 20th century. Many private players used to conduct races, the bikes weren't standardized and racing was extremely dangerous with riders constantly putting their lives on the line.
The first season of the motorbike Riders Championship was held in 1949. The race tracks, standardization of bikes, rules, and regulations were all set and the races were overseen by the Fédération Internationale de Motocyclisme (FIM, International Motorcycling Federation).
British rider Leslie Graham riding for Team AJS Porcupine won the very first 500cc championship. In the early days, only 80cc and 300cc bikes were used and participation was mostly restricted to riders from Europe - predominantly from Great Britain and Italy.
Today, there are 3 classes - Moto3, Moto2 and the premier class MotoGP where the maximum engine displacement allowed is 1000cc. All the three classes mandatorily use four-stroke engines. Although races today are held all over the world, from Argentina to Thailand, the sport has had only champions from 6 different countries since inception. We look at 5 riders with the most podium finishes in MotoGP:
---
#5 Marc Marquez
Spaniard Marc Marquez nicknamed 'The Ant' is one of 3 riders to have won the Championship across all three categories (Moto3, Moto2, and MotoGP). He made his debut in the 125cc class in 2008 just after turning 15 - the legal age when riders are allowed to enter the competition in the 125cc class. In 2010, he won the 125cc Championship and moved to Moto2 the following year.
In 2012, he won the Moto2 Championship. In 2013, he was offered a contract by Repsol Honda to race alongside compatriot Dani Pedrosa. Marquez stunned the world by becoming the youngest ever MotoGP Champion and only the second since Kenny Roberts to win the title in his debut season. The retirement of Casey Stoner in 2012 robbed MotoGP fans of what could have possibly been one of the greatest rivalries in MotoGP history.
Marquez proved that his win in 2013 was no fluke as he successfully defended his title in 2014. A hat-trick of triumphs in 2016, 2017 and 2018 has made him a strong contender to surpass Rossi's tally of 7 world titles in the years to come. The 26-year old is the hot favorite to win the 2019 title.
Marquez recently surpassed Giacomo Agostini's tally of 78 podium finishes by grabbing his 79th podium finish at the Grand Prix of Argentina.
#4 Mick Doohan
Motorsport legend from Australia, Mick Doohan made his professional debut in 1989 riding for Team Honda. He would go on to win 5 consecutive Championships between 1994 and 1998 - a feat which was earlier only accomplished by Giacomo Agostini.
In a 10-year MotoGP career, Doohan won 54 races and collected a total of 2283 Championship points. Glory came at a price for Doohan as he suffered numerous injuries in his carer including the one which ended his career.
In his career, he had his finger attached, almost lost a leg, broke his collarbone and wrist. Following his career-ending crash in Jerez, Doohan had to endure a slow and frustrating rehabilitation period.
His most dominant season was the 1997 season where he won a total of 12 races from 12 pole position starts and finished with a record aggregate of 340 points. The most successful MotoGP rider from Australian stood on the podium 95 times.
#3 Dani Pedrosa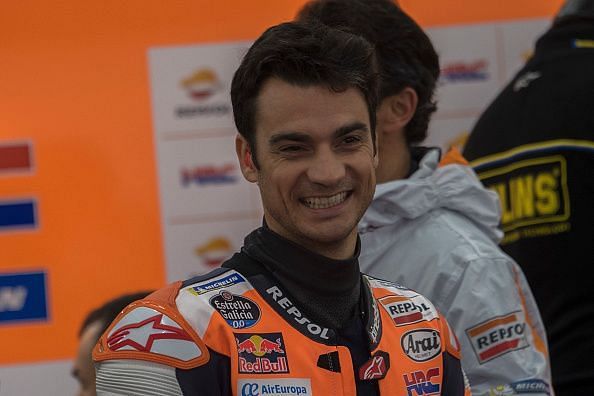 Spaniard Dani Pedrosa is to MotoGP what Felipe Massa and Mark Webber are to Formula 1. Just like Massa and Webber, Pedrosa came so close to winning the World Championship but frustratingly fell short. The two-time 250cc World Champion, Dani Pedrosa has been an evergreen rider over the years delivering consistent performances.
He is the youngest ever 250cc World Champion. Right from his 125cc debut in 2001 till 2018 when he announced his retirement from MotoGP, he has been an integral of Team Repsol Honda. When Honda decided to sign his compatriot Jorge Lorenzo for the 2019 season, Pedrosa decided to call it quits.
Pedrosa has won at least one race for 12 consecutive years from 2006 to 2017 - a record he shares with Italian great Giacomo Agostini. In 236 starts, Pedrosa stood on the podium 112 times - the most among those riders who have never won the MotoGP title.
#2 Jorge Lorenzo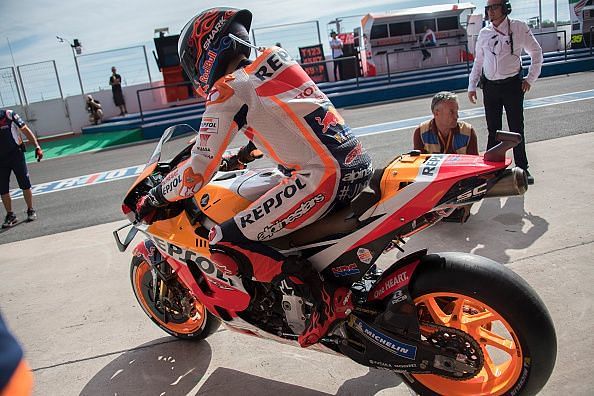 Jorge Lorenzo's 15th birthday in 2002 saw him make his debut in the 125cc class and the cherry on top was that it happened to be at the Jerez Circuit, in his home country of Spain.
In 2007, Lorenzo won the 250cc Championship in some style and in 2008 he made the jump to the Premier Class as Team Yamaha offered him a two-year contract to partner the legendary Valentino Rossi. A hat-trick of podium finishes in his first 3 races earned him the distinction of being the youngest to do so. In his debut season, he was 3rd in the standings and the following year, he gave Rossi a run for his money by finishing runner-up in the riders' standings.
In 2010, he turned the tables on 7-time champion Rossi and became the second Spaniard after Alex Criville to be crowned World Champion. In 2012, he won his second World title and in the ensuing process became the very first Spaniard to win two at the MotoGP level. The 2015 season saw a nail-biting finish as Lorenzo pipped his long-time Yamaha teammate Rossi to win his third title by a wafer-thin margin of 5 points.
Now a member of Team Repsol Honda, Lorenzo will look to recapture his winning ways. The veteran Spaniard has a total of 114 podium finishes and will be looking to open his account in 2019 for his new team.
#1 Valentino Rossi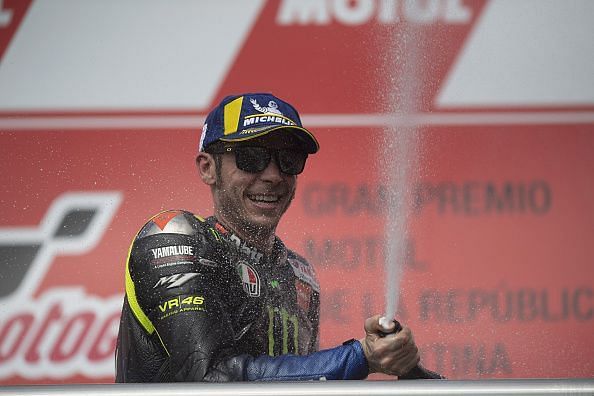 No surprises whatsoever as to who tops the charts. Rossi's records set over 2 decades is just mind-boggling. Generations of riders have come and gone but Rossi still belies his age and looks to find ways to find the motivation to win. Rossi is undoubtedly the most recognized face of MotoGP.
An avid fan of Inter Milan Football Club, Valentino 'The Doctor' Rossi is the only man in motorcycle racing history to win Championships across 4 different classes. He has won the 125cc, 250cc and the now discontinued 500cc class once each. He has won the MotoGP title a total of 6 times giving him a total of 7 Premier Class Championships all in all.
115 overall wins across all categories put Rossi second only to Giacomo Agostini on the all-time list. The only rider to have aggregated more than 5000 Championship points, Rossi has won 89 Premier Class Grand Prix races - an all-time record. Having gone winless all throughout the 2018 season - a rarity for a man of his caliber, Rossi will be looking to mount a push for a record-equalling 8th Championship at the age of 40 in the 2019 season.
'The Doctor' has stood on the podium 198 times (counting his second place at the Grand Prix of the Americas, 2019) and another milestone of a double century awaits the great man.