Over the past decade or so, Spanish riders have dominated MotoGP, winning 8 of the 10 MotoGP Premier Class Championship titles on offer. Prior to that too, during the glory years of Valentino Rossi, it was Spanish riders who were the biggest threat to 'The Doctor'.
Much of the terrific success that Spanish riders have had over the years in MotoGP can be attributed to Dorna Sports - a Spanish business firm which took control of the commercial and television rights related to MotoGP in 1992.
Repsol is a Spanish oil company and sponsors the factory Honda team as well as many Spanish riders. Movistar, the biggest telecom provider in Spain is the principal sponsor of Team Yamaha.
The interest taken by these companies is one of the primary reasons why Spain has made a significant mark in MotoGP. The support and guidance given to young talent in MotoGP are unparalleled in any other country.
Across all classes of MotoGP, Spanish riders have won a total of 50 titles over the years - second only to Italy's tally of 77. We take a look at 5 of the best Spanish MotoGP riders of all time:
---
#5 Angel Nieto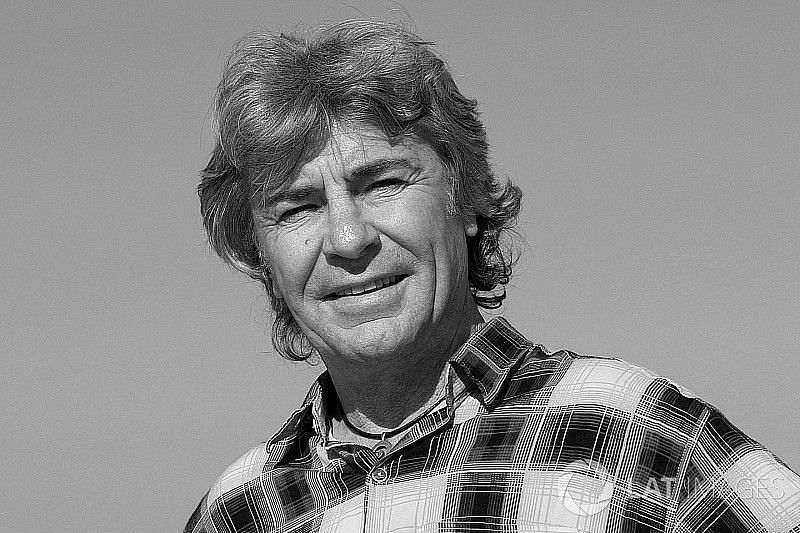 One of MotoGP's greatest ever riders was Angel Nieto. The serial winner began his racing career in 1964 and would retire from active competition only in 1986. With a penchant for smaller displacement bikes, Nieto thrived in the 50cc, 80cc and 125cc classes.
With 7 World titles in the Moto3/ 125cc class and 6 titles in the 50cc class, his combined tally of 13 World titles is second only to legendary Italian rider - Giacomo Agostini. His tally of 90 race wins is only behind Agostini and another Italian great - Valentino Rossi.
#4 Dani Pedrosa
When we think of Felipe Massa, Mark Webber and David Coulthard with regard to Formula 1 - what immediately comes to mind? - Yes, they were all great drivers but were extremely unlucky to miss out on the World title.
The same thing can be said about Dani Pedrosa - at least in the Premier class of MotoGP. Pedrosa began his MotoGP career in Premier Class in the year 2006 having won the 125cc Championship in 2003 and back-to-back 250cc championships in 2004 and 2005. He spent his entire career with Team Repsol Honda for 17 years from 2001 to 2018.
On three occasions, Pedrosa finished as runner-up in the Championship - 2007, 2010 and 2012. Between 2006 and 2017, he won at least one race. His 12-year race winning streak is unmatched till date. In 236 starts, Pedrosa won 31 races and stood on the podium 112 times. He is presently the test rider for Team KTM.
#3 Alex Criville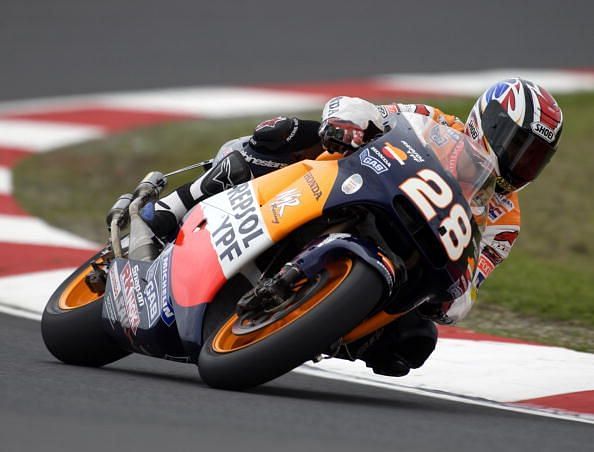 Such was Catalonian born Alex Criville's passion for racing that he falsified his age in order to be eligible to race competitively at the age of 14 in 1985 when the legal age to do so in Spain at the time was 15.
Two years later, in 1987 he made his debut in the 80cc category. In 1988, he was runner up in the 80cc class. In 1989, he made the switch to 125cc class. He won 5 races and won the Championship that year. His success earned him a promotion to the 250cc class. His career trajectory continued to rise and in 1992, he moved to the Premier Class of 500cc racing for Team Sito Pons.
He really began to find his groove after moving to Team Repsol Honda in 1994. He was a teammate to the legendary Mick Doohan. Doohan's crash in 1999 paved the way for Criville to seize the opportunity and win his first title at the Premier Class level, the very first Spaniard to do so. In all, Criville won 20 races from 193 starts.
#2 Jorge Lorenzo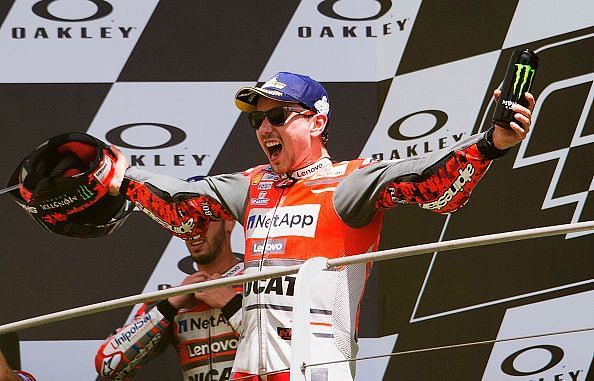 Jorge Lorenzo's 15th birthday in 2002 was extra special for 2 reasons - he made his debut in the 125cc class and the added incentive was that it happened to be at Jerez Circuit in Spain.
In 2007, Lorenzo won the 250cc Championship in commanding style and in 2008 was promoted to the Premier Class as Team Yamaha offered him a two-year contract to partner with the legendary Valentino Rossi.
A podium finish in his first 3 races earned him the distinction of being the youngest to achieve this unique feat. He would finish 3rd and 2nd respectively in 2008 and 2009.
In 2010, he became the second Spaniard after Alex Criville to be crowned World Champion. In numerous occasions, he had the lead in the 2011 season but eventually was runner-up to Casey Stoner.
In 2012, he won his second World title becoming the very first Spaniard to win two at the highest level. The 2015 season was a cliffhanger as Lorenzo pipped his Movistar Yamaha teammate Rossi to win his third title by just 5 points. After a lacklustre 2 seasons with Ducati, Lorenzo is now a part of Team Repsol Honda.
#1 Marc Marquez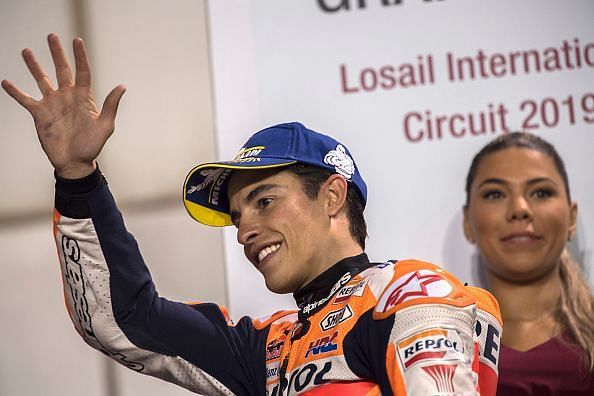 Spaniard Marc Marquez nicknamed 'The Ant' is one of only 3 riders to have won the Championship across all three classes. He made his debut in the 125cc class at the age of 15 in 2008. In 2010, he won the 125cc Championship and moved to Moto2 in 2011.
In 2012, he won the Moto2 Championships. In 2013, he was given a contract by Repsol Honda to race alongside compatriot Dani Pedrosa. Marquez is the youngest ever MotoGP Champion and only the second since Kenny Roberts to win the title in his debut season. He achieved this with Team Repsol Honda in the year 2013 at the age of 20.
He successfully defended his title in 2014 and was also crowned champion in 2016 and 2017. Marquez, who is known for his aggressive cornering technique putting him at risk of sliding out, won his 5th Riders' Championship crown in 2018. Still only 26, Marquez is on track to overtake Valentino Rossi and Giacomo Agostini in the all-time tally.
Edited by Debjyoti Samanta