MotoGP racing is one of the most interesting sports in today's sporting world which was set up by the FIM.
MotoGP was started in 1949 when the Federation Internationale de Motorcycle was set up. It is the oldest established Motorsport in the world. It has many motorcycle teams which have established themselves over time, and one of them is Yamaha Motor Racing. It was established in 1992. When Wayne Rainey retired from the sport, Yamaha was established and he was made the director.
Yamaha has had many great players over the course of its career in MotoGP. Later in 2004, another great joined the team, Valentino Rossi, who immediately made an impact when he won the Championship in the same year.
Here we have a look at five great players who have raced for Yamaha in MotoGP.
---
#1 Valentino Rossi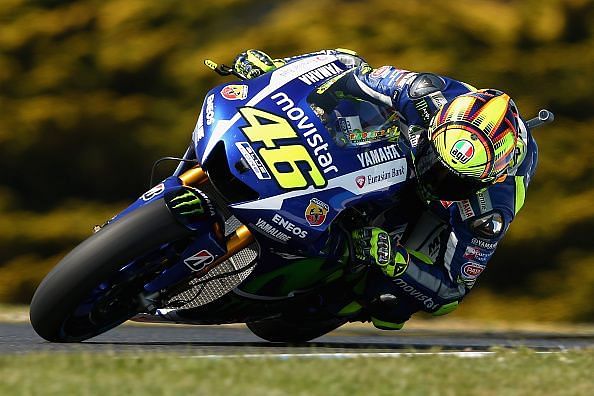 Valentino Rossi, an amazing Italian professional motorcycle road racer, made his debut in 2000 in MotoGP.
He is a multiple time MotoGP Champion. Not only that, he also is the only rider in the world to have won the world championship in four different classes: 125cc, 250cc, 500cc, and MotoGP.
Before moving to Yamaha in 2005, he had won the 500cc championship with Honda in 2001 and the MotoGP championships in 2002, 2003, 2004 and 2005.
Rossi has nine Grand Prix World Championships to his name, out of which seven are in the premier class.
Rossi suffered a minor setback when he joined Yamaha in 2005, as he lost the next season to his former teammate Nick Hayden due to a crash in the final round at Valencia.
He retained the title in 2008 after several duels with Casey Stoner following which he suffered a broken leg in 2010 and could not take part in the 2010 championships. In 2011, he left Yamaha for Ducati where he suffered a horrific season.
It was confirmed in 2012 that he would be rejoining Yamaha for the 2013 and 2014 seasons. Rossi came second in 2014, 2015 and 2016 season. He was leading the whole season in 2015 before being surpassed by Jorge Lorenzo who was his teammate at Yamaha.
Valentino Rossi is contracted to race till 2020 when he will turn 41. Till date, he has won 55 races and is also the owner of junior class Sky racing team by vr46 that competes in Moto2 and Moto3 Racing. Due to his accomplishments, he will surely go down as one of the best MotoGP drivers of this generation.
#2 Jorge Lorenzo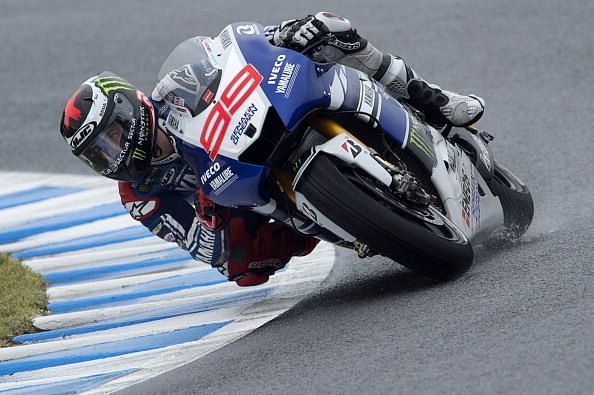 Jorge Lorenzo is a professional Spanish Grand Prix Motorcycle road racer who made his debut in 2002 at the 125cc Spanish Grand Prix.
Throughout his career, he has won the 2006 and 2007 250cc world championships and also 2010, 2012 and 2015 MotoGP World Championships. Lorenzo rode for Yamaha from 2008 to 2016. Apart from winning three titles, he has also ended up runners-up thrice.
Jorge Lorenzo became the first Spanish driver in 2012 to win multiple premier class titles which is an amazing feat. He has 67 wins under his belt making him number six in the all-time list.
In his first year as a MotoGP racer, he made an immediate impact for the Yamaha Team when he put in some amazing performances. He finished second after qualifying on pole position at the Qatar night race. After coming second in Spain as well, he finally ended up winning a race at the Portugal Grand Prix.
Jorge Lorenzo is the youngest racer to finish his first three races on the podium. Although Lorenzo did not have a very good final season at Yamaha, he will be regarded as one of the best drivers for Yamaha. He has won 44 races with them over the course of his career.
#3 Phil Read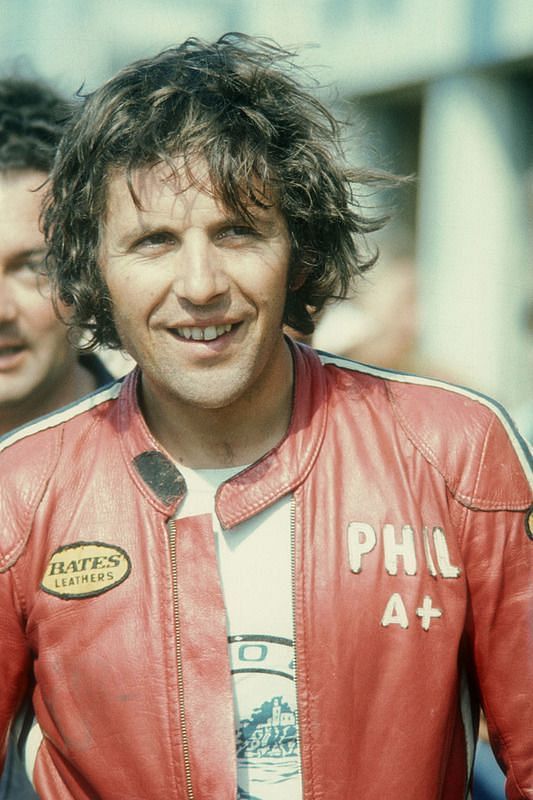 Phil Read is a former English Grand Prix Motorcycle road racer who made his debut in 1961 at the Isle of Man TT.
He has to his credit, the world championship victories in the 125cc, 250cc, and 500cc classes. At an early age, he was a very keen road rider and worked as an apprentice fitter at Brown and Green which is a Luton manufacturer of industrial machinery. The first road machine which he ever used was a Velocette KSS which he started at the age of 16 in 1955.
Phil Read won the Junior Manx Grand Prix on a Manx Norton at record speed. He is a two-time winner of the Thruxton 500 endurance race in 1962 and 1963 which he rode with Syd Lawton's Norton Dominator 650SS Machines.
Phil joined Yamaha in 1960 and in 1964, he gave them their first world title when he won the 250cc class. It was heartening to see that he retained the trophy next year as well. Next year, due to some problems with the bike, Read went on to lose the title to Mike Hailwood.
Phil became the representative for the Grand Prix rider's association in 1967. In 1968,he faced many controversies as he disobeyed the orders from Yamaha of focusing on winning the 125cc championships and instead fought Billy Ivy for the 250cc title. It was a costly decision as he was dropped from the team. It was a sad end to an amazing few years for him with Yamaha for whom he had won 39 races.
#4 Eddie Lawson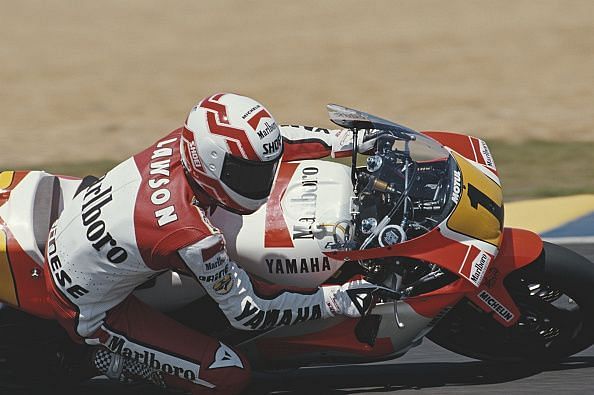 Eddie Lawson is a former American four-time Grand Prix Motorcycle champion. He made his debut in 1983 for 500cc class at the South African Grand Prix.
He was called 'steady Eddie' by many people as he had a penchant for not crashing and consistently finishing the race with points. This is a very rare achievement, as very few racers are able to do what Eddie did in his career.
Eddie began his racing career in the Southern California dirt track circuit. He had to switch to road racing as he was finding it difficult to compete with the ever so dominating Harley Davidsons.
In 1983, he accepted an offer from Yamaha to contest in the 500cc world championships as a teammate of Kenny Roberts. At the start of the 1983 season, Eddie spent most of his time learning the ropes of the Grand Prix circuit.
In 1984, he won the world championship which is a significant achievement for a person who had just learned the ropes of a Grand Prix circuit. This started a journey wherein he would go on to win four more world championships.
In 1988, Eddie shocked the world when he announced that he would be joining Honda for the next season and went on to win the 1989 championship with Honda thus becoming the first rider to win back to back championships with different bike manufacturers.
After his racing career was over, he pursued a career in open wheel single seat racing competing in the Indy Lights series. He has been inducted into the FIM MotoGP hall of fame in 2005.
#5 Wayne Rainey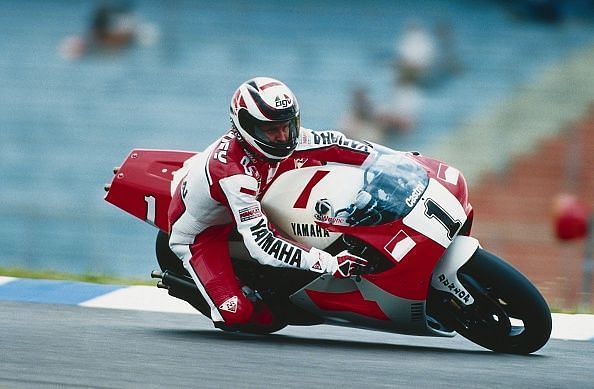 Wayne Rainey is a Former American Motorcycle road racer. He made his debut in 1984 at the Nations Grand Prix driving the 250cc class.
During the late 1980s and the early 90s, he won the 500cc world championships three times and the Daytona once. He is famously remembered for his smooth and calculating riding style.
Rainey began his racing career in the A.M.A grand national championship which is a series that encompasses four distinct dirt track disciplines.
In 1981, following his success with the dirt track racing, Kawasaki hired him to compete in the 1982 A.M.A. Superbike championship with Eddie Lawson being his teammate. In 1984, he moved from Kawasaki to Yamaha to compete in the 250cc championship but after a disappointing season, he was forced to go back home to join the Maclean racing team.
When Rainey was a part of the Honda team in 1986-1987, he had built an intense rivalry with Kevin Schwantz and they fought for the title. It was Rainey who won the championship but not before fighting intense battles with Schwantz. He returned to team Yamaha in Europe at the beginning of the 1988 season. It was in this year that he won his first world championship race at the British Grand Prix.
In 1989, Rainey finished second overall behind Eddie Lawson, winning three races and finishing on the podium in every race that he completed. From 1990 to 1992, he won three consecutive 500cc championships for Yamaha. After his retirement, Rainey became the team manager for Yamaha. He is one of the best drivers to have driven for Yamaha.