Valentino Rossi wins Argentina MotoGP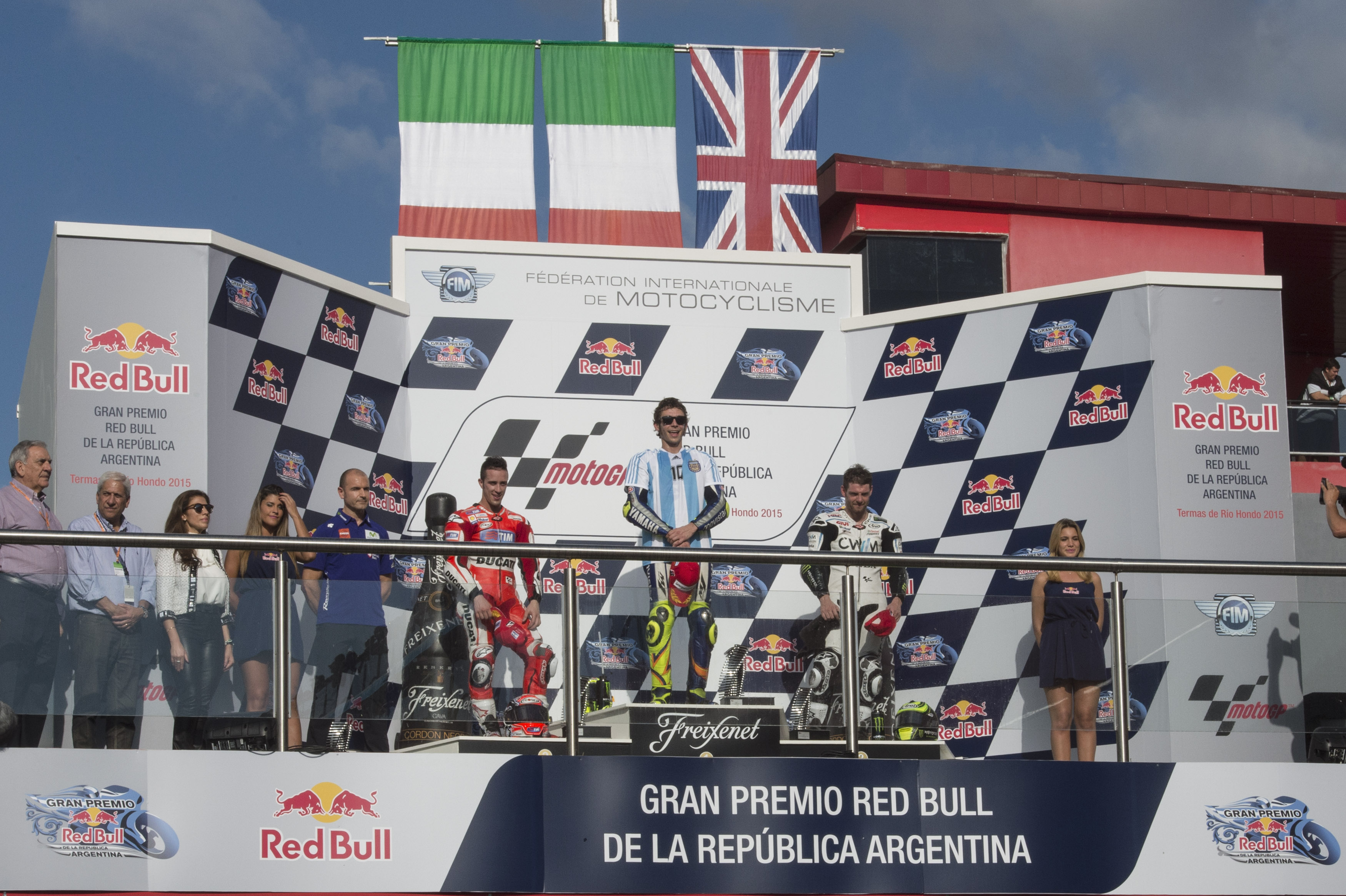 Yamaha rider Valentino Rossi beat the currently reigning world MotoGP champion Marc Marquez to win the Argentine Grand Prix. Marquez crashed out during the race after suffering problems with his tyres. He then proceeded to clip the back wheel of Rossi's vehicle, following which he crashed out of the race. Honda, Marquez's team, had opted to use hard tyres this race rather than soft ones, a decision that appears to have cost them dearly.
22-year-old Spaniard Marquez has had a stellar racing career so far, winning 13 of his 18 races in 2014 and having spent 3 years at the top of the MotoGP rankings. Trying to regain his lost lead over Rossi in the second-to-last lap, he lost out on both the race and this year's world championship rankings. A win would have seen him level with Rossi, who also won the Qatar GP, after placing third in the Motorcycle GP of the Americas, which Marquez won. The Moto 2 and Moto3 champions of that race were both Britons: riders Sam Lowes and Danny Kent.
Rossi, a seven-time world champion, is regarded by some as the greatest competitive motorcycle rider of the past decade.
The top three were rounded off by Rossi's compatriot Andrea Dovizioso, riding on a Ducati, while Briton Cal Crutchlow, riding for Honda, ended the race in third place.
Both Italians have had a good start to the 2015 season: Valentino Rossi is currently in 1st position for the 2015 rider rankings, while second-place winner Andrea Dovizioso is also second in the worldwide rankings.
Marquez currently stands at 5th following his loss in Argentina.
Argentina Grand Prix results
1. Valentino Rossi (Italy) Yamaha 41:35.644
2. Andrea Dovizioso (Italy) Ducati 41:41.329
3. Cal Crutchlow (Britain) Honda 41:43.942
4. Andrea Iannone (Italy) Ducati 41:43.996
5. Jorge Lorenzo (Spain) Yamaha 41:45.836
6. Bradley Smith (Britain) Yamaha 41:55.520
7. Aleix Espargaro (Spain) Suzuki 41:59.977
8. Pol Espargaro (Spain) Yamaha 42:03.314
9. Scott Redding (Britain) Honda 42:10.041
10. Maverick Vinales (Spain) Suzuki 42:10.452