Arunima creates history by becoming the first Indian woman amputee to summit Mt. Everest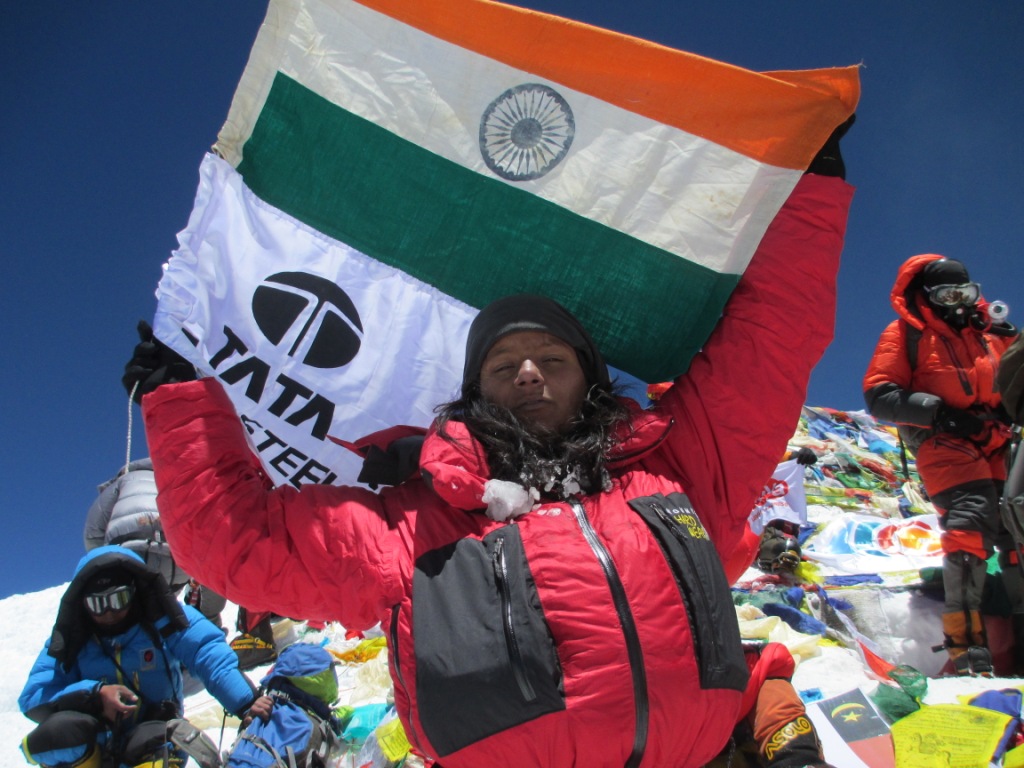 In a stellar show of indomitable spirit, zeal and grit, Arunima Sinha became the first woman in the country to conquer Mt. Everest with a prosthetic leg. Supported by Tata Steel Adventure Foundation (TSAF), Arunima successfully climbed the highest peak in the world on 21st May, 2013 with the tri-color flying high. Susen Mahato, a climber from TSAF, also successfully summited the highest peak in the world and was part of the same expedition group. The achievements aptly coincide with the 60th anniversary of the first climb of the zenith of the world when Sir Edmund Hillary and Tenzing Norgay climbed the peak on 29th May, 1953.
Trained under Ms. Bachendri Pal, Chief, Tata Steel Adventure Foundation (TSAF) and the first Indian woman to achieve the feat, Arunima completed her expedition journey from Kathmandu to the top of the peak in 52 days. She followed Susen Mahato, another climber of Tata Steel Adventure Foundation who summited Mt. Everest on 19th May, 2013. Arunima, an ex-volleyball player at the National level, lost one of her legs in an accident after being thrown off a moving train nearly two years ago. She was hospitalized with serious leg and pelvic injuries and in a bid to save her life doctors had to amputate her left leg below the knee. After a year of rigorous training with Ms. Bachendri Pal, Arunima has finally created history by becoming the first woman amputee to scale Mount Everest, the highest peak in the world. It was her courage, sheer determination and perseverance that made her beat the odds and creates history.
Speaking on the amazing feat, Mr. Sunil Bhaskaran, Deputy Vice President, Corporate Services, Tata Steel said,"We at Tata Steel salute Arunima's courage, grit, determination and dedication that have played major role in her very special achievement." He further added, "Youth of the country will derive inspiration from the world-achievers like Arunima and Susen as they have etched their names in history for their extraordinary and brave achievements, inspite of all odds."
Speaking at a press conference in Delhi, Ms. Arunima Sinha said, "I am extremely happy and proud to achieve my dream of climbing the Everest. Climbing Mount Everest is a stupendous feat for any individual to attempt. Tata Steel Adventure Foundation has been a great support in providing me the necessary training to face the adversities during the expedition. I also want to thank Ms Bachendri Pal who has been the constant guiding force and a source of inspiration for my journey."
Tata Steel in its constant endeavor to promote such rare talents has supported Arunima Sinha, age 26 years, in achieving her dream of scaling the Everest. Tata Steel has sponsored the expedition and provided all necessary training and mentorship for the challenging journey. Ms Bachendri Pal provided Arunima with the required training to achieve the goal of conquering the highest peak in the world. She has followed and monitored Arunima's performance very closely and been hopeful of a landmark achievement from this young and special adventure sports enthusiast.
Susen Mahato, climber from TSAF, expressed his gratitude towards Tata Steel Adventure Foundation and Ms. Bachendri Pal, Chief, Tata Steel Adventure Foundation, for providing the training facilities and the support which turned a rural youth from Jharkhand into a champion climber. He also congratulated Arunima Sinha on achieving the rare feat defying all odds.