Oldest Everest woman conqueror eyes seven summits
971 //
01 Nov 2012, 18:47 IST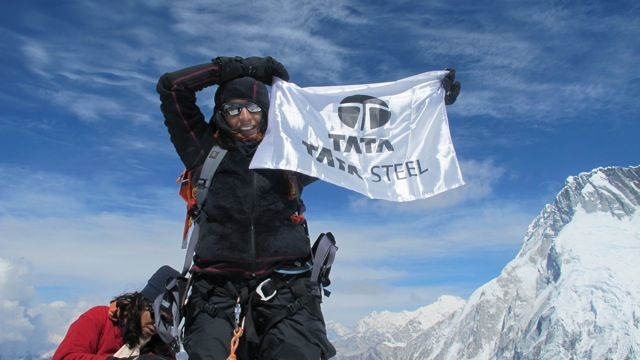 Kolkata - Ace mountaineer Premlata Agarwal, who became the oldest Indian woman to scale the Mount Everest, will begin her quest to complete the challenge of climbing the 'Seven Summits" in December.
"I've already conquered five summits and I hope to scale the rest to become the first Indian and oldest women to scale all of them. I hope to conclude the challenge by the end of next year," the 49-year-old told mediapersons here.
Agarwal conquered Mount Everest in 2011 at age 48, to become the oldest woman in the world to do so. She has also successfully climbed Mount Kilimanjaro, Mount Aconcagua and Mount Elbrus in Europe and Cartensz Pyramid in Indonesia.
If she scales the remaining two summits of Vinson Massif in Antarctica and Mount McKinley in North America, she would enter the Hall of Fame for mountaineers.
She will begin her expedition Dec 13, 2012 for Vinson Massif – the highest mountain of Antarctica. At 4,892 metres, Mount Vinson is the highest point of the mountain.
Inspired by legendary Indian mountaineer Bachendri Pal, Agarwal took to adventure sport at the age of 35.
"I accompanied my daughter for a mountaineering expedition where I met Pal. She made me realise my abilities and said it was never too late. Since then I have never looked back," said the mother of two who is being sponsored by Tata Steel.
Describing the expedition to Cartensz Pyramid (4,884 m) the highest summit of Mount Carstensz in Indonesia as her toughest, she said Pal has been a constant source of inspiration.
"Till date it has been my toughest expedition. It was like climbing several Everests at a time. But I kept thinking about Pal. She has been my inspiration and will continue to be," said Agarwal.
The lone Indian to scale the highest peaks of the seven continents is Malli Mastan Babu, who completed the quest in just 172 days, which itself is a record.