As the NASCAR Cup Series heads into the Round of 12 this weekend, the field of contenders has narrowed, but the competition remains fierce. With only 12 drivers left with a shot at the coveted championship trophy, each must dig deep and summon their best to outpace the field. This Sunday's race marks a critical juncture, where strategy, skill, and perhaps some luck separate the true title threats from those simply happy to have made it this far.
Looking ahead to the final showdown in Phoenix this November, a few drivers stand out as particularly well-positioned to go the distance. Let's take a look.
---
#1 Denny Hamlin, Joe Gibbs Racing
Total Points: 3,032 points
Denny Hamlin has amassed an impressive stat line in 32 career starts at Phoenix, with 15 top-10 finishes, seven top fives, and three wins. Remarkably, he has only one DNF (Did Not Finish) at the track. His recent results are equally stellar, with finishes of 11th or better in his last three Texas outings.
The Joe Gibbs Racing driver's season statistics are also impressive, with 3032 points scored to date. Hamlin has momentum on his side, having won the cutoff race at Bristol to advance into the Round of 12. Overall, he has posted a 9.3 average finish in the 2023 playoffs, delivering his usual strong performance when it matters most.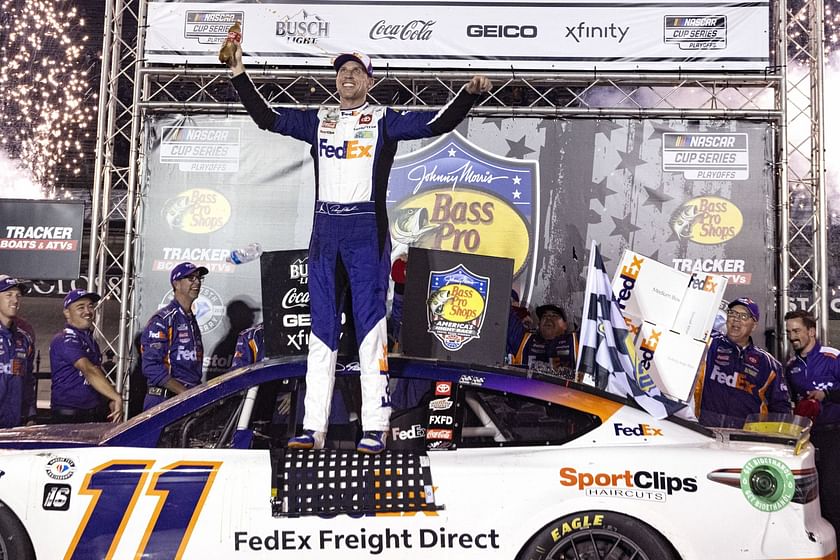 ---
#2 Kyle Larson, Hendrick Motorsports
Total Points: 3,023 points
The Hendrick Motorsports driver has delivered stellar results in his last two starts, finishing in the top 10 both times, including a dominating playoff victory last fall. Earlier in 2023, Kyle Larson also won the All-Star Race at the North Wilkesboro Speedway.
What Larson has going for him entering Sunday is his phenomenal current form. Through the first three playoff events, he has posted an average finish of 2.3 thanks to his masterful win at Kansas two weeks ago.
Sitting fourth in the playoff standings with 3023 points this season, Larson is undeniably a title threat.
---
#3 Kyle Busch, Richard Childress Racing
Total Points: 3,019 points
This Sunday, all eyes will be on reigning NASCAR Cup Series champion Kyle Busch. The track has been one of Busch's most successful venues, with 18 top-10 finishes and 14 top fives over the past 32 starts.
He reached an astounding level of dominance at Phoenix between 2012 and 2021, rattling off five straight top-10 runs. That streak was snapped last season after a crash resulted in Busch's first career DNF at the 1.5-mile oval.
Entering on a high note this playoff season, Busch has racked up 3019 points to date in 2023 and his momentum could not be higher.
---