One of Erik Jones' NASCAR pit crew members was involved in an accident during a pit stop during the Enjoy Illinois 300 and was taken to the hospital. At first, it was claimed that Austin Dillon's vehicle impacted the pit worker Thomas Hatcher after passing through the pit stalls. Later, it was determined that there was no touch between Dillon's vehicle and the crew member, as per Fox.
On pit road, the scene was really tense. Thomas Hatcher reportedly fell down after being entangled with another crew member. The NASCAR crew member was treated right away by the AMR Safety Team. He regained consciousness and was then brought to the hospital.
Austin Dillon, meanwhile, called the radio and inquired as to why an ambulance was on the pit road after the crew member collapsed.
Dillon's crew were pleased that there had been no contact between the No. 3 Chevy and the hurt pit crew member, according to the FS1 broadcast. Fortunately, there was no collision between the vehicle and the crew member.
The Jones crew had been replaced by a member of Tyler Reddick's team. Before the accident, Reddick was the reason for the warning. After his Toyota Camry's brake rotor failed, he had been eliminated from the race. The crew member and the 23XI Racing team deserve huge respect for stepping in during this trying moment.
Thomas Hatcher is currently awake and conscious and he is waiting for his CT scan results for further updates.
---
2023 NASCAR Cup Series Results at St.Louis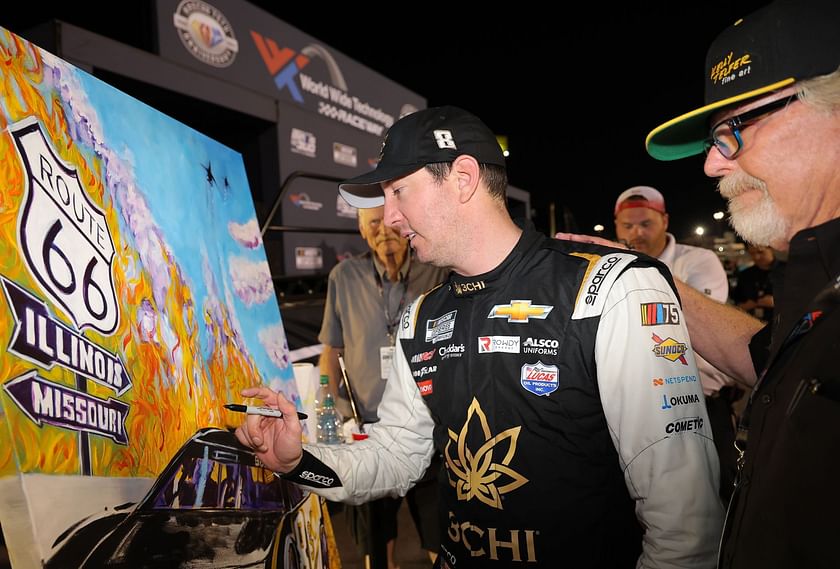 Kyle Busch won the race for the third time in the 2023 NASCAR Cup Series season following many red flags and late-race restarts. Busch managed to hold on to win the NASCAR Cup Series for the 63rd time in his career.
Denny Hamlin finished second followed by Joey Logano, Kyle Larson, and Martin Truex Jr.
The race didn't finish until after 9 p.m. EST, having begun shortly before 4 p.m. After only five laps, the race was stopped due to lightning in the region. The red flag was raised twice more over the course of the race, once for repairs to the outer wall and once for oil on the track.
Only five separate leaders and 10 lead changes were present. Eleven cautions, including two-stage breakdowns, delayed the race. A race-high 121 laps were led by Busch.