Two-time NASCAR Cup Series champion Kyle Busch recently spared a thought for the spectators in the grandstands of Texas Motor Speedway, who had to brave the high temperatures of the summer season.
Busch, a four-time winner on the 1.5-mile oval in Fort Worth, gave credit to the NASCAR fans gathered at Texas Motor Speedway. He called the spectators a "damn strong bunch" for bearing the 100°F summer heat sitting in the aluminum grandstands.
The #8 Richard Childress Racing driver added that he wouldn't pay for a ticket to sit in such conditions. Kyle Busch made the comments in a press conference on Saturday when asked if the Texas Motor Speedway should get a spring date.
"I think the heat – if you strictly talk about weather, the heat and stuff like that – look I give NASCAR fans all the credit in the world because they are a damn strong bunch. They are passionate and they are loving to our sport as much as we want them to be. But to be out in the 100-degree heat in aluminum grandstands, I'm not paying to do that. I'm getting paid to do that (laughs)," he said.
He added:
"So I give them credit where credit is due. That's what it's all about. You can talk about TV and everything else, but it's all about putting people in the grandstands. If we have empty crowds, we're not going to be on TV. Get people in the stands and make it easier for them."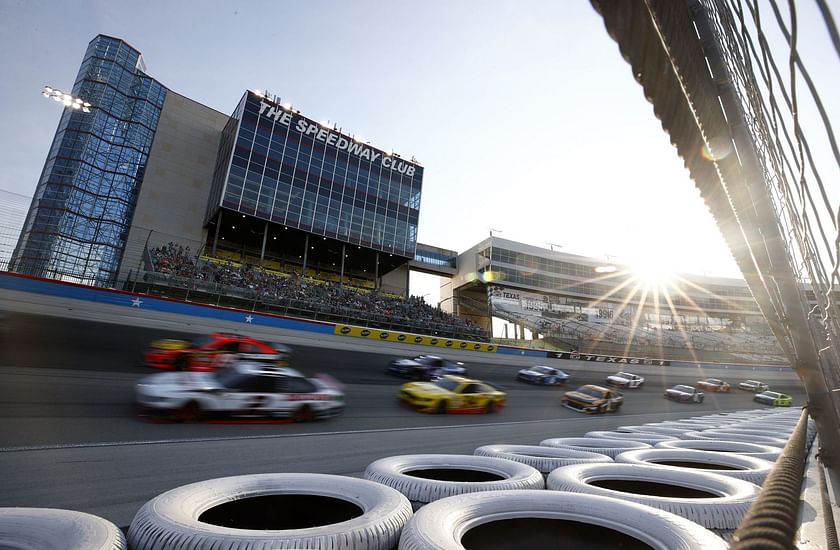 The 2024 NASCAR Cup Series schedule hasn't been announced yet, and a reshuffle of dates is expected due to NBC broadcasting the Paris Summer Olympics.
Currently, there are no reports about the Speedway Motorsports-owned Texas Motor Speedway getting a new date.
---
Kyle Busch says Texas Motor Speedway produces "lackluster" racing
NASCAR fans have frequently expressed their desire to have the Texas Motor Speedway removed from the schedule. Veteran driver Kyle Bucsh's opinion is also in harmony with the wider community's opinion.
Speaking about the lack-luster racing at the 1.5-mile oval in Fort Worth, Texas, Kyle Busch said:
"Yeah, I mean for whatever reason, say it for what it is.. speak the truth – Texas (Motor Speedway) has been very lack-luster lately. So being a playoff race, I'm not sure that we're indicative of that. I've actually seen a lot of people say that it shouldn't be on the calendar, period."
Regarding the reconfiguration of the track, the #8 Chevy driver made it clear that all drivers were against it.
"All of us drivers would highly, highly, highly not want it to be reconfigured again into an Atlanta-style race track, but I hear rumblings of that's where it's heading. So that wouldn't be fun."
Kyle Busch added that the playoff races and the regular season races were interchangeable if the authorities wished to do so.