Lightning was observed within an eight-mile radius of the World Wide Technology Raceway in Madison, Illinois, which forced the early red flagging of Stage 1 of the St. Louis NASCAR Cup Series event, the Enjoy Illinois 300. Only five laps had been completed when the red flag was raised, and each lightning strike resulted in a minimum delay of 25 to 30 minutes.
Although small showers were developing to the west of Gateway Motorsports Park, the track was still waiting for rain. Drivers were instructed to get to their vehicles within the next few minutes when NASCAR announced that the lightning was four miles distant.
At 3:55 p.m. E.T, NASCAR reported that the lightning was four miles away, while at 3:50 p.m. the red flag was raised when lightning erupted a few miles from the circuit.
In the end, there were several delays caused by lightning strikes within an eight-mile radius of the Enjoy Illinois 300. To protect the drivers, crew, and spectators present, these delays were required.
NASCAR takes safety seriously and has procedures in place to guarantee the safety of all race participants. The Enjoy Illinois 300 is just one illustration of how NASCAR places a high priority on safety and takes the required measures to avoid any mishaps or injuries.
---
Kyle Busch wins the NASCAR Cup Series at St. Louis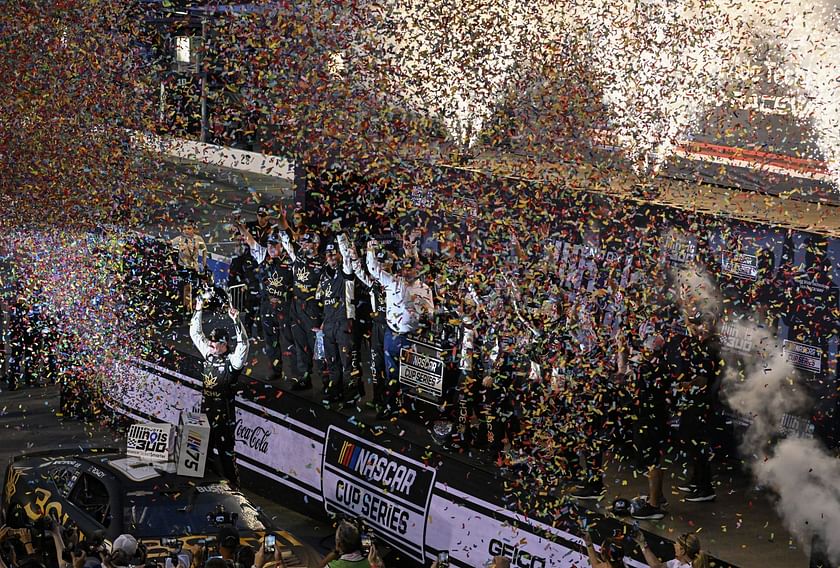 The frantic, caution-heavy NASCAR Cup Series race at World Wide Technology Raceway just outside of St. Louis on Sunday was won by Kyle Busch, who managed to hold off Denny Hamlin despite a number of late restarts.
Five laps into the race, Bubba Wallace's brake rotor failed, bringing out the 11th and final caution. In addition to a two-hour weather delay, there were two red flags during the race.
Busch had a strong push from Hamlin on the final restart, which was the sixth in the last 40 or so laps, as the floodlights began to illuminate the speedway. Busch then drove away to claim his third victory of the year for Richard Childress Racing.
While Joey Logano, who won in his Cup Series debut at the circuit a year prior, passed Kyle Larson on the penultimate lap to take third, Hamlin came in second. Martin Truex Jr. completed the top five ahead of last week's Charlotte winner Ryan Blaney.