Ryan Blaney is a professional stock car racer from the United States. He races full-time in the NASCAR Cup Series for Team Penske in the No. 12 Ford Mustang. Blaney has won seven times in seven full-time NASCAR Cup Series seasons, the first at Pocono Raceway in 2017 and the most recent at Charlotte Motor Speedway in 2023.
Fans are always interested in learning more about their favourite driver, especially their romantic lives. Let's find out more about Ryan Blaney's girlfriend.
Who is Ryan Blaney's girlfriend?
Gianna Tulio, Ryan Blaney's girlfriend, is a model and brand representative for Hooters of America. Tulio also won Miss Hooters International in 2021.
Tulio, 24, was born on July 31, 1998, and models for the Hooters brand both domestically and internationally. Her main modeling triumphs include being chosen as Miss June in the Hooters calendar in 2019, followed by being named Miss Hooters in 2021. She also received the Most Photogenic prize in the Orlando-based competition.
Gianna Tulio's family background?
Tulio has not disclosed any information about her parents or siblings. She grew up in Philadelphia with her sister, according to various sources. Her family eventually relocated to South Florida.
Gianna Tulio was born in the USA into a Christian household. Tulio is of Caucasian race and of American nationality. Tulio's ethnic background is difficult to determine because she keeps her family and ancestors' information hidden.
Gianna Tulio Educational background
Tulio attended Palm Beach State College from 2017 to 2020 and earned an associate's degree in business administration. During her freshman year, she participated on the soccer team.
How did Blaney and Tulio meet?
While it is unknown how the two met, the cheerful pair declared their love on Instagram on a week-long trip to the romantic ski resort town of Vail, Colorado. Tulio and Blaney have been inseparable since they rose to fame, with Tulio eager to express her undying love for Blaney.
Are Ryan Blaney and Gianna Tulio married?
Tulio and Blaney aren't married as of 2023 nor do they have any children. The couple's marriage information is not known to the public.
What is Gianna Tulio's net worth?
Gianna Tulio has an estimated net worth of $1 million as of 2023. Tulio is the current Hooters of America brand ambassador and the 2021 Miss Hooters International. Tulio is also a model and a fashion designer. She has worked as a freelance model for a variety of firms. As a result of working for large corporations for a long period, Tulio has amassed a sizable fortune and lives a comfortable lifestyle.
---
Ryan Blaney wins the Coca-Cola 600
In the final miles and after numerous restarts in Monday's 600-mile NASCAR Cup Series race at Charlotte Motor Speedway, Ryan Blaney defeated William Byron at the Coca-Cola 600.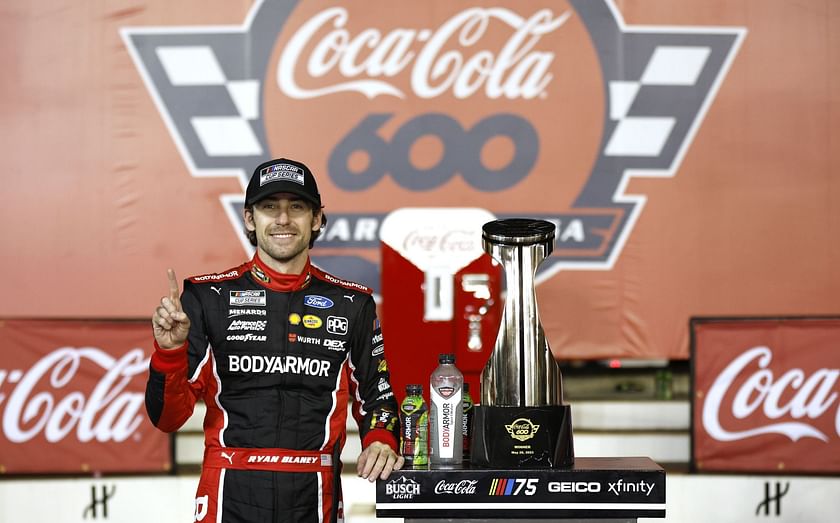 Blaney broke a 59-race winless drought and earned a spot in the Cup playoffs. Byron, Martin Truex Jr., Bubba Wallace, and Tyler Reddick rounded out the top five.
Edited by Siddharth Dhananjay