Alex Murdaugh's high-profile double murder trial came to an end after the now-disgraced attorney was sentenced to life in prison without the possibility of parole for the 2021 murder of his son, Paul, and wife, Maggie.
Despite his current fall from grace, Murdaugh was once known as one of the most prominent lawyers in South Carolina, hailing from a family consisting of high-profile American lawyers.
Murdaugh graduated from the University of South Carolina's law school in 1994 and joined his family's Peters, Murdaugh, Parker, Eltzroth & Detrick (PMPED) law firm alongside his brother and father. He also served as a part-time volunteer in the 14th Circuit solicitor's office and as well as the president of the state trial lawyers' association.
Even during his sentencing, Judge Newman dubbed Alex Murdaugh as "a well known member of the legal community," "a lawyer," and "a person from a respected family who has controlled justice in this community for over a century."
Despite Murdaugh's reputation as a well-known attorney prior to his criminal case, some of his former law firm colleagues claimed that the former might not be as gifted as the rest of his family.
According to The Daily Beast, two such colleagues have described Murdaugh as a "loud and frenetic lawyer" who kept "different hours than everyone else." They alleged that Murdaugh was able to keep a "good clientele" roster because he had the "gift of the gab."
Speaking during the trial, the firm's chief financial officer Jeanne Seckinger criticized Murdaugh by saying:
"He was successful not from his work ethic, but his ability to establish relationships and to manipulate people into settlements and clients into liking him. The art of bullsh*t, basically."
Ronnie Crosby, another former law firm partner who has known Murdaugh for over two decades, told the jury that the former attorney "wasn't a real student of the law."
Similarly, Hampton County Guardian editor Michael J. DeWitt Jr. said Alex Murdaugh was a "talentless" lawyer only had a successful career because of his family's age-old legal connections.
The local journalist also told CBS' 48 Hours:
"The Murdaughs built an empire of sorts here in the Lowcountry.It began over a century ago when the family established a law firm. Three generations of Murdaugh men also held the public office of solicitor, the chief prosecutor. Alex Murdaugh didn't continue that tradition. Alex inherited the last name and the red hair, and very little of the talent."
Murdaugh long served as an attorney at PMPED but was forced to resign from his role in 2021 after he was accused of stealing millions in cash from the law firm and using its reputation to withhold a $4 million settlement from the sons of a Murdaugh housekeeper, Gloria Satterfield, who was killed in a mysterious 2018 accident at his house.
Alex Murdaugh also confessed to battling opioid addiction over the years and admitted that he embezzled millions from his clients and law firm.
---
A look into Alex Murdaugh's lineage and family history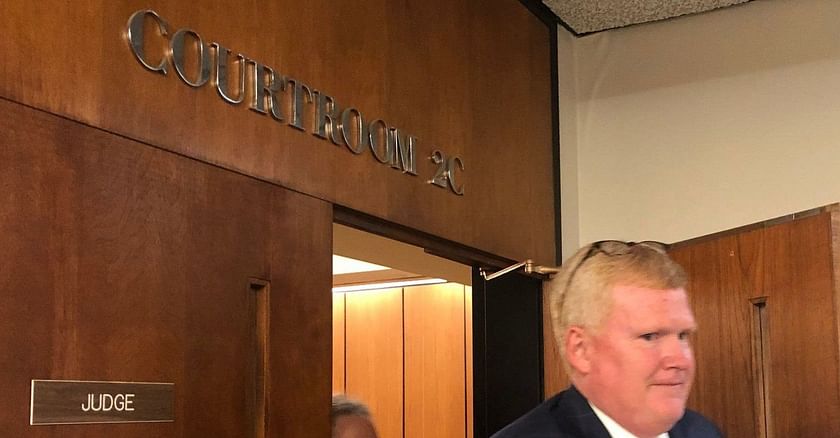 Alex Murdaugh was born to Randolph Murdaugh III and Elizabeth Libby Alexander. He was the grandchild of Randolph "Buster" Murdaugh and grew up with his brothers Randolph "Randy" Murdaugh IV and John Marvin Murdaugh and sister Lynn Murdaugh.
At least three members of the Murdaugh family served as the district attorney of South Carolina's 14th circuit district between 1920 and 2006.
Meanwhile, a member of their family members also held the title of 14th Circuit Solicitor for a century and covered five South Carolina counties, including Allendale, Beaufort, Colleton, Hampton and Jasper.
This led to the locals referring to the five-county district as "Murdaugh Country." Rudolph Murdaugh first founded the the personal injury law firm Peters Murdaugh Parker Ezltzroth & Detrick in Hampton, South Carolina in 1910, which is currently known as the Parker Law Group LLP.
Forbes reported that right after the position of solicitor became an elected role in 1920 Hampton attorney Randolph Murdaugh Sr. was chosen for the job. Trial attorney Mike Mackoskie reportedly said:
"The function of a solicitor in South Carolina is the same of a people's attorney or a prosecuting attorney or a district attorney in other states and that is to prosecute criminal cases."
When Randolph was killed in a train wreck in 1940, he was succeeded by his son, Randolph "Buster" Murdaugh, who held the role until his retirement in 1986. Buster's son, Randolph Murdaugh III, was then elected the solicitor and served until 2005. Mackoskie noted:
"His influence was not limited to this circuit. As solicitors in South Carolina are political animals, they necessarily have political bonds that they maintain. And I think that used to be a lot more important when Buster was coming up than it is now."
Despite their days of prominence, Alex Murdaugh's family recently came under the spotlight for consistent controversies. However, Mackloskie believes that the law firm's prominence will survive as "those guys are good at what they do."