Reaching quarters will be good: Indian rowing coach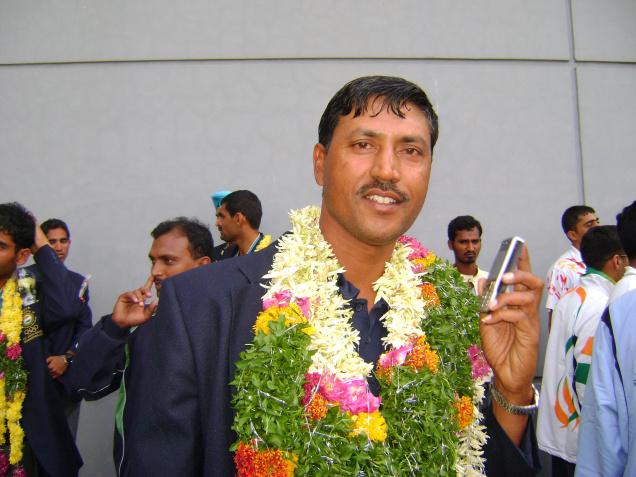 London, July 20 (IANS): India rowing coach Ismail Baig is realistic about his three-member team's chances at the London Olympics and feels a quarterfinal finish in the single and double sculls event will be a good result.
"I am not here make tall claims, and I think that making the second round in both single and doubles sculls will be a good showing by our rowers," he said on a visit to the Games Village here.
The rowing events are slated at Eaton Dorney, about 36 km from London.
"We have been training at Eaton Dorney for some time, but it gets very lonely out there so we decided for a quick visit to the Olympic Village," said the tall Hyderabadi.
The team comprises Swaran Singh (single sculls), Manjit Singh and Sandeep Kumar (double sculls).
"Not everyone who is participating here is going to win. In single scull, 33 rowers are taking part, while in the doubles 22. If all of them make the quarters, this in itself will be a good showing."
Baig further said, "In singles, a top six finish in the heats will enable Swaran to qualify for the quarters. In doubles, first 12 teams will go into the next round."
Baig, who has been with the rowing team for last 11 years in various capacities, has come here for his third straight Olympics. Under him in the last Asian Games, India gave one of their best performances, winning nine medals including one gold and five silver.
He said that qualifying for the Olympics was tough.
"Three of our rowers made the cut at the Asian Continental Championship in South Korea in April.
"Swaran finished first in the Championship while Sandeep and Manjit made it in doubles."
The event is schedule to be held from July 28 to August 4. In both the events, rowers have to display their agility and prowess in the 2 km race to qualify for the next round.
There are no fixed standard timings to finish the race. It depends a lot on weather.
"I think if Swaran clocks around 7 minutes and double scull duo time around 6 mins 30 sec then they can hope to be amongst the quarter finalists," said Baig.
"The water here is light compared to the hard water in Hyderabad where we had been training before coming here. Light water will help the rowers to improve their showing."
Baig said New Zealand, England, Czech Republic, Germany and Britain were tough competitors in singles doubles England, New Zealand and Denmark.