All set for Salwan Marathon
932 //
03 Nov 2012, 20:24 IST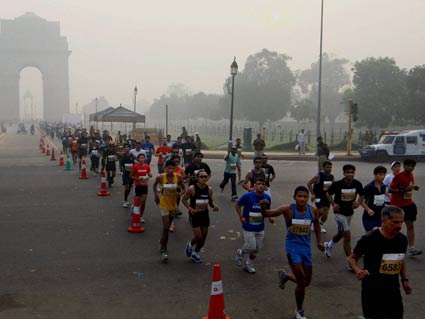 New Delhi - The city is all set to witness thousands of children running together for the 18th edition of the Salwan Marathon to be held at the Army Equestrian Centre, Brar Square, Delhi Cantt on Sunday.
An important feature of the mega run is the participation of visually impaired children who have come from across the country to participate in the run.
The Salwan Marathon which saw participation from merely 300 students when it first started in the year 1995, today takes pride by saying that they expect to have over 48,000 kids as a part of this year's event.
Praveen Kumar studying at Kendriya Vidyalaya, JNU, a visually impaired child who has been a regular feature in the last five editions stated, "It is a moment of pride for us and we feel empowered by participating in an event of this stature."
He added, "I am 16 years old have been participating since last 5 years and will continue to do so. I enjoy sports and like running, last year I stood at 18th rank and I am aiming for the 1st position this time around."
Annapurna a student of Sarvodaya Vidyalaya, who stood sixth last year said, "We are all equal and we run to prove just that. We are in no way different than others."
The 4.5 kms race for the visually impaired/intellectually challenged students will be the first to start 9 a.m.
While the main race for the under-18 boys/girls, an 8 km course, will start 10:45 am.