Ethiopians and Kenyans sweep podium at Dubai marathon
1.94K //
24 Jan 2015, 00:41 IST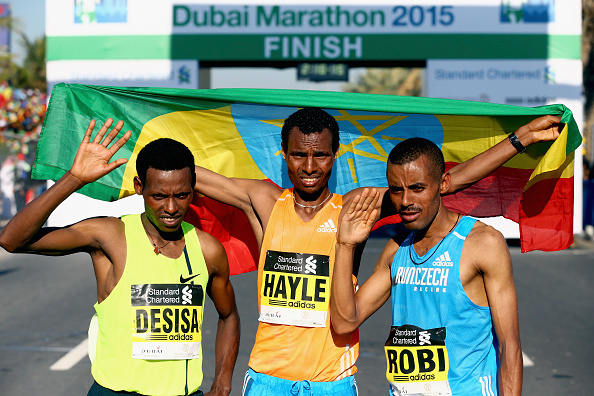 Dubai, Jan 23: Lemi Berhanu Hayle won the 11th Standard Chartered Dubai Marathon in two hours and 05.28 minutes here Friday ahead of his countryman and top favourite Lelisa Desisa, who finished 24 seconds behind, while Aselefech Mergia won the women's marathon in two hours and 20.02 minutes.
The men's marathon bronze went to Deribe Robi Melka from Ethiopia with a timing of two hours and 06.06 minutes. Ethiopians won the first 10 places in the men's challenge, reports Xinhua.
The runner-up of the women's competition was Kenyan Gladys Cherono Kiprono (two hours and 20.03 minutes), who delivered a spectacular neck-on-neck race with Mergia. Her 30-year-old Kenyan rival Lucy Kabuu passed the finishing line as third in two minutes and 20:21 minutes.
Thousands of running enthusiasts, especially from East Africa joined the race to support the runners. The most prominent supporter of the Ethiopian elite runners was marathon legend Haile Gebrselassie, who won the Dubai marathon himself three times.
"I support everyone from my country. I trained with some of them in the past," he said.
Both the men's and the women's winners took home each $200,000.