Ethiopians sweep Macau Marathon
979 //
02 Dec 2012, 20:25 IST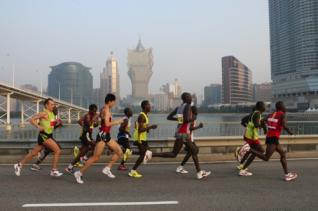 Macau - Ethiopia's Heile Haja Gemeda and Ehitu Kiros Reda became the winners of Macau Galaxy Entertainment International Marathon here on Sunday.
Gemeda sailed past the finish line in two hours 23 minutes and 56 seconds to lift the men's title. Kenyan Duncan Cheruiyot Koech followed at heel in 2:24:00, reports Xinhua.
Gemeda's compatriot Gezahegn Alemayehu Abebe was third in 2:24.11.
In the women's event, Ethiopia had a one-two finish as Reda set the winning pace in 2:50:11 before Tsega Gelaw Reta on 2:51.04. Irene Kemunto Mogaka of Kenya took bronze 1:21 off the pace.
Each winner bags $20,000 as prize money.
There were over 6,000 people from 57 countries and regions participating in the Macau event which included marathon, half-marathon and mini marathon.