Running and me – an insight into my journey in 2014
1.75K //
08 Jan 2015, 12:10 IST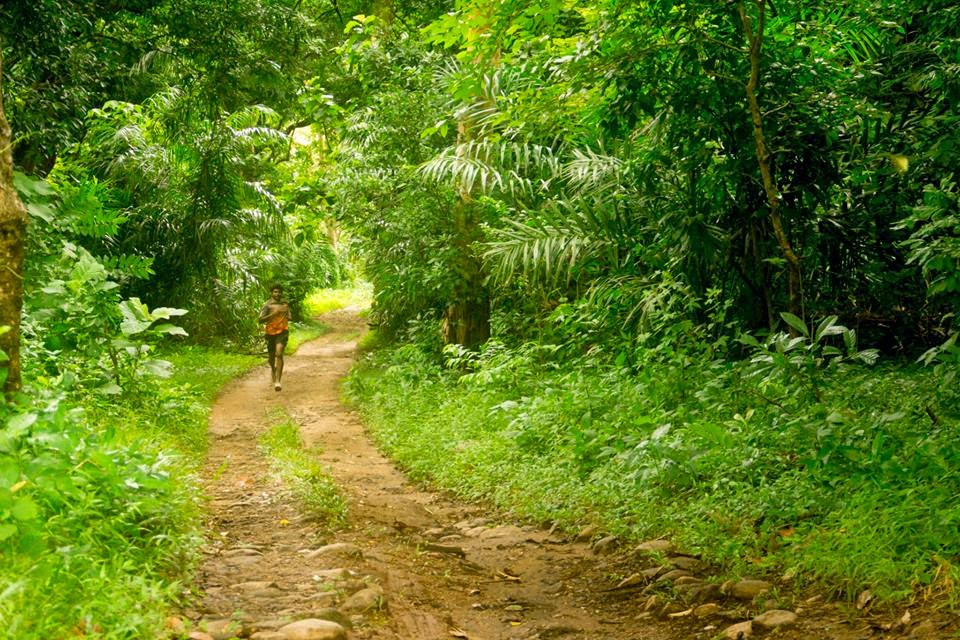 Certainly not in my wildest imagination had I ever thought that I would become a Marathoner. My solitary slow and regular trots along the Marina beach early in 2012 drove me into the arena of marathons, triathlons and the journey has been immensely self-satisfying. 2014 had been a hall mark in this journey since for the first time I attempted running long distances on the hills and was part of some of the core team which organised marathons.
Marathons – cities and meeting people – unique experiences:
Training for a marathon, planning the trip and travelling along with likeminded runners were some of the wonderful experience I always cherished. I should acknowledge that running took me to different parts of India and I am confident that in the years to come the journey would be lot more interesting and am looking forward to it. I planned my travel mostly in trains but the best journey was when I missed my train to Mysore to participate in Kaveri trail marathon. I travelled alone in a jam-packed bus and reached Mysore at 2 in the morning with just 4 hours for the run to begin.
What popular books about running, scholarly articles written by experts on diet, and advice provided by seasoned runners could teach me, I learnt travelling to different cities with fellow runners and running in different events. My best lessons about running and more fully about myself was learnt when I was attempting to push myself on the roads, on the hills, swim in the open waters and pedal against the head wind and on the hills.
Out of the few events I participated some events treated the runners like a 'hero', few events was busy selling their sponsors, but the best events were the ones which was organised 'by runners and for the runners'. In this regard Cochin Marathon 2014 stays close in my heart, there was no title sponsor, and the entire event was very simple, heart-warming and I had unique experience running on the roads of Cochin. I ran the following full marathons this year:
Mumbai Marathon – January
Auroville Marathon – February
Hyderabad Marathon – August
Kaveri Trail Marathon – September
Bengaluru Marathon – October
Cochin Marathon – November
Chennai Marathon – December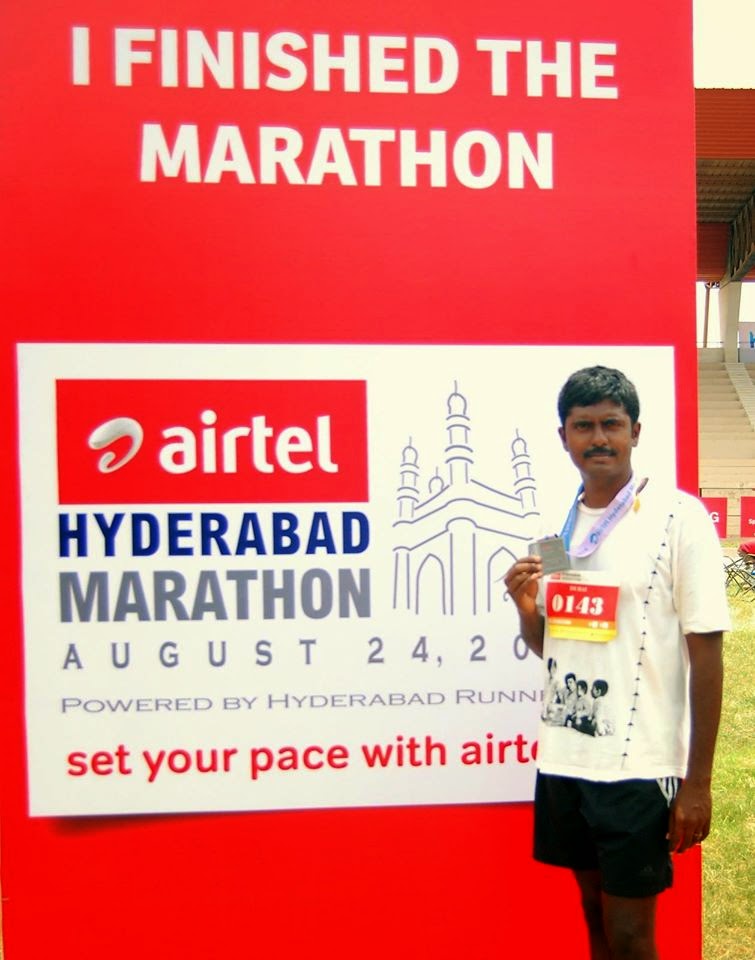 Discovering my Love for hill running:
This year I unearthed my passion for running in the hills. For me hill running is a nirvana, I have made a decision not to run in any event being conducted in the hills, I would choose to go for hill running with my running buddies and run for days on the hills and feel the overwhelming humbleness. For me to run on the hills is like returning to the place where I belong. Some of the most interesting running and camping I did this year are set out below:-
Shevroy hills 90 kms in 2 days
Palani hills 80 kms in 2 days
Kalryan hills 100 kms in 2 days
Munnar hills 120+ kms in 3 days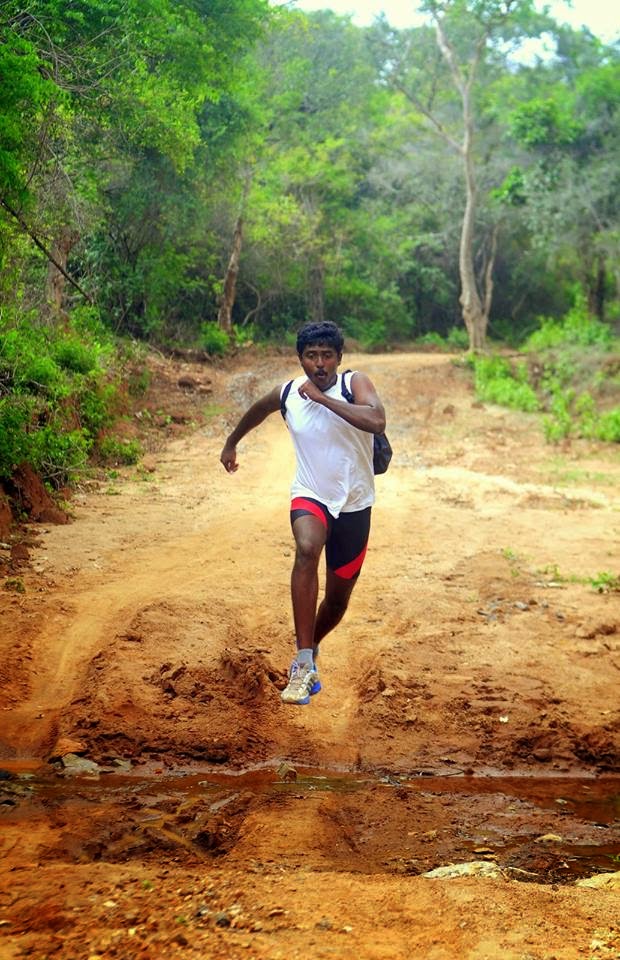 Triathlons – discovering hidden potential:
I was never a swimmer or a long distance cyclist until I put myself into test by participating in triathlons. When I first attempted to cross the Nagalapuram east dam, when I dived inside the Ottiambakkam quarry with a hope to swim across all that I had was only the confidence which later transformed into courage and strength to take up open water swimming confidently. For me triathlon is an event where you put your mind and body to fight against each other and discover your hidden potential.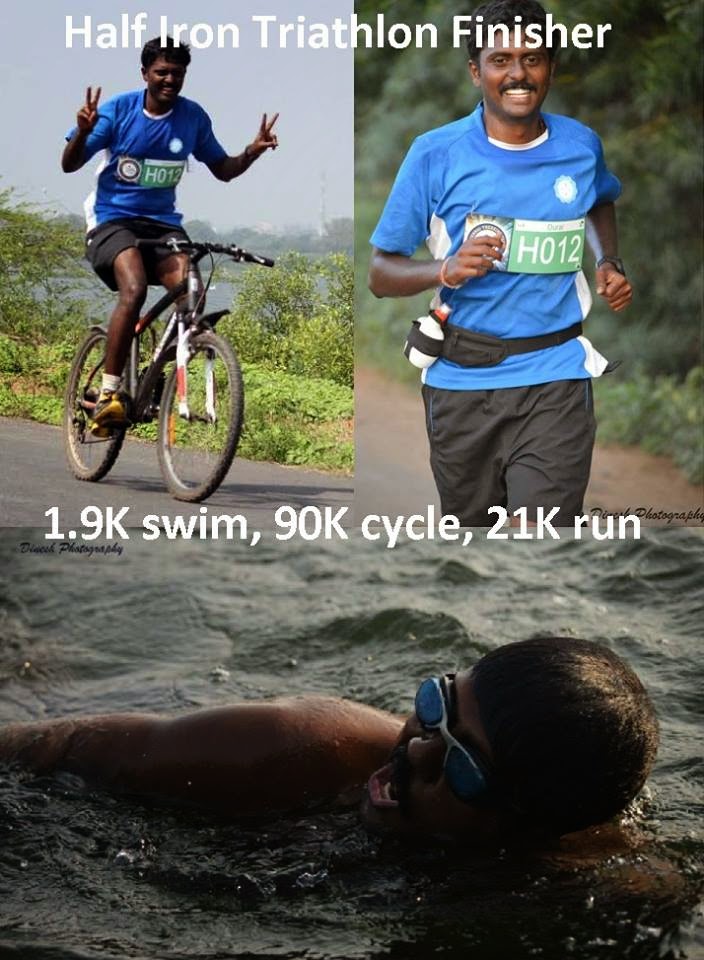 Organising marathons – Thanksgiving to runners:
I consider organising and volunteering in marathons is a platform by which I can serve, and give back to the running community. I have been part of the core team which organised the Chennai Trail Marathon and Jawadhu Hills Ultra Marathon. Planning the trail, getting permissions, promoting the run and conducting both these marathons far away from the city was a very challenging task and I am very proud for having involved myself in organising these runs. While running has taken me to different places I volunteer in these events as a thanksgiving to my fellow runners and volunteers.
Running for a cause:
My little and slow running gets its meaning, life and real purpose only because of the cause I choose to run. I believe running is a very powerful tool in taking forward a good cause, as always, I consider it as a god sent opportunity to run for "Isha Vidhya" garnering support for their good cause 'Educating Rural India'.
It was extremely a humbling experience when I got the good opportunity to run 100 kms at the Kalrayan hills raising funds for these rural children. I feel proud about myself when I run marathons sporting 'Isha Vidhya' t-shirt. I also feel happy that I demystify the popular myth that marathons should not be run sporting cotton t-shirts.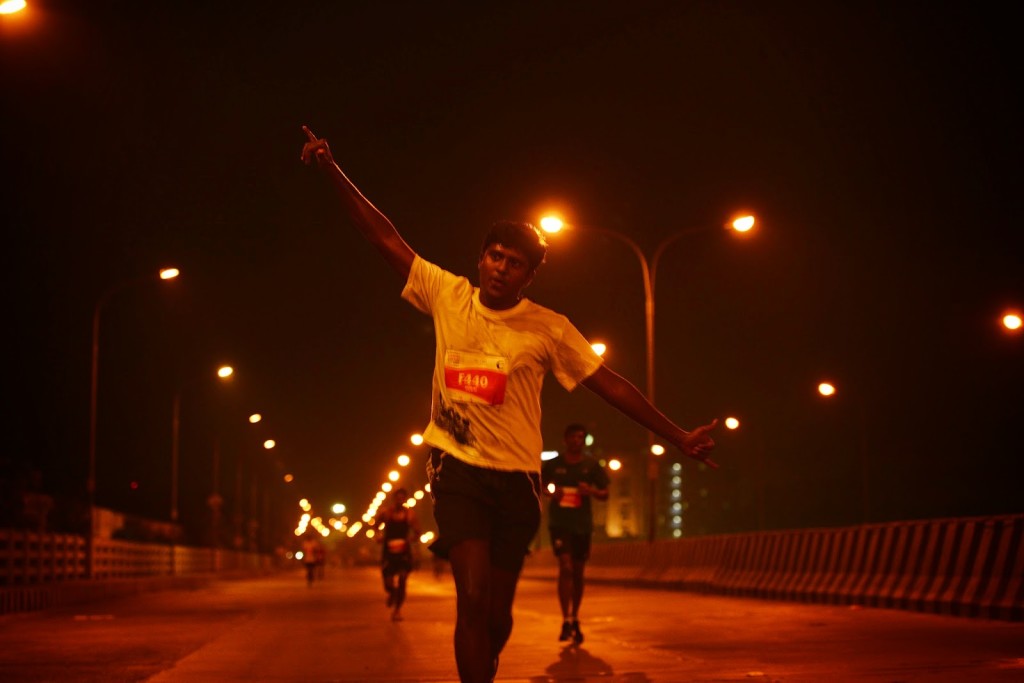 Overall, the year 2014 had been very kind towards me and helped me realise my hidden passion and explore the same. I am extremely thankful to all my friends who were part this journey. However, my dream is to run a barefoot, bare-chested marathon in 'Dothi' and I wish to find an answer for the same in 2015.