Interview with Haile Gebreselassie - "Winning 10,000m gold at Sydney Olympics is my favourite moment"
Interview with Haile Gebreselassie - "Winning the 10000m Gold medal at the 2000 Sydney Olympics in a thrilling finish is definitely my favourite moment"
Double Olympic gold medalist and long distance running legend Haile Gebreselassie was recently in India for the inaugural edition of the Bengaluru Marathon. The Ethiopian legend was Adidas Brand Ambassador for the Bengaluru Marathon. He interacted with fans and runners at the Sree Kanteerava stadium, talking to them about his own experiences and enjoyed himself throughout the event.
The 41 year old, who holds 2 Olympic medals in the 10000 metres at the 1996 Atlanta and the 2000 Sydney games and 4 World Championship medals, has set 27 world records over the course of more than two decades of running.
I caught up with him after the Bengaluru marathon for a brief interview. Here are the excerpts from the conversation:
To start off, tell us a little bit about your starting posture, the highly distinctive manner in which your left arm stays positioned while you run. Is it true that it developed because of you running to school with books in your hand?
Yes, the posture indeed developed due to the way I used to run to my school with books in my hand. There was no other mode of transport available, and running was something that I liked so, so it was a good thing. My left hand thus always stayed in that manner, as I never really paid attention to it, and it was something that just happened naturally.
In a way, I think it might have helped me, as I did not have to work on changing that posture, and so, it did not affect my speed much.
Among the two Olympic gold medals you won in the 10000 metres in Atlanta 96 and Sydney 2000, which one do you treasure more, and why?
Although I am very proud of the fact that I have 2 gold medals, I think I would definitely rate the Sydney gold a little higher than the other. Why? Probably because of the toughness of the field, the intense competition I had with Paul Tergat, my friend from Kenya, and most of all, the fact that the difference between us at the end was so little.
So yeah, although I have set a lot of world records, and won a lot of competitions, the 2000 Sydney Olympic gold is most definitely my favourite moment.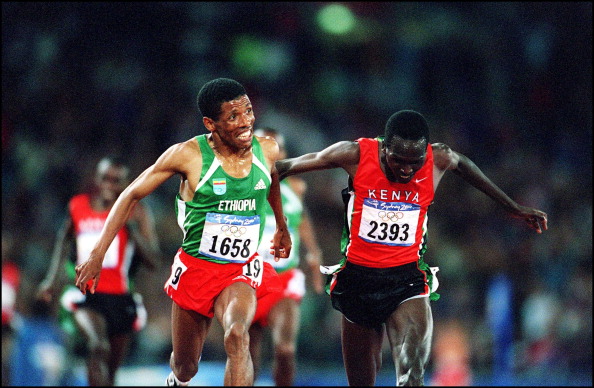 Talking about your major rivalries, you shared some great races with Paul Tergat, and in the later years of your career, a slowly developing one with your countryman Kenenisa Bekele. Which of those would you describe as your main competitor?
Oh no question, definitely Paul. Both of us were at the peak of our careers, and ours was a very friendly, yet very competitive rivalry. Paul and I basically arrived at the scene at about the same time, and emulating him was something that helped me push myself. I remember telling Paul, both our countries need such competition. For us, running is not just another sport. I always told him, "Paul, Ethiopia needs Kenya, Kenya needs Ethiopia."
I can't call my races with Kenenisa much of a rivalry, as he came when I was almost at the end of my career, so no, it wasn't much competition with him.
Do you have bittersweet memories of Berlin? You broke the World Record for the marathon there and won the event thrice, but then in 2011, you had to pull out due to difficulties breathing because of your asthma.
Nah, I don't think like that at all. I would rather say, I performed very well in Berlin, won the marathon many times, and set the World Record twice, so, why shouldn't I be happy with my memories there.
Even with my withdrawal in 2008, I knew I was having trouble breathing, and because that was the case, I wouldn't have been able to complete the race in the best possible way anyway. So, no, I am very happy with my history at Berlin.
Since we are on the topic, is there any regret you have that you took part in the Beijing Olympics, but decided from the marathon?
No, no, nothing to regret at all. I knew I had a problem breathing due to my asthma, and Beijing had higher levels of pollution, so I took the best decision possible. Why should I regret it? Definitely, I have no regrets at all.
In fact, I had travellled to Beijing 6 months earlier too, and it was similar then too, so it helped me make my decision.
If Haile Gebreselassie had not been a runner, what would he have been?
(Laughs) Haha, I don't know, I think I would have maybe been an artist, yes, an artist I think.
What do you prefer, outdoor running or indoor running?
No question, outdoor! Outdoor I think makes you want to run more, you enjoy it a lot more than indoor.
You once said "A day without running, is not a day." Does that still hold true?
Without a doubt, I still say that. I'll tell you, running is the best feeling one can experience. When you go outside and you run, and you sweat, you realize, this actually makes you feel better. I always fel the same.
When I don't run, my body doesn't feel right, something inside just doesn't feel right. I don't know, maybe it is because I have been doing it for so long, that I am used to it, but whatever you say, there is a lot of uneasiness, and nervousness, if I don't run.
What did you think of the Bengaluru marathon?
(Instantly) Oh lovely, this is just lovely weather for a marathon. During the event, it was just so cool, and pleasant, you missed it by not running! In terms of what one needs in a marathon, the weather was ideal, the enthusiasm among the participants was great, and the few that I interacted with were so happy and cheerful at the finish.