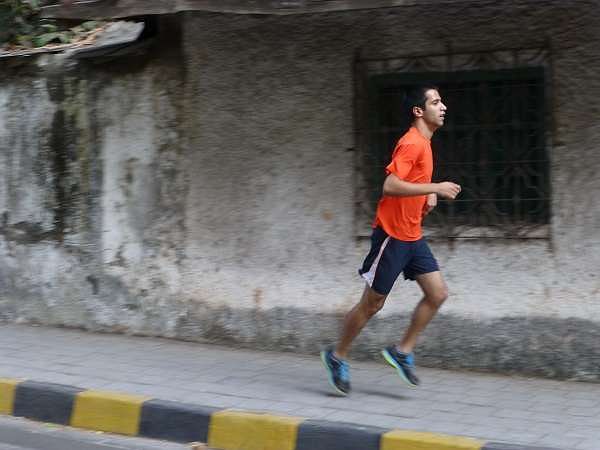 Nihad Panju is a marathoner who trains 6 times a week towards his goal. But he's not your average runner. Dealt a massive blow when he was only 5 months old, he survived with the left side of his body paralysed.
How did he come back from that to run the marathon? Here's his inspiring story:
When I was very, very young, all my decisions were made for me by my health.
I had TB meningitis when I was 5 months old. It could easily have been fatal, and I had to be operated on as a life saving procedure. As a result of that treatment, I was left with left--sided Hemiplegia impacted my function drastically.
That's when an entire side of your body is affected by cranial injury of some sort. The parts of your brain that control movement, motor function, facial movement, are all affected.
I went through years and years of treatments. This started out with 'conventional' therapy – like physiotherapy, occupational therapy, ayurvedic massages, advanced biomechanical rehabilitation and biofeedback, to name just a few,
Unfortunately for us, these did little to address my problems. My parents eventually attended a course called "What to do about your brain injured child?" at The Institutes For the Achievement of Human Potential in Philadelphia. I was only 10 at the time.
I had to be pulled out of school in order to complete the gruelling neurological stimulation and reorganisation program prescribed by IAHP.
In contrast to the frustration I encountered with the conventional therapy, I was motivated by the IAHP program despite the impossibly tough schedule and a 14 hour day seven days a week. This was because I was feeling improvements in the first weeks.
But I was young then, and possibly did not truly understand the gravity of the situation, but I adapted quickly growing older.
To deal with life in the best possible manner, I learnt to compensate by using my right side optimally – and that was key in me becoming 100% independent.
The program focused on physical, intellectual, nutritional and physiological well being. My balance, stamina, strength, coordination, vision, sensory faculties; they all improved considerably.
Impact on life
I was under four and a half years of relentless adherence to the program.
That also meant that I was isolated from life in general. Already dealing with different issues from my peers, I spent my time physically apart from those my age.
The program took 12-14 hours a day, everyday, and was both time and effort intensive; it meant that I was separated from my peer group for quite a while and missed out a bit on the 'conventional' bits of childhood and youth at the time.
After months, I finally felt I was functional enough to reintegrate with my peer group. That's when I went back to school.
"They told me I would never do it"
When I finally completed the physical rehabilitation program, I felt I needed to stay physically fit and joined a gym.
My trainer and his running group were preparing for the 2012 Standard Chartered Marathon in Mumbai.
At the time people told me that I would never go the distance. I wanted to prove them wrong. I wanted to be the best that I could be with what I had been given, instead of wallowing about it.
I joined a running group with my trainer, and started running with them. A lot of my friends gave up a short while later. I ended up training and running pretty much alone.
When I started training for my first marathon, I was 20 and I ran my first half marathon at 21.
The greatest difficulty I face, even today, are diaphragm cramps and initially I found it hard getting up to the 8 or 10 kilometre mark.
But once I got there it just became easier to go longer distances and do what a lot of runners call running "that extra mile". Unfortunately, I still suffer from cramps but I can now anticipate when they are going to come and I have learnt that slowing down and walking helps.
Remembering the past
Looking back, everything was a hurdle. The program helped tremendously with a transition to some form of normality.
It is there that I started a running program as well. Then I had to build up my strength, stamina, running technique, and convince my family that I could run the distance. Without the support of family and friends I probably would not have come this far. What kept me going was an inner conviction that I could beat the odds, and that is so important.
Take us through your current training routine. How do you eat, prepare and stagger training, especially in the lead up to a marathon?
I do 3 outdoor workouts a week, go to the gym a minimum of twice, and go on a long distance run every seven days.
My diet currently consists of a high carb meal the night before a run and banana right before the run.
Generally, I start by building up to the distance I want to reach (21 kilometres) after which I run a couple of 21 kilometre runs then start reducing the distance week by week and lastly, about a week before the marathon I don't run at all which is my recovery before the marathon itself.
My aim is to run as many marathons as I can each year and and hope for the number of runs to increase each year.
This year my aim is atleast 3 or 4.
And finally, what advice would you give to someone out there who is looking for the motivation to get up and go?
Don't allow any kind of disability to prevent you from any of your dreams. It is possible with determination and hard work to do anything you want to - even if you are told achieving something is impossible. There will be times you feel that way too, but stick with it and persevere and eventually you will get there.