Large turnout for 18th Salwan Marathon
948 //
04 Nov 2012, 16:56 IST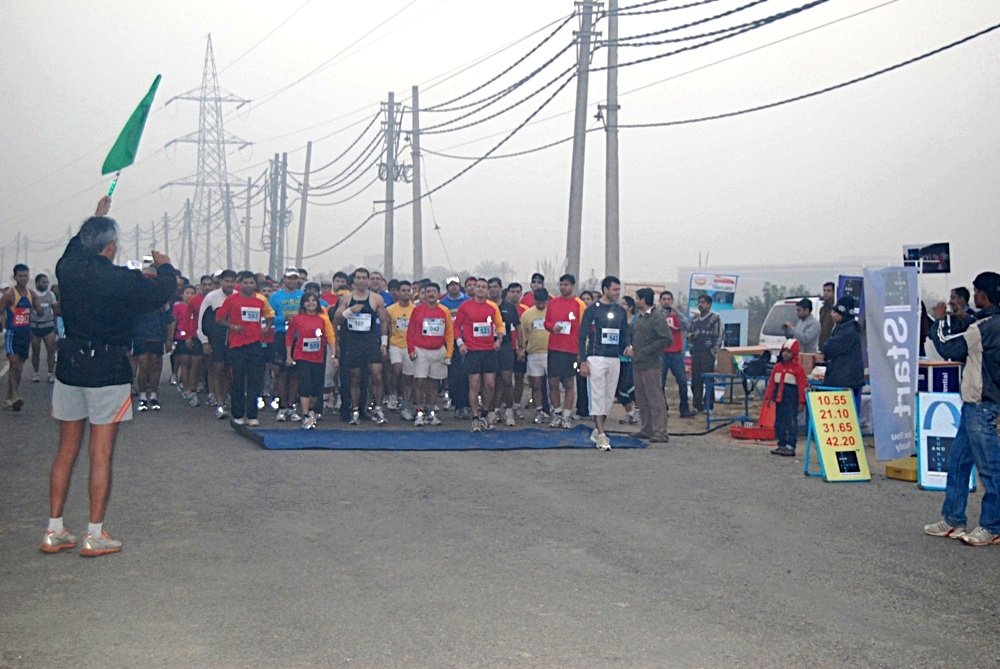 New Delhi - As the morning haze faded away, the Army Equestrian Centre came alive here Sunday with more than 48,000 students from 800 schools lining up to run the 18th edition of the Salwan Marathon, the world's largest cross-country run for school children.
The Marathon was flagged off by Lt. General Anil Malhotra, director general supplies and transport of the Indian army.
The Salwan Cross Country Marathon which saw participation from merely 300 students when it first started in 1995 has seen the numbers rise creditably over the years.
The event also sees regular participation from 'specially abled' kids thus making it one of the events to look forward to each year. The 2012 marathon witnessed a huge participation number, which included 1,100 visually impaired and 150 intellectually- challenged students.
"It delights us to witness such fervent response for the 18th consecutive year of Salwan Marathon. The movement has truly gathered momentum and is reflected in the increased number of participants as compared to last year," said Mr. Inder Dutt Salwan, trustee of the Salwan Education Trust.
"For us bigger than the run is the safety and security of the students. All the 48,000 students, who came for the run, have gone back safely. We would like to thank the Services Sports Control Board, the 3,500 Marshals, and specially the Delhi Police who have extended all their support to ensure that everything went off smoothly."
He further added: "In an attempt to tell the participants that there are no shortcuts to glory, at this year's marathon, the winners across each category of races were made to undergo a Dope Test and Age Test. It is a good beginning for fair play."
Students prepared themselves for as long as one month to run relentlessly on the big day.
In an effort to reach out to the whole student community, Salwan Marathon had this year tied up with various schools for visually impaired students across India, and 'Special Olympics Bharat' to get intellectually challenged students and street kids to participate in the run and get involved in the spirit of sport.
The marathon categorised participants in eight different categories — Visually impaired, intellectually challenged (4.5 kms), Under 14 Girls and Boys (4.5 kms), Under 16 Girls and Boys (6 kms) and Under 18 Girls and Boys races (8 kms).
Winners:
Visually Impaired Girls – Meenu (RV AK Sr Secondary School, Vikaspuri)
Visually Impaired Boys – Rahul Kumar (JPM)
Intellectually Challenged Girls – Rupali (Asha Kiran Special School)
Intellectually Challenged Boys – Gaurav Negi (Balwant Rai, Lajpat Nagar)
U-14 Girls Race – Shabnam Shokeen (SKV Dharampura)
U-14 Boys Race – Priyanshu Bharadwaj (Rohan Mill Amrut Inter College)
U-16 Girls Race – Usha Sati (SKV No 2 Yamuna Vihar)
U-16 Boys Race – Deepak (GBSSS Kolachi H.P.)
U-18 Girls Race – Bharti (GGSSS Khajurikhas)
U-18 Boys Race – Sandeep Sharma (Delhi)