No place for cheaters in Salwan Marathon
859 //
04 Nov 2012, 22:18 IST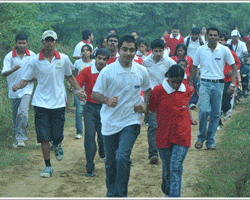 New Delhi - Organisers allegedly threw out 10 dope users and more than 150 over-age students from the cross-country run for schoolboys and girls from the 18th edition of the Salwan Cross Country Run at the Army Equestrian Centre here Sunday.
Participants and winners across each category were made to undergo a dope and age verification test at Brar Square in the capital.
"A student in the under-16 boys category was caught with opium. In the under-18 boys category, nine students were caught with performance-enhancing drugs," Inder Dutt Salwan, director of Salwan Group of schools, told IANS.
In the top 25 of the U-18 boys, nine students were deemed to be over-age. Age verification tests were conducted at the ground while dope tests were done in a Vasant Vihar clinic with the help of internationally reputed diagnostic lab Religare.
"There were four age checks during the entirety of the event and in total about 150-200 students were over-age," he said.
"We were very clear on our stand of clean sports and the message was received well by the students."
More than 48,000 students from 800 schools had lined up for the run.