O.P. Jaisha dethrones Lalita Babbar on her marathon debut, breaks 19-year-old national record in the process
2.20K //
18 Jan 2015, 18:59 IST
Perfect debut for Jaisha
Kerala's O.P. Jaisha made her marathon debut in a stunning fashion by emerging as the winner amongst Indians (8th overall) in the women's category of the Standard Chartered Mumbai Marathon here on Sunday, finishing in a time of 2 hours, 37 minutes and 29 seconds. She outran three-time winner and defending champion, Lalita Babar, who finished second (9th overall) in a time of 02:38:21. Both Jaisha and Babar are coincidentally coached by the same person, national middle and long distance running coach, Dr. Nikolai Snesarev.
Jaisha, an Asian Games bronze medallist and Asian Indoor Games gold medallist for India in the 1500m and 3000m, also broke the 19-year-old national mark of 02:39:10 set by Vally Satyabhama way back on December 21, 1995, in Chennai, the previous best time by an Indian woman in marathons.
And that was not all; Jaisha's time also helped her clinch a spot at the IAAF World Championships in Beijing, set for later this year, as she ran a good 2 minutes and 44 seconds under the qualifying mark set by the Athletics Federation of India (AFI).
Sudha Singh (11th overall) was the third-fastest Indian woman with a time of 02:42:12.
Karan Singh does it again!
Among the Indian men, Karan Singh , from the Army Sports Institute in Pune, retained his crown finishing in a tme of 02:21:35, marginally ahead of Arjun Pradhan – who led for much of the way until the last few kilometres – with 02:22:22. Bahadur Singh Dhoni was the third fastest Indian man with a time of 02:22:41. The top three Indian men were overall the 11th, 12th and 13th best finishers respectively.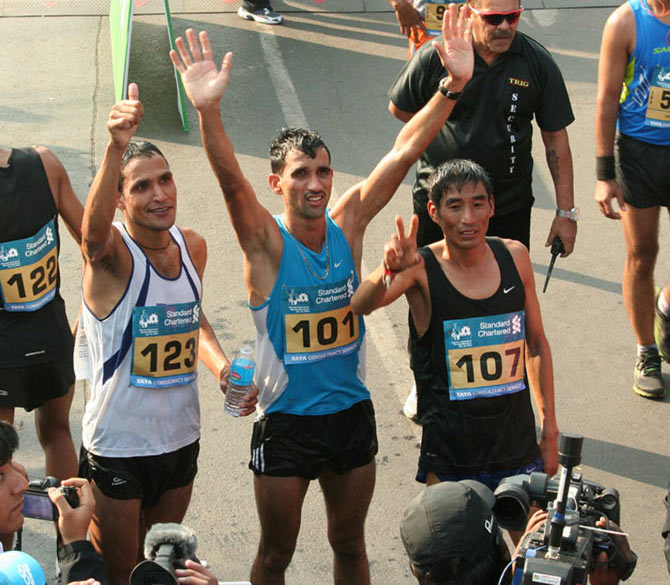 The results in the Indian category mirrored the main results somewhat as there too, the race saw a marathon debutant emerge winner while the other crown went to the defending champion.
Ethiopia's Tesfaye Abera, a promising but hitherto inexperienced runner, managed to upstage his more accomplished counterparts to emerge winner in the men's marathon, finishing in a time of 02:09:46. Abera's countryman, 29-year-old Dereje Debele, finished second in a time of 02:10:31 to make it an Ethiopian 1-2. Luke Kibet from Kenya finished third in a time of 02:10:57.
The Kenyans had swept the top three places last year, but were under sizable threat from the Ethiopian contingent this time around in the lead up to the race. And so it proved on raceday.
The Ethiopians further dominated in the women's category as well as last year's champion, Dinknesh Mekash, led an impressive 1-7 Ethiopian finish in a time of 02:30:00. She was followed by Kumeshi Sichala (02:30:56) and Marta Megra (02:31:45) in second and third respectively.
As an added incentive this year, the top two Indian finishers in the men's and women's categories, will be sponsored by Tata Consultancy Services at this year's TCS New York Marathon.
The full results from the Elite Runners category can be accessed here.
Results:
Full marathon:
(Overall)
Men: 1. T Abera (Eth) 2:09:46, 2. D Debele (Eth) 2:10:31; 3. Luke Kibet (Ken) 2:10:
Women: 1. D Mekash (Eth) 2:30:00, 2. Kumeshi Sichala (Eth) 2:30:56, 3. Marta Megra (Eth) 2:31:45.
(Indian)
Men: 1. Karan Singh 2:21:35, 2. Arjun Pradhan 2:22:22, 3. Bahadur Singh Dhoni 2:22:41.
Women: 1. O P Jaisha 2:37:29, 2. Lalita Babar 2:38:21, 3. Sudha Singh 2:42:12.
Half marathon:
Men: 1. Indrajeet Patel 1:08:09, Atwa Bhagat 1:08:11, 3. Govind Singh 1:08:14.
Women: 1. Kavita Raut 1:19:50, 2. Eve Bugler (Britain) 1:22:18, 3. Supriya Patil 1:26:48.