Steve Prefontaine: Go PRE Go!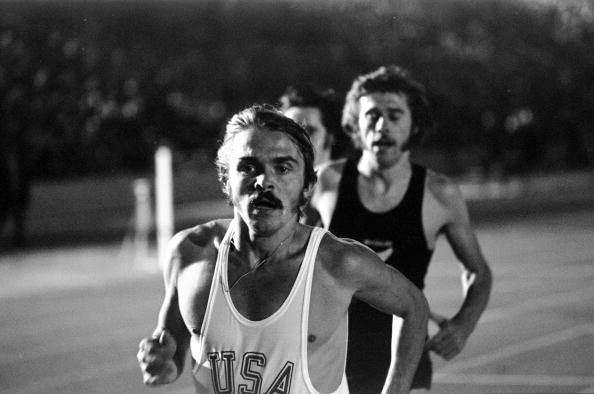 I know this comes a day too late, but you cannot blame me. Why, you ask? Simply because I had to sit down and do justice to the runner that literally makes my world go round. The legend that was, is and will always be. The man who, with a little help from Frank Shorter and Bill Rodgers, created what is now known as the "Running boom" of the 70s. Those that have not yet guessed, he is none other than the one and only Steve Prefontaine, lovingly referred to as PRE.
PRE is my absolute favourite. Yes, all runners are eccentrically inclined, but PRE just took running to an all new level. His contribution to running – he was bold, he was a fighter, he was a lion, he brought oomph into running, he brought attitude, he brought class, he brought style and most of all, he brought guts! PRE is easily the coolest, hippest and most stylish runner that I know of. Back in the 70s, he sported the trademark long locks and dense moustache and boy, was he a sight to behold – running his maddening race at an insane pace, with his lovely locks parting in the center and bouncing up and down with each stride. Sigh! How does a girl not fall in love? Like his style wasn't enough, this runner from Coos Bay, Oregon blew everyone away each time he made a statement. He is probably the most quoted and inspirational American runner ever. His style is best summed up in his own words:
"Some people create with words or with music or with a brush and paints. I like to make something beautiful when I run. I like to make people stop and say, 'I've never seen anyone run like that before.' It's more than just a race, it's a style. It's doing something better than anyone else. It's being creative."
PRE had a hunger in him. He was hungry to win, to be No.1. He was born into a modest family on 25 Jan 1951. Hailing from a small town, he always wanted to run away and make a mark. PRE was electrifying and very active right from the beginning. He was part of all the different sports teams within his school, without apparent flair for anything in particular, specifically due to his short stature. His talent for running began to surface in his senior year high school. He was fast; so fast that he set a national record for the 2 mile race in 8:41. Through high school, he broke 19 national high school track records.
It was obvious to everyone by now that PRE was a runner; a runner with great potential. Obviously, all the colleges were interested in recruiting him. PRE, however, wanted to go to the University of Oregon and train under the legendary Bill Bowerman. Bowerman knew of PRE and had been following his rise quietly since his sophomore year, but as per principle, was not pursuing PRE as aggressively as the other colleges. Eventually, Pre did join the University of Oregon. This was after he received a letter from Bowerman which stated that if he were to attend the University of Oregon, PRE would most certainly be the greatest runner of all time. And here he came to college. And college is where PRE gained a cult status and a following. He was known not just for winning, but his style of winning. At the age of 19, he was already a bit of a legend in his own right, gracing the cover of Sports Illustrated and making his presence felt right across the country. He created and is still creating a fan following like no other runner ever has or ever will. In his own words,
"A lot of people run a race to see who is fastest. I run to see who has the most guts, who can punish himself into exhausting pace, and then at the end, punish himself even more"
And that is exactly what he did, whether it was in the 10k at the Oregon track where he ran and won with stitches on his feet or the 5k at the 1972 Olympics where he exhausted himself by setting an insane pace from the start of the race till 30mts to the finish line where he couldn't sustain himself at the end. PRE was a warrior and a killer on the track. He ran each race the only way he knew how – he rocked it each and every time.
"Somebody may beat me, but they are going to have to bleed to do it"
As he would enter the stadium, the entire crowd would go mad and chant PRE! PRE! PRE! As he ran his race, the crowd would be completely in the moment and under his spell, chanting "GO PRE GO, GO PRE GO". Such was this man's charisma. People who were supporting other runners would turn up to the stadium in t-shirts which had STOP PRE printed on them. The first time he saw one of these t-shirts, PRE ran his race, as usual, won it, ran up to one of the men wearing this t-shirt, pulled it off him, wore it himself and said, "YEA, STOP PRE!!". During his college, PRE won three Division I NCAA Cross Country championships and four straight three-mile titles.
How he got into running the 3 mile race is also a funny story. At the time, the most glamorous race was the One Mile. And of course, the smart aleck that he was, that was the race PRE wanted to make his own. Bowerman thought otherwise and asked him to prepare for the 3 mile instead. PRE threw a tantrum and said that the only race he would run was the one miler and if he didn't get that race, he would be happy to sit on the stands. Bowerman obviously knew his athlete and his love for the sport too well so asked PRE to go ahead and warm the seat. Pre returned 5 minutes later and said, "FINE! I will do the 3 mile, but I am not going to like it". His only issue was that the 3 mile wasn't popular enough – so he fixed it, and how popular he made that race! People came; they came to watch PRE.
"I don't just go out there and run. I like to give people watching something exciting"
Most Nike fans will find the name Bill Bowerman very familiar, and that is because Bowerman is the man who co-founded Blue Ribbon Sports with Phil Knight over a hand shake agreement. Blue Ribbon Sports was later known as Nike Inc. And my hero PRE was the original Nike athlete. PRE is the only athlete that Nike has a statue of, simply because he represents a true runner and the true spirit of Nike – power, passion, pursuit, focus, dedication and style all rolled into one. He is the original PROTON!!
PRE qualified for the 1972 Olympics and ran a great 5k race but narrowly missed the medal. He came back from the Olympics to complete college and train for the 1976 Olympics. He was the hottest contender for the 10k and the full marathon; the two races which need the most guts.
On 30 May 1975,  at age 24, PRE met with an accident, an accident that claimed his life and left a vacant spot in the running community. At the time of his death, PRE held every national record in and between 200mts and 10k. His story is so heartbreaking but at the same time, it is  also the reason that he will always be the true shining beacon of the runner. The one man that had it all, and we will never know the greatness that he could have and would have reached. Even in his death, he has left us all spell bound.
For PRE, there is always a corner in my heart which beats only for him and with each beat says, "GO PRE GO"