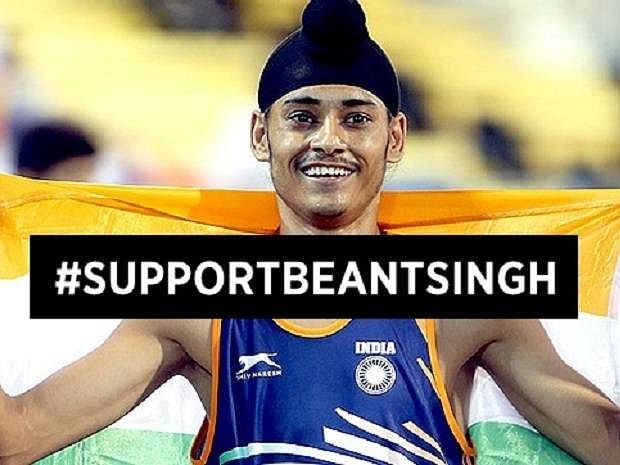 "Next stop for me is the IAAF World Youth Championships in Cali, Colombia. I have set big expectations. I want to beat the Indian national record there. I know I can run under 1:50. I have done it in training and I aim to run it at the championships."
This is what 16-year-old runner Beant Singh said after he clinched gold in the 800m event at the Asian Youth Championships in Doha earlier this month, clocking an impressive time of 1:52:26. He holds the eighth-fastest timing in Asia, which he clocked at his maiden Asian Youth Championships, and he also has the third fastest timing in the youth category in the world.
But his route to Cali, the place where the World Youth Championships will be held, is not as rosy as you might think. Without adequate funding, Beant's dream of winning a medal for India at the Olympics is likely to go unrealised.
Beant plans to take part in the Youth Commonwealth Games later in September and he needs support in order to be able to train and compete with athletes from all over the world. He dreams to bring glory to the country, but right now he isn't being given the opportunity to do so.
The son of a farmer, Beant hails from the Asanth village of Karnal district in Haryana. Currently, however, he resides with six of his friends in the area of Kotla Mubarakpur in New Delhi, in a room meant for just two residents.
His coach Dinesh Rawat is extremely impressed by the young boy's dedication and fully believes in his dream to win an Olympic medal and follow in the footsteps of his role model, two-time Olympics medallist Sushil Kumar.
This is what the coach has to say about his student:
Elaborating further on the role played by Sushil, Beant said that while he was initially inclined towards wrestling, it was the wrestler who had a word with him and encouraged him to run.
"I was initially inclined towards wrestling and didn't know a lot about athletics. I roomed with wrestler Sushil Kumar and then he had a word with me about running and encouraged me to run. Then once I started running, my coach Dinesh Rawat observed me and he asked me to train under him and he trained me for competitions and that helped me in winning medals," the 16-year-old said.
Hard work not supported by money
The ambition to succeed on the world stage requires not just perseverance and desire, but also solid financial backing. Monetary security provides an athlete the assurance that his preparation for the competition would be fruitful and that he will be able to represent his country on the world stage and give his best.
But unfortunately in Beant's case, that assurance seems to be missing. Despite putting in excellent performances, he is still searching for the ideal facilities that could help his chances of winning medals.
A look at his current financial state of affairs provides us a clear understanding of the grim situation that he faces.
Young Beant receives a monthly sum of Rs. 5,000 from the Delhi Development Authority (DDA), and also gets Rs. 6,000-7,000 from his family each month. Fortunately he doesn't have as much to worry on the track, as he has received some much-needed support from the Anglian Medal Hunt, who have helped him by taking up his equipment costs.
But clearly, his living situation is far from ideal.
---
Beant also has a message for Indian Prime Minister Narendra Modi.
"I just want good support and I hope to be provided good facilities so that I can do well in the world stage. I feel that if given the right facilities I can definitely win medals for India on the world stage," he said.
A crucial part of Beant's training involves training at any one of the two high altitude training centres located in Ooty and Shimla. The reason why athletes look to train in such facilities is that it goes a long way in improving their Red Blood Corpuscles (RBC) count. That increase impacts an athlete significantly, ensuring that his lung capacity and stamina are further enhanced.
Unfortunately, Beant doesn't have the financial strength to avail these facilities. He requires Rs. 20,000 per month in order to use them, and he certainly doesn't have that much money at his disposal right now.
In Beant's case, the lack of monetary support could well prevent him from realizing his dream of representing his country at the world stage. Ahead of possibly the biggest competition of his career so far, Beant is desperately in need of funds, and his only hope is help from outside sources.
If there was ever a time to support an athlete, it is now. You can do your bit by clicking on the link below and pledging your contribution.
---