The World's best runners set to grace Bangalore Roads
1.59K //
15 May 2015, 10:17 IST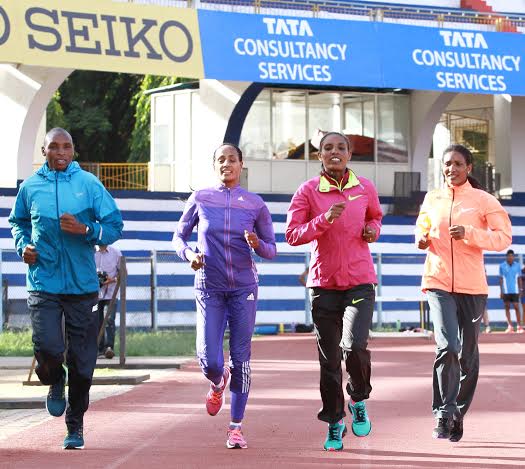 14 May 2015, Bangalore: Stepping into the forefront, as the city gets set to host the TCS World 10K were the event's top participants – long distance and marathon runners Japhet Korir from Kenya, Belaynesh Oljira, Mamitu Daska and Aselefech Mergia Medessa from Ethiopia, all of whom have competed at the best cross country championships and track and road marathons across the globe.
The Men's Elite field boasts of some of the finest runners from across the globe. Lead by Olympic Gold Medalist Kenyan Micah Kogo, the line-up also consists of fellow Kenyans, 2010, World Junior Championships Gold Medalist, David Bett, who is running his second 10K on the road; Pacemaker from this years Mumbai Marathon Edwin Kiptoo and Bronze Medalist at the Tokyo Marathon 2015, Dickson Chumba. In 2013 Micah made his debut in the Boston Marathon finishing second with an impressive time of 2:10.27, later that year he finished fourth in Chicago Marathon running his personal best 2:06:56. Micah's personal best over of 26:35.63 across 10,000 mts makes him the 6th fastest man ever in the category. However, Kogo will face severe competition from Kenyan Japhet Korir who returns to the country where he made his debut on the world stage at the Commonwealth Youth Games in 2008, Pune. Having started off with a bronze in the 5000m event, Japhet went on to win World and African Cross Country Championships. Birhanu Legese will also look to establish his authority, looking to repeat his performance from the Berlin marathon that he won in 59:45 minutes.
Marking her return to Bangalore is Double World Cross Country Champion Emily Chebet. Emily is one of the fastest ladies in the world with a personal best of 30:58. Winning her second World title in 2013 she traveled to the World Championships in Moscow where she represented Kenya in the 10,000m. She will be joined by winner of the 'World Best 10K' in San Juan & Bronze Medalist 013 World Cross Country Championships & 2013 World Championships Belaynesh Oljira. Belaynesh will look to better her personal best of 31:07 that she had earlier recorded in 2010.Ethiopian runner Winner of the Dubai Marathon, Aselefech Mergia will also be joining the elite women athletes.
Commenting on his excitement on returning to TCS World 10K, Japhet said, "I have always enjoyed coming to the city of Bengaluru for the 10K, it is one of the most well organized runs that I have participated in. I have been training hard and feel like I am in good shape currently to do my best at the run on Sunday"
Aselefech Mergia, winner of the Bengaluru 10K in 2009 and Silver Medalist at 2010 who reinstated her joy of being at the event said "I have very fond memories of running in this city and am really glad to be back here again. It is a very beautiful course to run through and the weather in the city is ideal to try and improve on timings. I have been running well this year and am looking to continue that form in the Bengaluru TCS 10K"
The winners in the Men's and Women's World 10K categories stand to win USD 21000 each. Currently, the men's record stands at 27.44 minutes, set last year by Geoffrey Kamworoor, while the women's record was also set at 31.48 by Lucy Kabuu, the same year.
With just a few days to go for the Race Day, the International Elite Athletes are rearing to go. Come May 17th, Bengaluru will witness the world's best runners putting their best foot forward.