ISL: Kerala Blasters 0-0 Mumbai City FC - 5 talking points
3.38K //
12 Nov 2014, 23:38 IST
Played in pouring rain, the match between these two sides inside a loud and boisterous Jawaharlal Nehru Stadium in Kochi ended in a goalless stalemate with the teams having to share points at the final whistle. It was another clean sheet away from home for Mumbai and a valuable point while Kerala were left to rue their inability to convert their chances once again.In what was the first match of the second phase of the ISL, both teams couldn't create many clear-cut chances. These were the major talking points from the game:
#1 Draws - Left, right and centre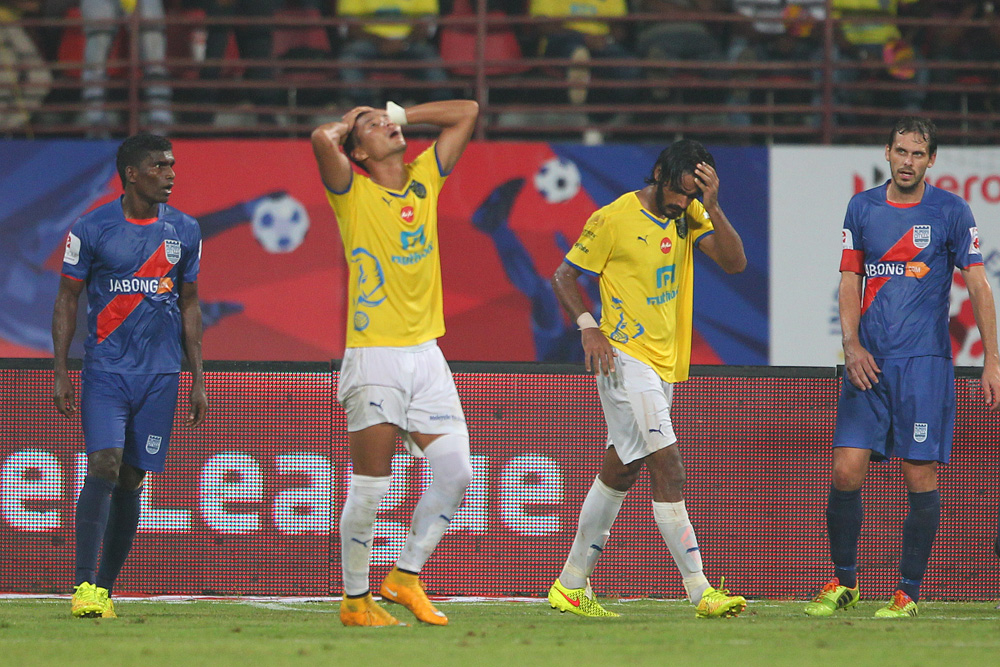 Today's draw means its now been five days and five matches since we witnessed a result in the Indian Super League, draws being the trend at the moment. Ever since FC Pune City scripted a fantastic 3-1 road win over Atletico de Kolkata on November 7, it's been a blank in the wins column as far as the ISL is concerned.
Three of these have been goalless, the latest one being this particular fixture between Kerala and Mumbai. Incidentally, these two teams have been involved in two goalless draws each in this period. For both teams, its a second consecutive goalless draw on the bounce.
Its the middle phase of the league and the teams are a little better settled now and playing the way they want to and as a result they are finding it to break each other down. Also, with the race for the top four spots well and truly on, teams are being more cautious in an attempt to not lose games.
#2 Mumbai\'s goal drought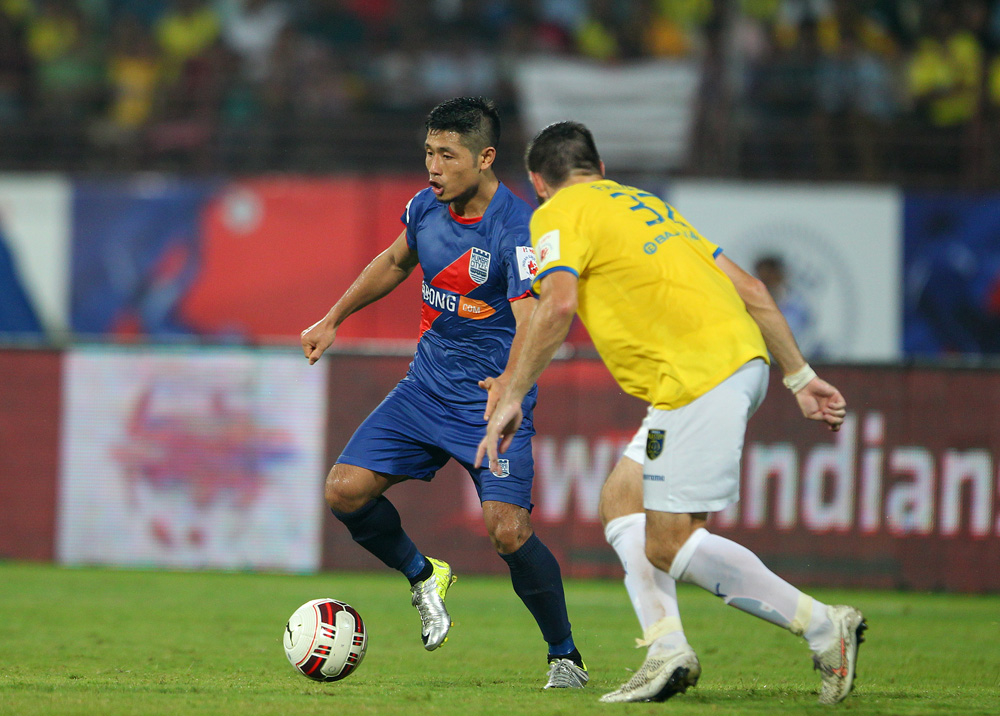 Four clean sheets in a row and a four match unbeaten run must be reason to cheer for those in the Mumbai camp. However, Mumbai's goal difference is currently negative (-2). While many may attribute that to the glut of goals they conceded away from home early in the tournament, the truth is they are finding it hard to score.
Mumbai have scored 8 times so far in their 8 matches, making it a goal a game. That figure though is skewed by the five they netted in a single game against Pune; take that away and their record will show a return of 3 goals from 7 games!
Mumbai are missing incisiveness in the final third. Often, a lot of their good moves lead to nothing thanks to poorly picked passes or inaccurate finishing. Also, the added emphasis on defensive solidity after those early drubbings means that they are not as open and free flowing as what they used to be, further contributing to the lack of goals. They also seem to be losing the ball very quickly in midfield after gaining possession.
Kerala and FC Goa currently are joint-last in goals scored (5); Mumbai would be below them if not for those five they put past Pune.
#3 Mumbai miss Moritz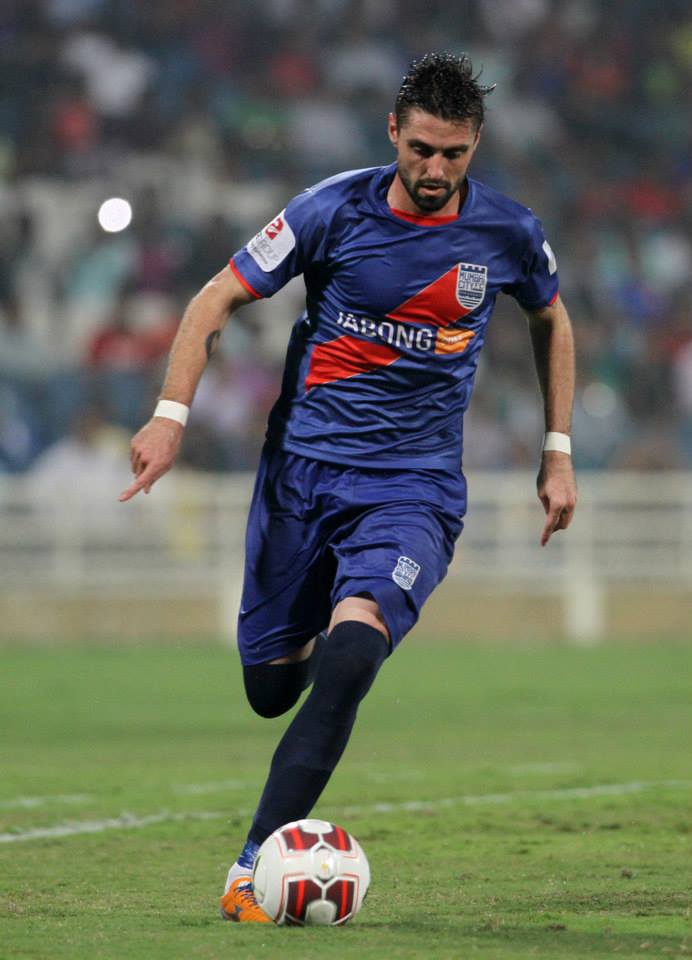 Andre Moritz, the man who scored a hat-trick against Pune and who has been Mumbai's main playmaker was missing in action today due to the injury he picked up in the last game. And his absence was clearly felt by Mumbai, who failed to get many attacks of note going. David James in the Kerala goal was the less busy of the two keepers while Subrata Paul was called into action quite a few times.
There was no creativity in Mumbai's midfield today and a lot of the build-up looked standard fare. It also saw Nicolas Anelka dropping back really deep to try and make up for Moritz's absence. The Brazilian is out with a hamstring injury and Mumbai will be hoping that he will be back soon to boost their campaign.
#4 Sandesh Jhingan continues to excel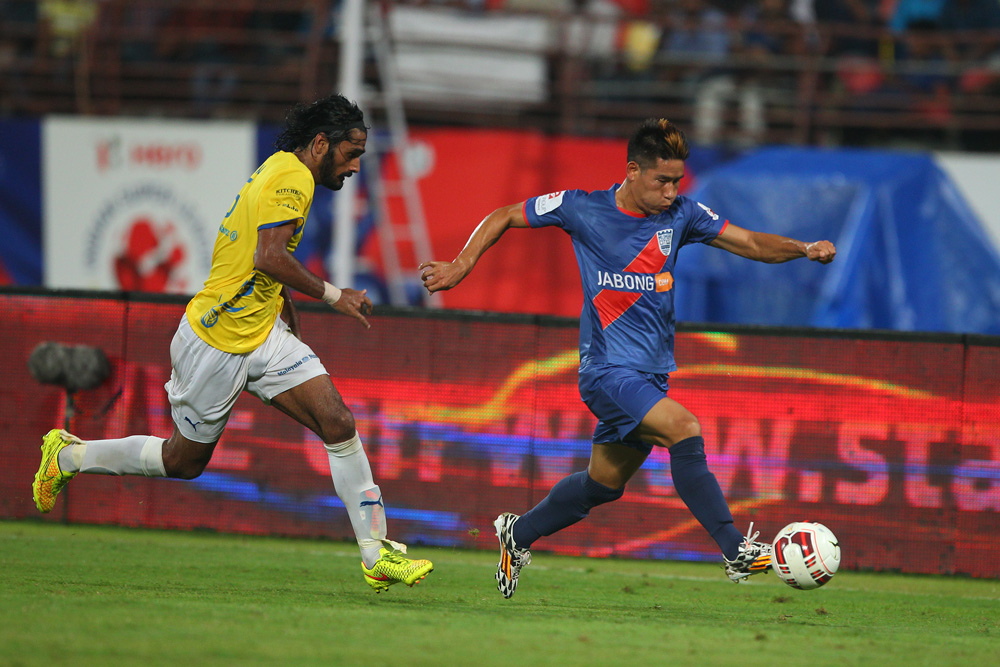 The lean and lanky figure of Sandesh Jhingan running up and down Kerala's right flank has become a common sighting in each of the Blasters' games. The young right-back has been super-consistent with his displays till now and has definitely been amongst the most impressive Indian players in this tournament. He works extremely hard in defence covering for his centre-backs while also offering good support up front for the forward line. He is putting on quite a quality show, something that the national selectors would definitely be taking notice of.
#5 Are Mumbai becoming too reliant on Anelka?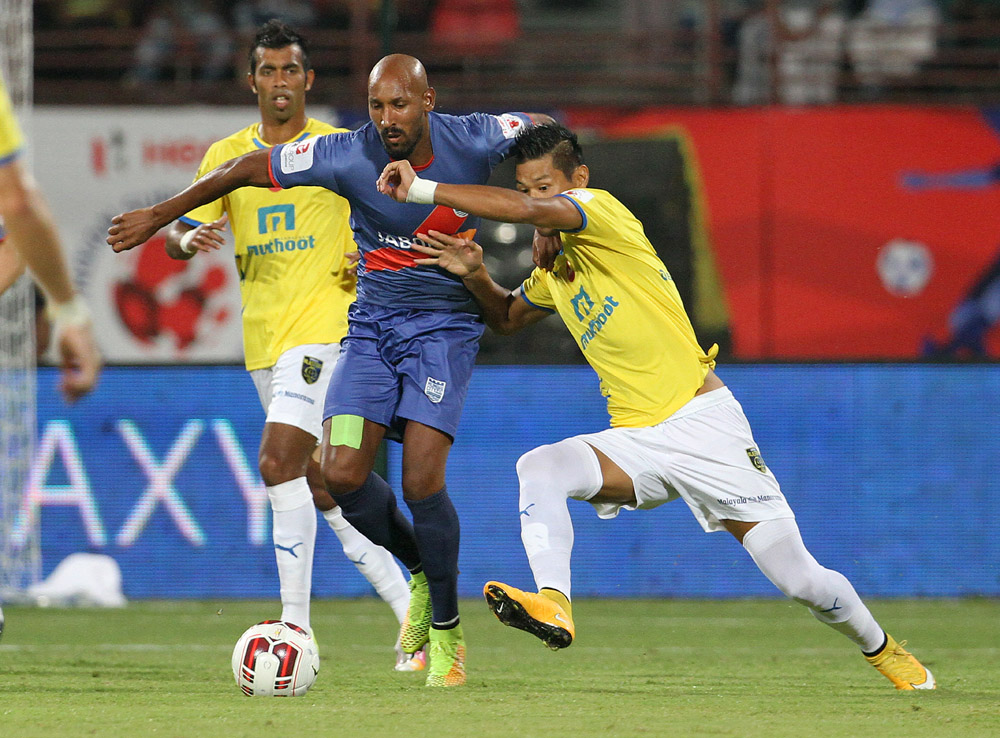 Not just today, but even in the two home games that Mumbai won 1-0 and in their goalless draw against Goa, a sight that became apparent as the matches wore on was Anelka dropping deeper and deeper to pick up the ball in midfield and try to instigate things. It may be a conscious ploy on the part of coach Peter Reid to involve the Frenchman more as the time ticks by in order to take advantage of tiring defences, but sometimes it looks like Mumbai are just forcing it too much through Anelka.
Jan Stohanzl provides a lot of thrust and running from midfield and their wide men (Nadong Bhutia, Lalrindika Ralte, Subhash Singh) have shown glimpses of being able to open up opposition defences, but the team as a whole seems to be struggling to create clear-cut scoring opportunities.
With Freddie Ljungberg also out of the picture and Moritz absent at times, the workload seems to be building up on Anelka. One hopes that Reid will address this issue and reinforce that Anelka is not a one-man army and look to enlist more support from his teammates.