Mumbai Marathon champions over the last 5 years
2.92K //
Timeless
The Mumbai Marathon is one of the elite marathons in the country with several top runners from across the world taking part in it. The glitz and glamour of the tinsel town will also be in display to cheer on thousands of runners as they try to reach the finish line in the quickest possible time. The Mumbai marathon has witnessed some incredible races over the years with very less to choose between a winner and the runner up.The fans have thoroughly enjoyed these races as the runners give it their all to be the best.Let us look at the champions over the last five years in Mumbai:
#5 2010 - Dennis Ndiso and Bizunesh Mohammed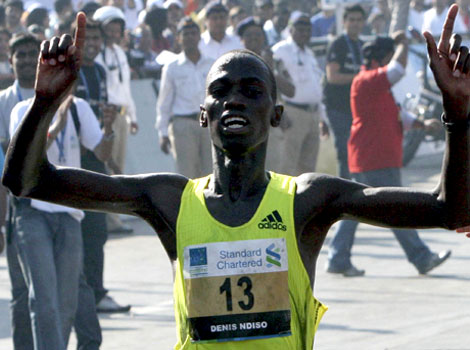 Dennis Ndiso was nobody's favorite to win in Mumbai as he clinched his first marathon title with a timing of 2:12:34. It was his personal best after his 2:13:51 finish at the Istanbul marathon in 2009. The Kenyan was well ahead of the pack and edged Siraj Gena (2:13:58) of Ethiopia and Samson Limareng (2:14:28).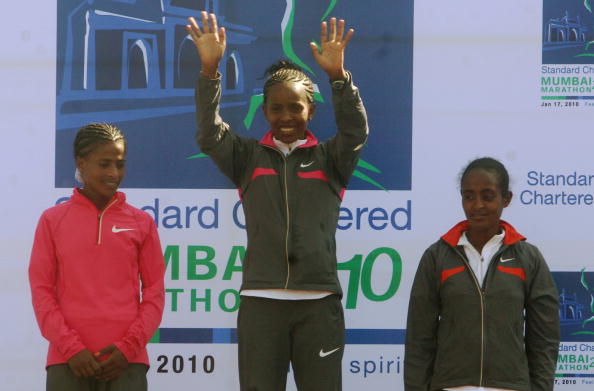 Ethiopians continued to lead the way as they clinched the top three slots without much trouble. However, it was a close fight for the top spot. Bizunesh Mohammed (2:31:09) claimed victory over Haile Kebebush by just two seconds. Azalekh Masaresha came third in 2:32:12.
#4 2011 - Girma Assefa and Koren Jelila Yal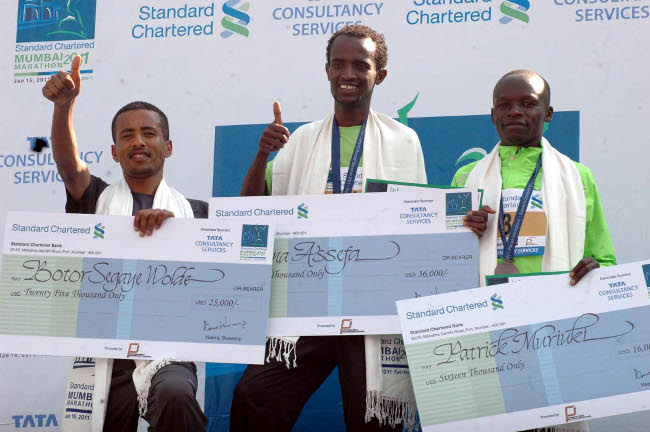 It was a close battle for top honors in the men's section as two Ethiopians Girma Assefa and Botoru Tsegaya Wolde tried to finish ahead of Kenya's Patrick Muriuki. The Ethiopians did succeed as Assefa finished in 2:09:54 only three seconds ahead of his compatriot Tsegaya Wolde. Muriuki finished third with a timing of 2:10:00.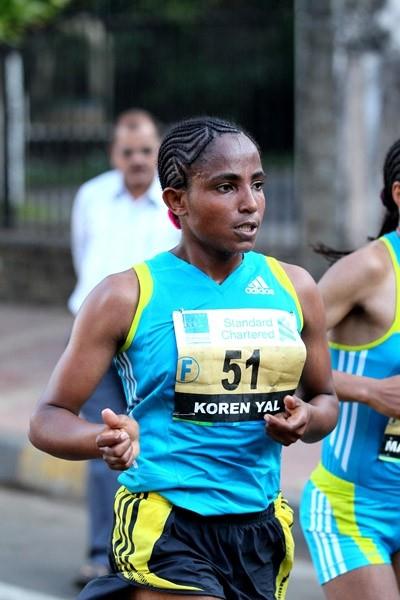 The women's race was even more exciting even though it was dominated by Ethiopians. Koren Jelila Yal and Merima Mohammed Hasen were toe to toe for most part of the race and it was tough to predict a winner until the very end. It was Jelila Yal who managed to get a narrow one second win over Mohammed Hasen. Jelila Yal finished in 2:26:56. Elfenesh Elemu made sure all three on the podium were from the same nation as she came third in 2:29:04.
#3 2012 - Laban Moiben and Netsanet Abeyo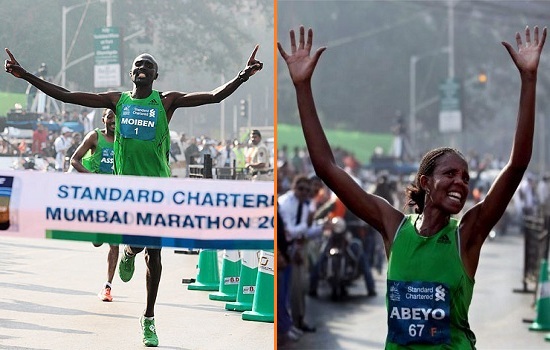 It was a photo finish in the 2012 edition of the Mumbai marathon in the men's section as Kenyan Laban Moiben edged Ethiopian Raji Assefa to clinch top honors. Both men finished with an identical timing of 2:10:48. John Kyul of Kenya made sure that there were two Kenyans on the podium as he came third in 2:48:54.
It was an all Ethiopian trio who stepped on top of the podium as Netsanet Abeyo took a comfortable lead and consolidated it to emerge as the champion. She finished in 2:26:12 well ahead of her compatriots Fatuma Sado (2:30:20) and Makda Harun (2:30:47).
#2 2013 - Jackson Kiprop and Valentine Kipteker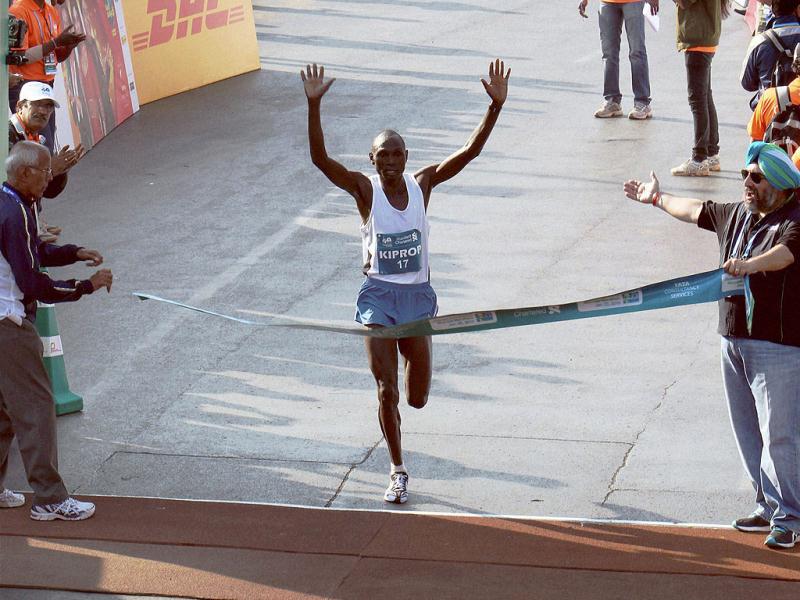 It was a year of setting records as both men and women's winner put their best foot forward to clinch the title. Jackson Kiprop broke away at the 36-km mark and established a healthy lead ahead of Kenyans Laiban Moiben, Elijah Kombei and Ethiopians Abraham Girma and Jacob Cheshari to finish in 2:09:32, a good 22 seconds clear of the course record set by Girma Assefa in 2011. Cheshari finished second in 2:09:43 ahead of third placed Kemboi who completed the race in 2:10:03.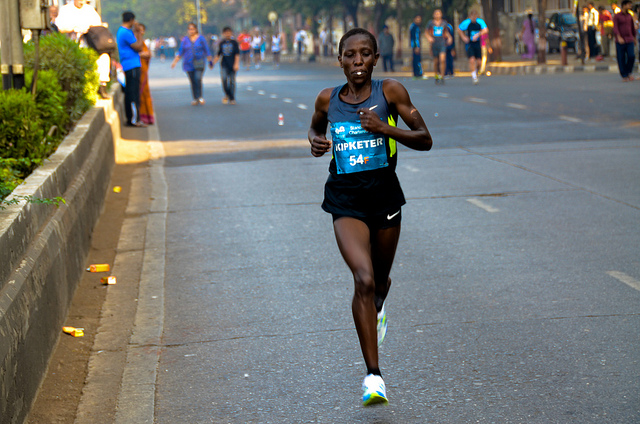 Valentine Kipketer salvaged some pride for the Kenyans in only her second marathon as she beat stiff challenge from the Ethiopians to win in the season's leading time of 2:24:33. She comfortably beat Ethiopian Netsanet Abeyo course record of 2:26:12 which was set in 2012.
Dinknesh Mekash (2:28:46) and Aberu Mekuria (2:29:03) finished second and third respectively.
#1 2014 - Evans Rutto and Dinknesh Mekash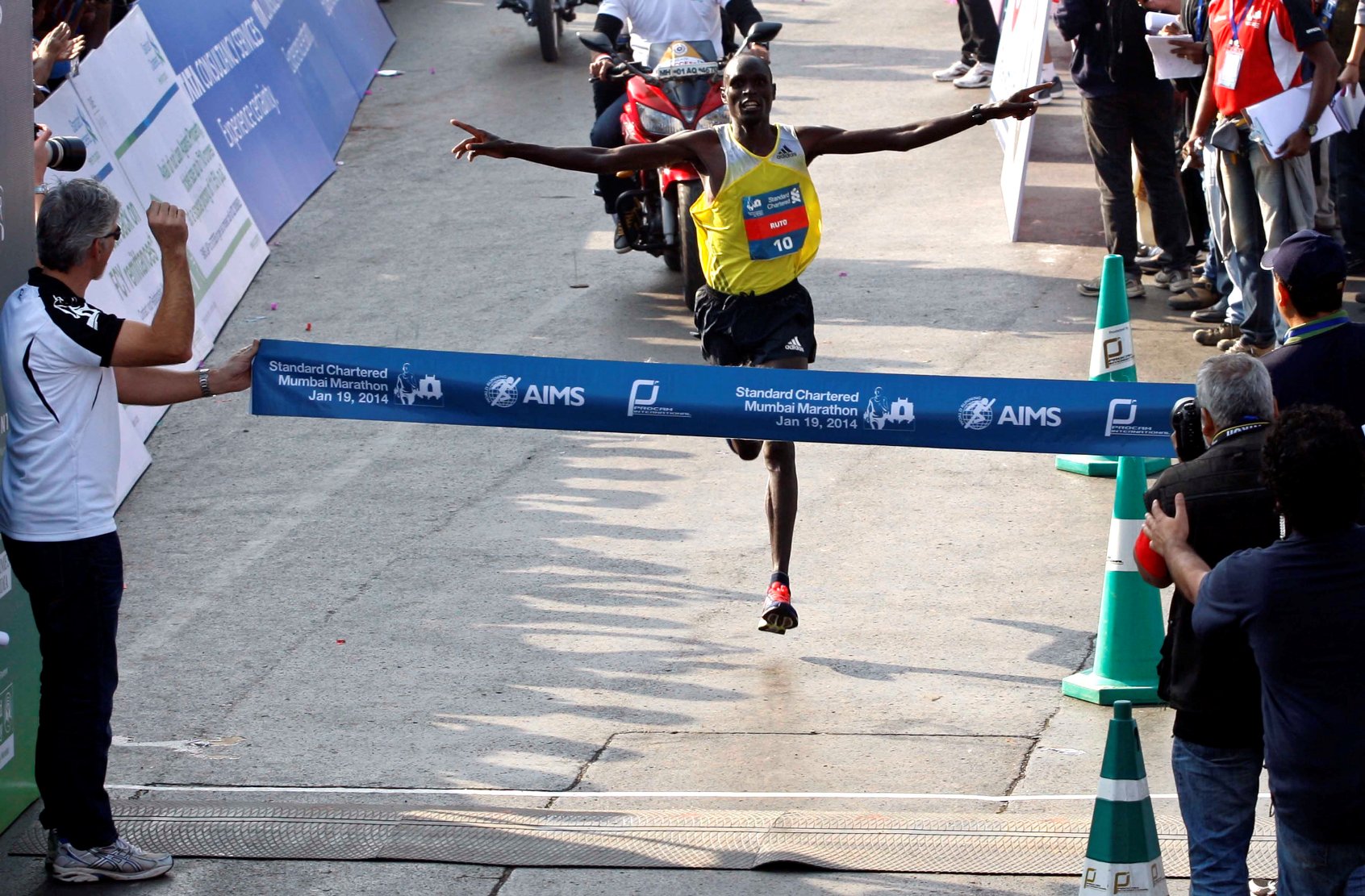 It was an all Kenyan surge to the finish with Evans Rutto, Lawerence Kimaiyo and Philemon Baaru battling it out for the first place. It was Rutto who came out on top with a timing of 2:09:33 seconds , one second short of a course record set by Uganda's Jackson Kiprop in 2013. Kimaiyo came second in 2:09:45, while Baaru had to be content with a third place finish in 2:09:58.
It was clearly an exciting race for the public as there was very little separating the first three runners.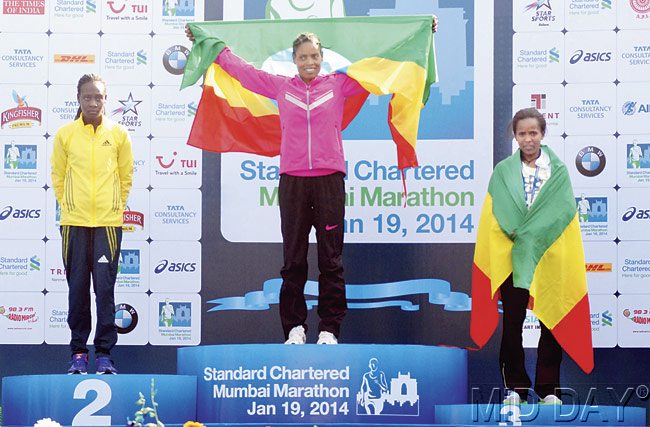 In the women's category, it was Ethiopian Dinknesh Mekash who dominated the race winning it by over a minute against second placed Gladys Kipsoi of Kenya who finished the race in 2:29:53. Bizunesh Urgesa made it two of the three for the Kenyans by finishing third in 2:30:00.
The Kenyans clearly showed why they are a force to contend with in marathons by grabbing 5 of the 6 places in both men's and women's categories.