AIFF sign deal with Pailan Group
792 //
10 Jul 2011, 19:20 IST
It's finally official. Pailan World Group struck a deal with the All India Football Federation over U-23 I-League team Indian Arrows. The official signing took place at Pailan World Group Complex on Sunday afternoon.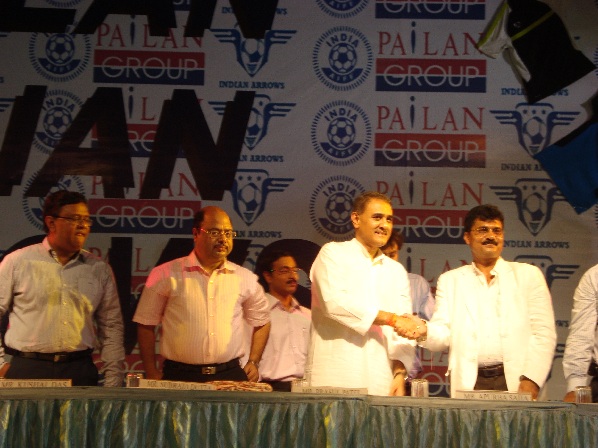 Mr. Praful Patel, the President of the All India Football Federation signed the official agreement with Pailan Group Chairman, Mr. Apurba Saha at the Pailan Headquarters.
"We look forward to the deal taking Indian football to greater heights," Mr. Patel said. "This is the developmental team of AIFF. We have a long way to go to regain lost glory," Mr. Patel added.
Under the deal the Indian Arrows who finished 9th among 14 teams in last season's I-League will shift base to Kolkata and will be training in the residential complex of Pailan World School.
"I've been impressed with the residential wing, the kitchen, the swimming pool and the gymnasium and the training grounds," Mr. Patel added.
Mr. Patel did stress that he would be speaking to the clubs to get release for some players for Indian Arrows. "The developmental attitude of the clubs will go a long way in helping the sport. Everyone has to put their best foot forward for the betterment of Indian football. I'd request the clubs to release the players for one more year," he said.
Mr. Subrata Dutta, AIFF's Vice-President congratulated Mr. Saha on the deal and welcomed him to the footballing fraternity. "Indian football is moving ahead and this deal will only help our cause," he said.
Mr. Kushal Das, AIFF's thanked Pailan's gesture and said he was looking forward to the partnership. "A great partnership has just begun," he opined.
Mr. Patel also informed that the AIFF and the IFA are keen develop Rabindra Sarovar Stadium into a World Class Stadium.
As the sun set, the floodlights lit up and the cool breeze provided some respite from the humidity, Bengal's Santosh Trophy winning squad beat Pailan Indian Arrows by a solitary goal in a 50-minute exhibition match.