Barefoot returns with country's biggest sports quiz festival
India's biggest sports quiz festival, The Barefoot Sports Quiz Fest, returns for its fourth edition on 11th January, 2015 at the Faculty of Management Studies (FMS), Delhi University South Campus
News
07 Jan 2015, 02:40 IST
1.84K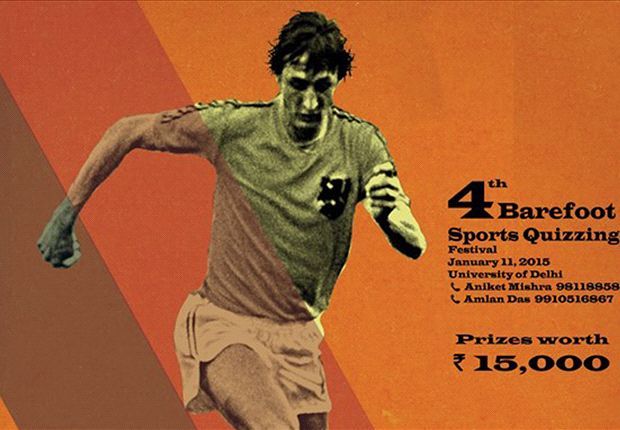 India's biggest sports quiz festival, The Barefoot Sports Quiz Fest, returns for its fourth edition on 11th January, 2015 at the Faculty of Management Studies (FMS), Delhi University South Campus.
Organized by Barefoot India in association with MSR Technologies, it will feature 'Among the Thugs' – The Open Football Quiz, followed by 'Beyond a Boundary' – The Open Cricket Quiz and 'When Pride Still Mattered' – The Open Sports Quiz to be conducted by Wasi Manazir, Aniket Mishra and Major Dr. Subhrojit Bhattacharya & Shounak Purkayastha, respectively. As always, the festival will witness closely fought contests featuring top notch quizzers from all parts of the country.
Like last year, there are two sports-themed filler quizzes on the 10th of January at University of Delhi to give enthusiasts a taste of the event. The first will be on 'Food, Alcohol & Drugs' and it will be followed by the hugely popular quiz on 'Wives and Girlfriends (WAGs)'. They will be conducted by Balasubramanyam P and Gokul S.
Looking forward to the event, Founder and Editor in Chief of Barefoot, Aniket Mishra stated, "In a very little time Barefoot has grown beyond its cult following to become a popular event. It is widely acknowledged as India's biggest sports quizzing festival now. Obviously, this quiz attracts those who spend their days watching and discussing sport. But more significantly, the Barefoot quiz also engages those who are new to the culture of sport and quizzing. We pride ourselves on the considerable spurt in the number of participants every year."
Not to forget, Aniket adds, "Olympians and other prominent athletes have graced the event in the past years and will support the current edition too. This helps us to connect sports fans to their heroes while also helping them to understand the hidden nuances of various sporting disciplines."
For the open quizzes, participants from any school and college are welcome in teams of three or as a lone wolf/cub/pup. The same rules apply for any other quizzing buff too. The idea is to not stop anyone from participating in this popular event. For the filler quizzes, anyone can participate and form teams on the spot.
A major attraction will be the prizes that are worth more than a lakh. For further details, interested people can follow the Facebook page here: https://www.facebook.com/events/381678481958923/