Cricket World Cup : 8 Keys For India versus Ireland
542
On paper this looks very much like David versus Goliath. Though as the Irish showed against the English. You underestimate them at your peril! So what are the keys for this match?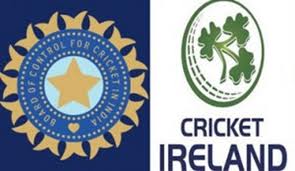 India
1.Bat First And Grind Ireland With Your Batting!
No one doubts the strength of the Indian batting. For in truth its one of the most devastating and class laden line ups you could get. It has it all in every regard to batting. So against an Irish Team that is high on confidence but low on class in bowling albeit a few. If the Indian's can bat first and score a huge total.They will destroy the Irish in the mind. Through how monumental the task will be for them.

2.Show George Dockrell How Indians Treat Spinners
This young Irish spinner that seems destined to grace the English Test Team in the future has been a revelation here. He has the guile, accuracy and a good dose of bowling skill. He is Ireland's key bowler. Though Indian's treat spinners of any type with disdain. As we've seen in a few Shane Warne manglings at their hands. So the Indian's should target Dockrell and duly rip him to shreds.
For if the can they take out Ireland's bowling king pin.

3.Play Ravichandran Ashwin!

This Irish are tailor made for this off spinner. For they have several left handers in their line up and thus the ball going away from them could be key. Plus as seen in T20 he is a very accurate miserly bowler. So is a much better option than Piyush Chawla, who was at times taken to the cleaners against England. Ashwin would be a more accurate and strangling option than Chawla. So should play for the key to India in this World Cup is stopping the runs leaking.

4.It Doesn't Matter Your Bowlers….You Need to Support Them in the Field !

In truth the Indian bowling has been one of the weakest seen in the World Cup. Though it hasn't been helped by at times some deplorable and it must be said ambivalent fielding. To make the bowling be more penetrative the fielders have to be at 100%. In all regards from catching, stopping singles and ones to two's and making half chances into run outs. The fielders can't bowl the ball for the bowlers, but they can certainly prop them up!


Ireland

1.The Top Order Needs To Lift!
This encompasses Will Porterfield ,Ed Joyce and Paul Stirling. They all are class batsmen and on a pitch that will be very batting friendly and against an attack that is very average. They need to give Ireland a good start. So that the hitters down the order can be finishers rather than miracle workers!

2.The Whole Of Ireland And The World (Bar India) Are Behind You-Ride The Feeling!

After the miraculous victory against England the hysteria it caused in the cricket World was truly remarkable.It sent a tingle down all the spines of us Irish and in fact cricket lovers around the World.The Irish players must have felt like they were on Cloud 9 with a bottle Jamesons.The confidence that this remarkable win breed into them is like gold.For it can make mere men believe in the impossible and duly do it.
Don't discount its place in the match today.


3.Take Some Angry Pills Boyd Rankin and Trent Johnson!
The Irish are short on bowling class but Rankin is one that can make the batsmen jump.Here he has to be breathing fire and brimstone and duly make the Indian's fear for their lives.Duly getting early wickets and putting them under pressure.Then the big hearted Johnson needs to be a factor too
For Ireland to win these two need to perform


4.Run Ireland Run!

The Indian's are notoriously bad in the field.So the Irish need to accentuate this when their batting by taking the cheeky singles and turning ones into two's.This will not only undermine and frustrate an already weak bowling unit.It will also lead to a few bad balls that they can duly get 4′s and 6′s off.
If they can make India have a bad fielding day it can be key in another huge Irish upset!


Prediction
Born and breed in Derry!
SO IRELAND!