Exclusive: Quick five with Sunil Chettri
Exclusive
08 Mar 2012, 14:26 IST
566
After a training session in Katmandu today, the entire team looked determined to start the AFC Challenge Cup on a positive note. The Chief Coach, Savio Medeira, sounded firm in the press conference when he said ,"We're confident of putting up a good show". On the eve of Team India's first match against Tajikistan, Sportskeeda.com caught up with the newly appointed captain, Sunil Chettri, who famously scored a hat-trick in 2008 against the Persian Lions. The man from Delhi had some interesting answers to share with us.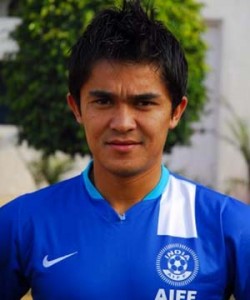 Name: Sunil Chhetri
Current Club: Mohun Bagan
Position: Striker
Height: 1.70 m
Representing India since: 2004
 Hi Sunil, first of all congratulations for being nominated as the captain of the team!
 Thank you.

Does this change anything for you, either on or off the pitch?
It's a big privilege and an honour but my duties don't change on the field. They are still the same. It's one of the greatest things that could happen to any player.
 Does it increase the pressure?
At the end of the day, I am not going to wear different boots or do things differently, when I'm on the pitch as a captain. I don't think it adds any pressure, it's just a motivation and something which I'm really proud of.
The 2008 final ended with a 4-1 scoreline in our favour. Will that have an impact on the minds of both sets of players?
Not at all. It never happens like that. I've played enough games to understand that, what happens yesterday does not even have an impact (psychological) on tomorrow. Specially not on the team. Every match is a different match. Every time we play an opponent it's a different game altogether. It's just another day for the boys to be calm and play to win.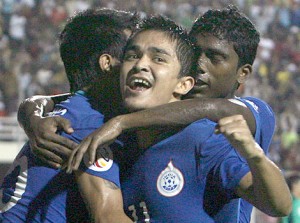 Does this bring back any memories from your hat-trick in Delhi?
Yes it does, but I don't let it affect me too much because that match was an evenly contested game. Whenever we tried to score, we scored and they had some good chances as well. We were just better with our conversions. We should not forget that they're a very good side.
Was it special for you  since you must have played a lot of matches at Ambedkar while growing up?
Yes it is a lovely ground and I've been really lucky there. I think I've scored more number of goals there than the number of matches that I've played in Delhi. It's been one of the best hunting grounds for myself and the team.
Thank you for talking to us. We wish you all the best for the future.
 Thanks a lot!