Hazard or Gotze: Which one should Arsenal sign?
Picture taken from the El EconomistaEden Hazard. Mario Gotze. Both are wonderkids who will most likely become two of the greatest players in the world during some point in the next few years. Everyone who follows football is just waiting for the moment...
Editor's Pick
18 Mar 2012, 23:24 IST
543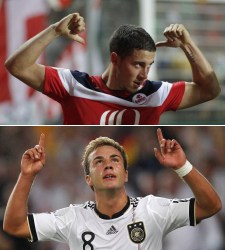 Eden Hazard. Mario Gotze. Both are wonderkids who will most likely become two of the greatest players in the world during some point in the next few years. Everyone who follows football is just waiting for the moment in which when they finally substantiate the claims of so many by moving on to a bigger club and developing their game to a level on which they are only rivaled by players like Messi and
Cristiano Ronaldo
.
This is a target which they must strive to achieve almost every day. The prospect of them becoming world class is ridiculed and thought of as inconceivable by few.
Arsenal are a club which are constantly reminded of their 7 year trophy drought. After every bad result comes the fallout about lack of quality players in certain areas of the pitch. For the most part, I disagree with that assumption, our starting eleven is full of quality, raw talent, determination and technical ability, but maybe the attacking midfield role is an area of the pitch which needs external recruitment.
Yes, Rosicky has shown world class form over the last few games and I am more than happy to see him deliver great performances like we all know he can. However, at the age of 31, it is most likely that he will only have a couple of good years left in him.
Aaron Ramsey has the potential to be a great player, being made captain of your country at just 20 testifies that, but his performances have not yet hit the mark which made him one of the top talents in world football prior to his tragic leg break. I also feel he would be more suited to a deep lying playmaker role as his decision making is not quite sharp enough.
Jack Wilshere, like Ramsey has had a long time out with injury. This is something which makes we worry about whether the best natural footballer our academy has produced in years will be able to quickly return to the high standard set by himself through his outstanding performances against the likes of Barcelona. Would he suit an attacking midfield role in the future? Only time will tell.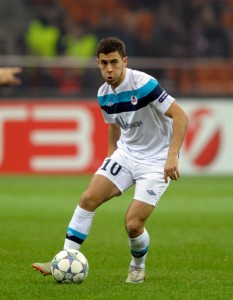 This brings me to Eden Hazard. A player who three time world player of the year Zinedine Zidane would "take to Madrid with his eyes closed." The 21 year old Belgian exploded onto the scene as a 17 year old for French side Lille; blessed with raw pace, a wide range of skills and great dribbling ability, Hazard was inevitably compared with players like Cristiano Ronaldo and
Lionel Messi
making him one of the most sought after talents in the world.
This season Hazard has started to become more efficient and currently has 13 goals and 8 assists so far this season in a more central role, showing his improved passing and vision is recognised by Lille coach Rudi Garcia.
Whether Hazard would be able to reproduce his performances from across the channel in the Premier League is another question. No disrespect to Ligue 1, but it's a far cry from the rigours of English football and players tend to have more time and space on their ball.
Hazard probably hasn't improved quite as much as most people might have thought. He often fails to turn up in the big games, and for the French champions to finish bottom of Group B in the Champions League without a goal from their main man makes you question whether Hazard is really as good as everyone makes out.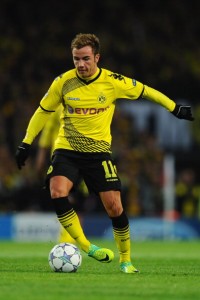 Onto Mario Gotze, an attacking midfielder for Borussia Dortmund who was described by the DFB's technical director as "one of the best talents that we've ever had." Franz Beckenbauer concurred stating that "it is not possible to stop Mario Gotze, he has the same assets as Messi, he runs through opponents as though they aren't there. " High praise indeed for a man strongly affiliated with
Bundesliga
rivals Bayern Munich.
Gotze is a player who has arguably made greater strides in his career so far than Hazard. Both have won league titles and although Hazard has clocked up more appearances, his meagre tally of 27 goals in 136 games does not make for impressive reading when compared with Gotze, a player who already has 11 goals in just 52 appearances in a league which is undoubtedly more competitive. Like Wilshere, Gotze was probably overplayed last season which resulted in a stress fracture meaning he has missed a large portion of the season injured.
Despite this he managed to score 5 goals and get 5 assists in 14 games prior to the injury. To top off a brilliant calendar year for the 5'6″ playmaker, he followed players like Rooney, Messi and Fabregas in winning the 2011 Golden Boy award ahead of players like Eden Hazard, Christian Eriksen and our own Jack Wilshere.
So who would suit Arsenal more? Well, in my opinion, Hazard is a player who would be better suited on the wings. As we have seen with players like Nasri, Pires and Rosicky in the past; Wenger prefers to play players with good dribbling ability on the flanks.
Gotze meanwhile has great vision and the ability to play precise through balls like our former captain Cesc Fabregas. However, he is fast and therefore has been used more often on the right wing for Dortmund since he broke through.
Personally, I believe Hazard to be an example of a player who has been overhyped and flaunted through sites such as YouTube and Twitter. Although he has immense talent, he has not been able to replicate quality performances on a consistent basis. Mario Gotze meanwhile was kept under wraps until last season and is therefore not quite so well known as the aforementioned.
We also have to remember that Arsenal have a certain Alex Oxlade Chamberlain in their ranks, an 18 year old who shocked world football with his stellar performance in the centre of midfield against AC Milan.
Clubs should be fearful of the fact Arsenal have some of the hottest prospects in world football with Wilshere, Ryo and Chamberlain. If they could add Gotze or Hazard, then the prospect of a title in the next few years is probably inevitability.
Both Hazard and Gotze would be quality additions to any side, especially Arsenal who are missing the influence of Cesc Fabregas however if I had to choose one to sign it would be Gotze; he's the nucleus of a neoteric Germany side, a guy who does not carry his nations hopes on his shoulders like Wilshere but one, who great things are nevertheless expected of.
£35 million would not be too much for a player of Gotze's talent. Arsenal should try and sign him up while they still can…
Written by James Cook
Follow him on Twitter @CookieElGooner
Please like O-Posts on Facebook
Follow the site on Twitter