How Afridi and Peterson are winning the spin battle
743 //
23 Mar 2011, 18:57 IST
With a Cricket World Cup being held on the subcontinent it was inevitable that spin bowlers would be pushed to the fore to lead their respective countries to glory.  However, with Shahid Afridi (21 wickets @ 10.71; econ. 3.48) and Robin Peterson (14 @ 13.50; 4.02) leading the pack, it is not the big tweakers such as Harbhajan or Murali pushed into the background.  With Peterson not being a massive turner of the ball, and Afridi bowling more top-spinners or googlies than anything else, how are these perennial understudies gaining so much success?
Over the last few years Afridi, often lampooned as a reckless and unreliable performer, has turned from a mercurial batsman and part-time bowler into perhaps Pakistan's most reliable performer with the ball, and least reliable with the bat.  Like Kevin Pietersen, but in reverse.  'Bam Bam' doesn't bamboozle batsmen with flight, dip and turn; instead, he beats them with variety of pace, top-spin and relentless accuracy.  Look at his pitch map versus Australia; all of the balls are on the stumps or just outside off stump: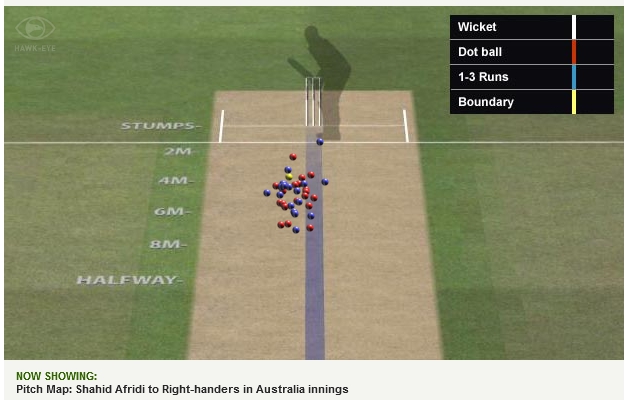 What short balls he balls, Afridi can get away with due to his pace, extra bounce and top-spin; a batsman will be more hurried than he would when faced with a long-hop from Harbhajan.  The difference between Afridi and your average leg-spinner is that there are no 'get-out' balls to release the pressure on the batsman; no half-trackers or balls down the leg-side.  Afridi is plainly a thoughtful and intelligent bowler, which makes his frequent batting aberrations all the more frustrating.
Robin Peterson is the kind of bowler who would have made Ashley Giles look like a methadone-fueled Shane Warne.  Long derided as South Africa's only spin bowler, not only has he managed to retain his place since the repatriation of Imran Tahir, but he has also outperformed the not-Pakistani bowler.  Pieterson's line is extremely straight, meaning that his most of his wickets this campaign have been bowled, LBW, caught behind the wicket or caught and bowled as the batsmen try to work it off the stumps.  Look at this over he bowled in the 43rd over of the Indian innings:
At the very most, one of these deliveries hits the pitch and turns a noticeable amount.  In the 43rd over.  To say that Peterson doesn't turn the ball very much is like saying that Eddie Hemmings wasn't great over 100 meters – a massive understatement.
Although very different bowlers, Peterson's success has come in a similar manner to Afridi's – consistency, a straight line and variety of pace.  With batsmen looking to score at a faster rate than they used to, and playing more improvised shots, a steady, straight spinner will be rewarded by any errors made by the batsmen.
Take two classical big turners of the ball – Harbhajan Singh and Murali.  Whilst in most ways Murali is about as classical as Motorhead, he rose to fame by bowling big off-breaks which pitched miles outside offstump and turned sharply in like a big-turning off break.  Over the years he added extra deliveries to his repertoire and has now adapted his bowling to suit the modern game.  He has enjoyed a very fruitful World Cup, taking 11 wickets at 14.18 with an economy of 3.54. Harbhajan, on the other hand, is also a bowler with big, booming off-breaks and a delivery that goes the other way.  He, however, has not adapted his bowling and he has earned less success at this World Cup (6 @ 41.16; 4.33).  Look at the two overs below; the first one is bowled by Harbhajan, and the second is Murali:
Harbhajan's off-breaks pitch well outside offstump and pose very little threat to the wicket.  This allows the batsman to play with two different options: firstly, either hang back in the crease and either work it with the spin to leg or, if it turns the other way, use the extra width to hit it through the off-side; secondly, the batsman can use his feet to get to the pitch of the ball.  If he does this, he will be playing a long way outside off-stump which eliminates any concerns of being out LBW.
Murali, on the other hand, pitches his deliveries a lot closer to the stumps, constantly causing the batsman to fear for his wicket.  Ten years ago, most of these deliveries would have turned so far down leg side that they would have been fielded by square leg.  Instead, Murali now controls the amount of spin he puts on the ball, enabling him to bowl straight at off-stump regardless of which way the ball is turning.  This makes Murali a far harder bowler to play against aggressively, as any mistake could result in a wicket.
Perhaps its the advent of T20, or maybe the one day game would have progressed in this manner naturally, but modern spinners are now less about turning the bowl and bowling with flight, and more about consistency and challenging the batsmen's stumps.  Naysayers grumble that spin bowlers are becoming increasingly defensive as more and more one day and T20 cricket is played, but the performances of Afridi, Peterson, Swann, Murali, Price, Tahir, Benn, Yuvraj and Shakib so far in this World Cup suggest otherwise; all have taken a decent amount of wickets, and all have modest averages.  In one day cricket, we may have sadly seen the end of spinners flighting the ball up and ripping it off the surface of the pitch, but attacking spin bowling is certainly alive and well.
Don't forget to listen to the At The End of the Day podcast, available on iTunes & from the website every Friday