India bow out of AFC Challenge Cup
News
11 Mar 2012, 22:06 IST
545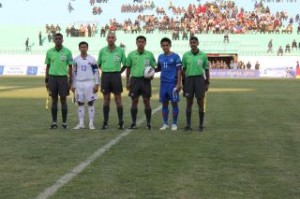 Philippines 2 (Philip James Younghusband – 10th & 74th)
Beat
India 0
Kathmandu: India bowed out of the AFC Challenge Cup when they went down fighting to Philippines 0-2 in their second encounter in AFC Challenge Cup in Kathmandu, Nepal on Sunday (March 11). Philip James Younghusband scored a brace for Philippines in the 10th and the 74th minute respectively.
Both the teams started on an attacking note – counter-attacking at a fast pace. But it was Philip James Younghusband of Philippines who was able to
cash onto it and put his team in the lead in the 10th minute.
Down by an early goal, India tried to pull things back. But despite more domination in the first half, the midfield failed to turn the table. They kept losing the ball and it didn't help the cause. The Indians did break into the rival box quite a few times but stayed unable to take a shot at the rival goal.
Changing over, the story stayed the same. On the contrary, Philippines doubled their lead in 74th minute — Younghusband scoring his second goal.
The Indians did play among themselves but there wasn't much idea to break through. Apart from a Sushil Singh run down the right which Captain Sunil Chhetri failed to tap in from close, there weren't many chances that came India's way.
This was Philippines first victory in the tournament while for India, this was the second successive loss. They now play DPR Korea on Tuesday.
Playing XI: Karanjit Singh; Samir Naik, Gourmangi Singh, Raju Gaikwad, Syed Rahim Nabi; Reisangmi Vashum (Sushil Singh – 70th), Adil Khan (Jewel Raja – 33rd), Rocus Lamare, Francis Fernandes; Sunil Chhetri, Joaquim Abranches.