India Ends Portugal Tour With A Draw
545
Playing the last of the ten practice matches in the Portugal Tour, Indian Football team was held to a 1-1 goal by Portuguese Div-III club Odivelas FC today.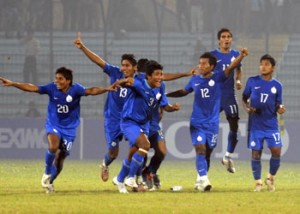 Testing the bench strength, Bob started with the usual reserved player to give them a match practice. They started off strongly but could not break through the solid defense of the Odivelas'.  Instead India conceded a goal in the 60th minute just to be equalized two minutes later by defender N.S.Manju.
Bob didn't make any substitution even in the half time to give the players their full 90 minutes quota. Only Syed Rahim Nabi was substituted by Climax Lawrence in the 75th minute to inject some fluidity but the host did well to restrict the visitor to a 1-1 draw.
After playing all the 10 practice match in Portugal, India manage six wins, two draws and suffered two defeats.
India next play Thailand on September 4 & 8 in Bangkok and New Delhi respectively.
India Lineup:
24-Subhasish Roychowdhury, 3-N.S. Manju , 14-Mahesh Gawli, 2-Govin Singh, 4-N. Mohanraj, 29-Jagpreet Singh, 27-Mehrajuddin Wadoo , 6-Baldeep Singh,  22-Syed Rahim Nabi (75′ 30-Climax Lawrence), 18-Sushil Kumar Singh, 21-Baljit Sahni