India Vs Qatar Friendly : India beat Qatar 2-1 in a historic Tie !
Editor's Pick
17 Jul 2011, 23:55 IST
637
India 2 (Sunil Chhetri – 16th; Sushil Singh – 73rd).
beat
Qatar (Ibrahim Khalfan – 74th)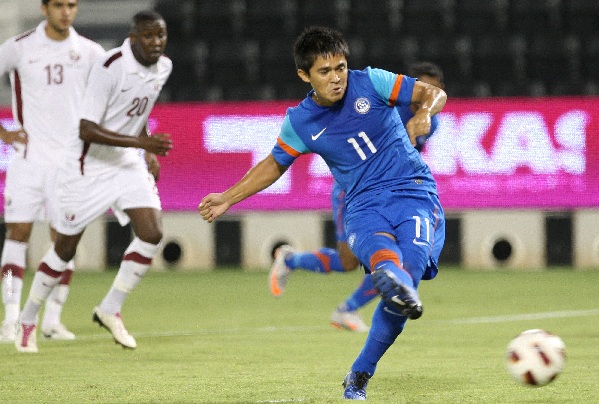 Same stadium; same teams but a different script – all in a gap of twenty nine days.
Twenty Nine days earlier, India, much like Sunday had surged into the lead at the Al Sadd Stadium in the Pre-Olympic Qualifiers — but couldn't hold onto it.
Twenty Nine days later, India consolidated on their early lead to beat Qatar 2-1 at Old Trafford's replica in an International Friendly. Sunil Chhetri put India in the lead in the 16th minute when he converted from the spot. The penalty was awarded after Debabrata Roy was pulled down in the box.
Sushil Singh doubled the lead in the 73rd minute with a powerful shot from inside the box. Baljit paved it for Sushil off a Khabra cross for him to bulge the net. Ibrahim Khalfan reduce the margin for Qatar a minute later.
Armando Colaco, who brought in ten changes in the second half, wasn't willing to go overboard despite the victory. "We are improving day by day. That's important. The boys showed they are adopting fast to the new style," he said. "The game is all about ball possession and once we have the ball, we shouldn't give it away easily," he added.
"The World Cup Qualifier against UAE is our acid test. It's a tough mountain to climb. Hence, we needed to get the combination right."
Armando's tactical acumen outwitted Qatar's Serbian Coach Milovan Rajevac who Coached Ghana in the World Cup in South Africa. While India take on UAE in the first-leg of the World Cup Qualifiers on July 23, Qatar challenge Vietnam at home on the same day.
"We needed to execute our plans on the field. As a Coach it gives me satisfaction that the boys have responded well. But there's a lot still to be achieved," Armando insisted.
Knowing their penchant for counter attacks, the Indians didn't allow the rival medios to stitch their quick interchanging in the midfield. The disparity in the FIFA rankings didn't matter. Indian football is on the right track for sure.
India's Starting XI: Subrata Pal (C); Debabrata Roy, Gouramangi Singh, Raju Gaikwad, Samir Naik; Syed Rahim Nabi, Climax Lawrence, Mehtab Hossain, Lalrindika Ralte; Sunil Chhetri and Jeje Lalpeklua.
India's XI in second half: Subrata Pal (C); Robert, Mahesh Gawli, Rowilson Rodrigues, Valleriano Rebello; Peter Parvalho, Jewel Raja, Clifford Miranda, Harmanjot; Sushil Singh; Baljit Sahni.
Match report sent by AIFF