Indian Football : A Billion Hypocritical Hearts
Editor's Pick
30 Mar 2011, 18:08 IST
566
At the AFC Asia Cup 2011 in Qatar, the Indian National Football Team Bus said
11 Players, A Billion Heartbeats
It's an inspiring slogan but one that sadly is not true. Those 11 players were not backed by a billion hearts, barely a few lakhs. Let's face it. Indians will only support their Cricket team because we are seemingly successful in it. The number one ranked test playing nation, Number 2 ranking in ODI matches, in a game played by 16-20 nations.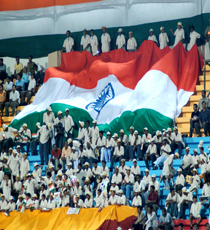 Why are most Indians so happy with this statistic? Content in being mildly successful in a sport which is barely played by 7% of the world. I've reached the conclusion its because we're favorites in most games. I think in the mind of most Indians they think
"Why support the football team when you know their going to lose most probably? At least we have a chance of winning in Cricket."
It's a hypocritical attitude and one which is spread by the major media organisations as well. They will all criticize the Indian team when we lose a match in Hockey or in football but none of them will come forward to cover the time India wins.
Most Indians will support you as long as your the favorite to win. They will not give a damn if you are an underdog. I feel sorry for myself and other athletes in these sports, where you play for the country solely and not because your name will come in bold as the winner (cite individual sports such as Golf, Badminton,Tennis, etc. where the individual's name comes first rather the nation's), how do we motivate ourselves? We know no one will give us any appreciation in our own country if we do well but will be the first one to jump on our backs and criticize us for a fighting but ultimately futile performance (AIFF, Times of India bashing the Indian Team's performance in the Asia Cup).
I respect countries like Australia, South Africa because their fans come out completely in support of each and every team they put out no matter what the sport, but we cant even get our AIFF President Mr. Praful Patel to attend the National football team's match in Kuala Lumpur because god forbid he miss the India-Australia cricket match.
Yes most people don't know when the football team or hockey team plays because of a lack of coverage but will more coverage really help that much?
Maybe Chris Daniels is right (Indian Football, Just a waste of Time? ),  maybe we athletes and supporters of niche sports are just hopelessly supporting the wrong sport in a wrong country.
Right now, if I come out on the pitch to represent India, I'll play for me, for my love of the country, not for the hypocritical hearts back home who are selectively patriotic.